**For a bonus family favorite recipe, check out the Cafe Zupas blog today, where I'm sharing a recipe for a delicious appetizer – Cucumber Toasties!**
I have loved food for as long as I can remember.  I remember back in grade school, having to write creative stories, and mine always had to do with food, or with candy, or they were about people made of sugar that lived in houses made of cookies.  I'm pretty sure that Candyland had a lot to do with this, but I credit it mostly to the fact that my mom is a great cook.  I really don't remember ever eating out as a child, with exception to when we were on vacation.  And even then, the only thing I remember eating out was breakfast at McDonalds.
My dad always had a big garden.  Corn, tomatoes, cucumbers, squash… these were all summer staples.  I both loved and hated that garden.  Each of us kids were assigned a row in the garden, and every Saturday, we'd have to go out and make sure that all of the weeds were pulled in our row.  I hated it because, well, pulling weeds is just not fun.  Especially when you are 8 and you are on summer vacation.  And to add insult to injury, it was always best to get out there early in the morning, before it got so hot that pulling weeds felt absolutely unbearable.  So not only did we have to pull weeds, but we had to waste the one morning each week that we could get up and watch cartoons.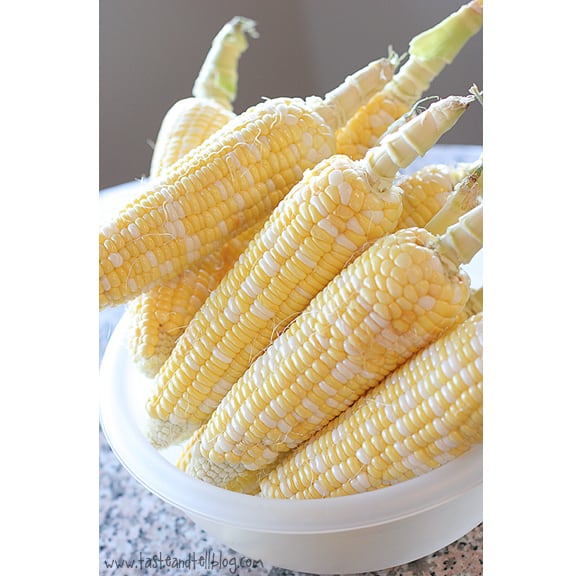 But, there was something that made it all worth it.  Garden dinner.  I looked forward to garden dinners every summer.  And every summer since my childhood, no summer is complete without a garden dinner.  Fresh tomatoes, sliced with a little bit of salt, corn on the cob, my mom's delicious mashed squash, and my mom's chile rellenos.  Yes, all of that early morning, cartoon missing weed pulling was all worth it, the minute we sat down to this meal.
A little while back, a few of us food bloggers were gathered together, and we started discussing the foods that reminded us of our childhoods.  It was so interesting to hear – as we went around the room and each shared – what reminded each of us of home.  When I started thinking about it, my mom's chile rellenos were the first thing that came to my mind.  That and her eclair recipe, which I shared with those ladies that night, which is also one of my mom's specialties.  As I drove home that night, I started thinking, and there are actually quite a few foods that remind me of home!  I recently posted about a birthday favorite – Cherry Chip Cake with Fluffy Frosting – and I've been craving stacked enchiladas since that conversation.  (That's one I definitely need to make soon and post about!!)  But if I had to choose just one food that reminded me of my childhood, these chile rellenos would be that one food.
When I first told my mom that I was going to post about her rellenos, she was really embarrassed, complaining that they aren't very attractive.  But this post isn't about pretenses – it's about home.  Comfort.  And the food that puts us in that place.  And even though there may be more attractive, more refined, or more authentic chile rellenos out there, I'll take the comfort of my mom's any day!!
Luckily, a couple weeks ago, my family got together for a family dinner.  And lucky me – we were having a garden dinner that night!!  I was able to go over a little early and be there as my mom made her rellenos.  I actually took some video of her making them, hoping to put together a little video, but time has just not been on my side lately.  But I did get to have my favorite meal of the year, so I was a happy girl!
My mom's chile rellenos aren't your typical rellenos.  It is basically a roasted green chile that is stuffed with a big piece of cheddar cheese, then dipped in a pancake-like batter.  Then the whole thing is fried in a cast iron skillet in vegetable shortening.  Have you seen The Help?  You know how Minnie fries her chicken in a bunch of Crisco?  Well, that's the best way to make these!  My mom said that you can fry them in vegetable oil, but the shortening makes them crisper than just oil would.  And the recipe below – it's kind of just a guideline.  When I called my mom to get the recipe, she had to just kind of make it up.  She doesn't really go by a recipe, but just throws it together.  Which shows that this truly is a down-home, family recipe!!
A bunch of us are talking about our favorite Family Food Flashbacks today.  A huge thanks to Heidi for organizing everything, and make sure you check the links below for links to everyone that is sharing!!
From FoodieCrush: Presenting Heidi's mom's recipe for Weinerschnitzel
From Barbara Bakes: Presenting Barbara's mom's recipe for Homemade Pancake Syrup with Utah Scones
From The Vintage Mixer: Presenting Becky's mom's recipe for Garlic Southern Cheese Grits
From Food Finery: Presenting Tiffany's recipe for Mom's Hominy
From Everyday Southwest: Presenting Donna & Sandy's mom's Corn Fritters with Maple Syrup
From Cookin' Canuck: Presenting Dara's recipe for Mum's Chicken Curry