Pesto doesn't have to be made with basil! Try this delicious version made with spinach.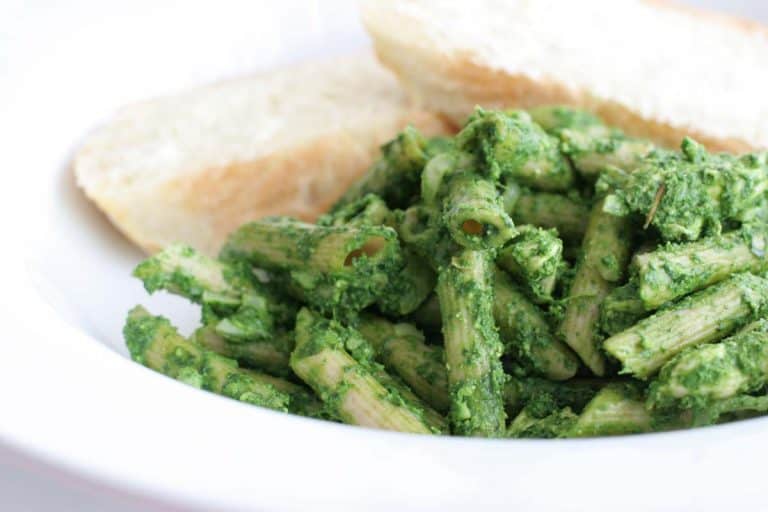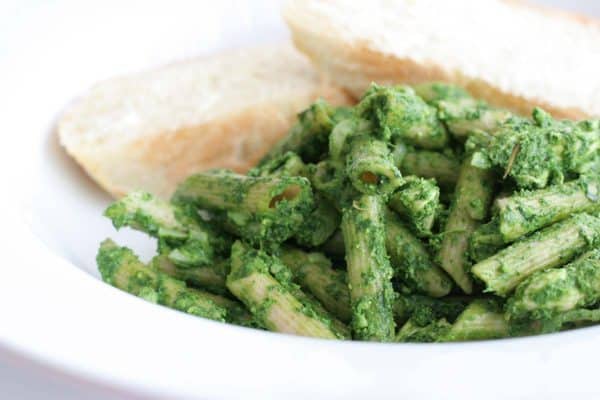 I love basil pesto. Especially since I started growing basil myself and it is so easy and fast to make. Last year, my basil was in a container, so in the winter, I took it inside and it fared surprisingly well. But this year, I planted it in the garden. What I got was a much bigger plant, but as soon as the first cold weather hit, it died. I was so sad that day, when I went out to get some basil, only to find a big, brown plant. And now I'm wishing I would have planted in a container again so that I could have my basil year round!
So what do you do when you don't have your home-grown basil, and you practically have to sell your first born to be able to afford either fresh basil or pre-made basil pesto from the grocery store? You start trying out other pesto recipes!! When I came across this recipe, I knew I wanted to try it out. I have been wanting to try different kinds of pestos, and this gave me a great excuse.
The recipe originally calls for hazelnuts, but after a search at several different stores, I came up empty handed. That seems to be happening to me a lot lately!! So I used pine nuts, but I'm sure the hazelnuts would have been delicious. And I added chicken, which could definitely be left out, but we like our protein!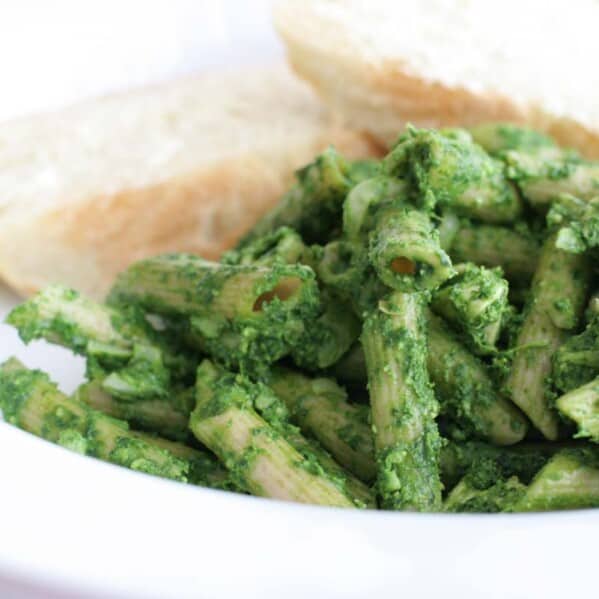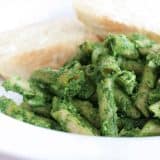 Pasta with Spinach Pesto
---
Author:
Prep Time: 20 minutes
Cook Time: 25 minutes
Total Time: 45 minutes
Yield: 4 servings 1x
Category: Main Dish
Method: Stove Top
Cuisine: Italian
Description
Pesto doesn't have to be made with basil! Try this delicious version made with spinach.
---
Scale
Ingredients
2 tablespoons butter
1 large onion, quartered and thinly sliced
salt
1 pound whole wheat or whole grain pasta
1/3 cup extra virgin olive oil
1 large garlic clove, crushed
1 teaspoon dried rosemary
1/4 cup pine nuts, toasted
9 ounces spinach, woody stems discarded
pepper
freshly ground nutmeg
1/2 cup grated Parmigiano Reggiano cheese
1/2 lb. cooked chicken, cut into chunks (optional)
---
Instructions
In a large skillet, melt the butter over medium heat. Add the onion and cook until browned, 20-25 minutes.
Bring a large pot of water to a boil, salt it, add the pasta and cook until al dente. Drain, reserving 1 cup pasta cooking water.
While the pasta is working, in a small saucepan, heat the olive oil, garlic and rosemary over medium-low heat and let steep for 5 minutes. Let cool for a few minutes, then pour the oil and garlic into a food processor. Add the nuts and spinach and process into a thick paste. Season with salt, pepper and the nutmeg, if using.
Stir the pasta cooking water into the caramelized onions, then stir in the pesto. Add the pasta, cheese, and chicken if using and toss to combine.