I have miles long lists of Rachael Ray recipes that I want to try, but after having such great success last week by taking a recipe from one of my old Rachael Ray magazines on my shelf, it inspired me to pull out another old copy! I really need to do this more often, because there are lots of gems in there!!
I am not the griller of the family. I don't know – maybe there is something in a man's genes that makes them fabulous grillers. I usually just hand off whatever I am making to my husband if it needs to be grilled. I'm the master of the kitchen, and he is the master of the grill. But every once in awhile, I forget that I don't really know what I am doing out there. Like the first time I tried to make these sandwiches. I made the dough. I prepared the flatbread. I got super excited for dinner. Then all went wrong.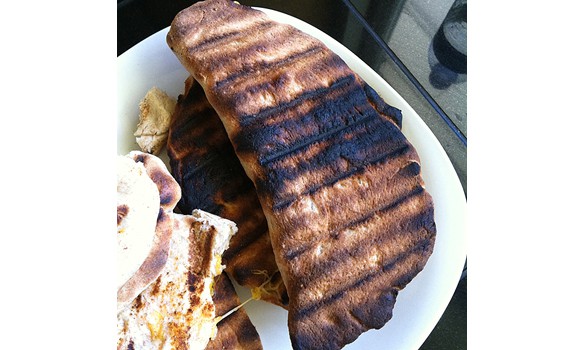 Yes, this is what happens when I try to grill. I tweeted my mistake after it happened, and I had a few suggestions to just scrape it off, but unfortunately, I made my dough half whole wheat, and I think my whole wheat flour had gone bad anyway, because something about them tasted off. So…. into the garbage they went. 🙁 (But on the plus side, I did get to have a Nuts About Berries salad from Zupas that night. I swear I could eat that salad every single day and be a very happy girl.)
But, this recipe intrigued me so much that I didn't want to give up. So, a couple of nights later, I attempted to make them again. This time, I let my husband do the grilling. 🙂 And the result? These were totally worth waiting for. There were several things that I loved about these. First of all – the grilled, stuffed flatbread is just genius. I loved that I could put the corn, cheese and jalepeno in mine, leave the jalepeno out of my husbands, and make one with just cheese for Abbi. You do have to turn them very carefully on the grill because they did tend to fall apart, and they were pretty messy to eat, but I was licking my fingers afterwards. I can imagine so many combinations for these sandwiches. I would love one with all grilled garden veggies for the sandwich instead of the sausage. Or a grilled chicken breast. The possibilities would be endless!
This recipe came from a feature that they used to do in the magazine called the "No-Recipe Zone." Basically, just the method is given, so I have only included a list of ingredients and the method below. Online it does have measurements for the ingredients, but I liked having the freedom of just throwing things together!
Grilled Corn and Sausage Flatbread Sandwiches
from Every Day with Rachael Ray August 2008
*This recipe is more of just a guideline. If you would like exact amounts, they are listed on the RR Mag website (linked above)
serves 4
prep time: 10 minutes
cook time: 20 minutes
total time: 30 minutes
plain yogurt
chopped scallions
lemon juice
extra virgin olive oil
pizza dough (store bought or homemade)
corn
shredded cheddar cheese
chopped jalepeno
paprika
sausages
portabello mushrooms
tomato slices
In a small bowl, combine the yogurt, scallions and lemon juice. Set aside.
Divide the dough into 1/4-lb pieces. Drizzle some olive oil on a baking sheet, and using your hands, stretch each round of dough into a circle. On each circle, put some corn, cheese and jalepeno. Fold the dough over to form a half moon and press the edges to seal. Sprinkle with paprika. Let rest.
Heat a grill to medium-high. Cook the flatbreads on the grill until browned on both sides. Remove.
Drizzle the mushrooms with olive oil. Cook the mushrooms and the sausages on the grill until cooked through.
Thinly slice the mushrooms and the sausages. Spread the yogurt mixture on the bread and top with some mushrooms, sliced sausage and tomato slices. Fold the bread over and eat as a sandwich.