Frittata with Potato and Bacon – a frittata filled with potatoes, bacon and cheese.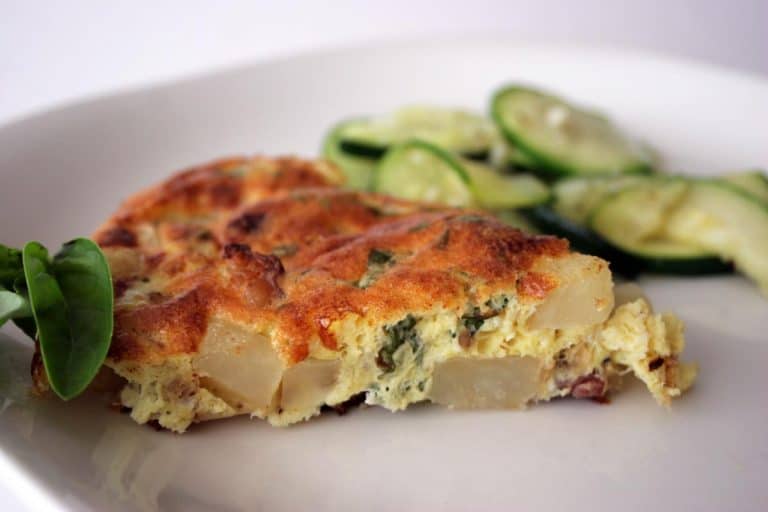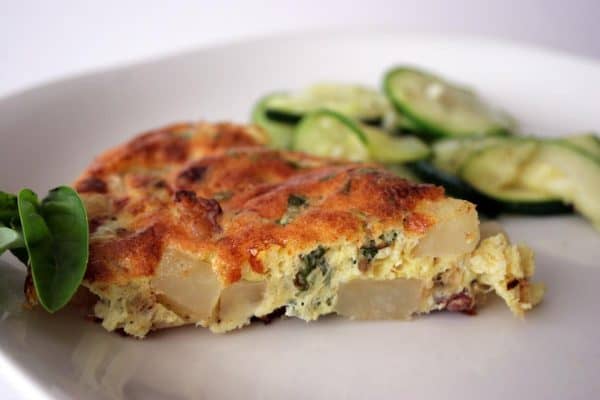 A few weeks ago, I started to get worried that I wouldn't finish my Cookbook Project by the end of the year. Here it is, already August. Just over 4 months until the end of the year. And I had no desire to cook. This Cookbook Project was the only goal I made for the year 2008, and I'm going to accomplish it, no matter what it takes! Luckily, my desire to cook is slowly coming back. I actually cooked dinner 4 times last week, which is a record for me since becoming pregnant.
I'm glad to say that on the list, there are only 16 books left to blog from, and luckily, I have 5 of those completed, with the recipes waiting to be blogged about. That means as long as I don't get any new cookbooks this year (which I hope isn't the case!), I can easily accomplish this. I don't even have to do one a week, although that is what I'm going to try for.
This recipe comes from a cookbook that somehow I forgot to add to the list, but I will be doing that today. I have been having a craving for potatoes lately, and I was happy to find this recipe while looking for something to make for dinner. I only made a couple of changes – the original recipe calls for cream and prosciutto, but I used milk and bacon. I had some bacon in the fridge that I needed to use up, and it was a delicious change. I was a little afraid of using milk instead of cream, but I didn't have any cream, and I don't think the recipe suffered at all. And you can probably tell from the picture, but I left it under the broiler a little too long, but it was still a tasty dinner!!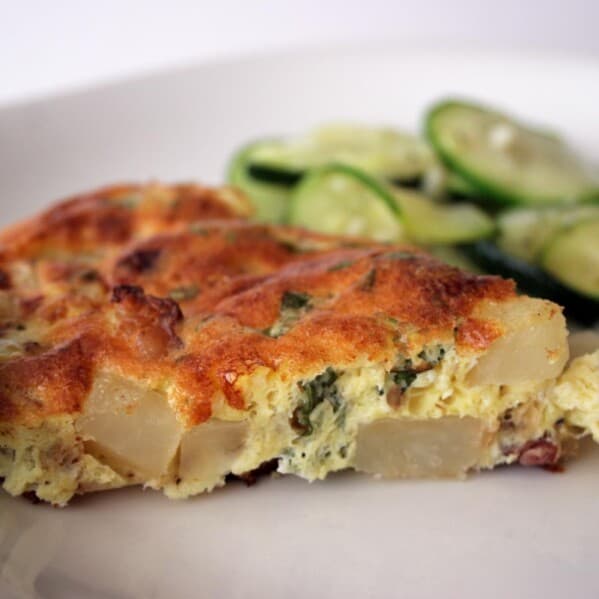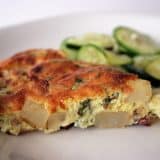 Frittata with Potato and Bacon
---
Author:
Prep Time: 15 mins
Cook Time: 35 mins
Total Time: 50 minutes
Yield: 4 servings 1x
Category: Breakfast
Method: Stove Top, Broil
Cuisine: Italian
Description
Frittata with Potato and Bacon – a frittata filled with potatoes, bacon and cheese.
---
Scale
Ingredients
2 tablespoons olive oil
1/2 cup onion, chopped
1 (15-ounce) potato, peeled and cut into 1/2 inch cubes
1 garlic clove, minced
1/4 teaspoon salt
1/4 teaspoon pepper
6 large eggs
1/4 cup milk
1/4 cup grated Parmesan cheese
3 slices bacon, coarsely chopped
2 tablespoons fresh basil
---
Instructions
In a 9-1/2 inch diameter nonstick ovenproof skillet, cook the bacon. Remove to drain on a paper towel and wipe out the skillet.
Heat the oil over a medium flame.
Add the onion and sauté until translucent, about 4 minutes.
Add the potato, garlic, salt and pepper, and sauté over medium-low heat until the potato is tender and golden, about 15 minutes.
Preheat the broiler.
In a medium bowl, whisk the eggs, milk, Parmesan cheese, bacon and basil to blend.
Stir the egg mixture into the potato mixture in the skillet. Cover and cook over medium-low heat until the egg mixture is almost set, but the top is still runny, about 2 minutes.
Place the skillet under the broiler and broil until the top is set and golden brown, about 4 minutes.
Using a rubber spatula, loosen the frittata from the skillet and slide it onto a plate. Cut the frittata into wedges and serve.