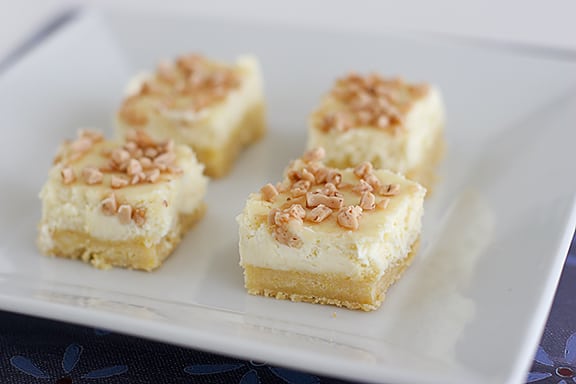 Yep, another Betty Crocker recipe!!
I have to be honest – I'm not a cookie mix kind of person. They are just not something I normally keep on hand. Maybe it's because I never thought to do anything other than just make regular cookies from those mixes, because after my trip to the Betty Crocker kitchens, I've realized that cookie mixes are good for more than just cookies!!
These were my favorite thing that I tried. True – I am a cheesecake lover. And I love creme brulee. So I knew before I even tried these that I was going to love them. But I loved them so much that I couldn't get them out of my mind, and I had to make them when I got home.
Luckily, my family got together the night after I made these, and I took some to them – otherwise, I honestly think I could eat a whole pan of these myself!!
The only thing I would do differently next time is to add the toffee bits when there is a minute or two left on the baking time so that the toffee melts down just a little bit. With the bars that I had at Betty Crocker, I couldn't tell it was toffee bits on the top, but obviously – from my picture – you can clearly see that they are toffee bits. I think if the toffee was melted just a little bit, the creme brulee aspect would be more apparent. But then again, no one really minded because we finished off the whole pan of these with no problem!!
Creme Brulee Cheesecake Bars
from Betty Crocker
makes 36 bars
1 pouch (1 lb 1.5 oz) Betty Crocker sugar cookie mix
1 box (4-serving size) French vanilla instant pudding and pie filling mix
2 tablespoons brown sugar, packed
1/2 cup butter, melted
2 1/2 teaspoons vanilla
2 eggs plus 3 egg yolks
2 packages (8 oz each) cream cheese, softened
1/2 cup sour cream
1/2 cup sugar
2/3 cup toffee bits, finely chopped
Heat oven to 350F. Lightly spray bottom and sides of 13×9-inch pan with cooking spray. In a large bowl, stir cookie mix, pudding mix, brown sugar, melted butter, 1 teaspoon of the vanilla and 1 whole egg until soft dough forms. Press dough in bottom and 1/2 inch up sides of pan.
In small bowl, beat cream cheese, sour cream and sugar with electric mixer on medium speed until smooth. Add remaining whole egg, 3 egg yolks and remaining 1 1/2 teaspoons vanilla; beat until smooth. Spread over crust in pan.
Bake 30 to 35 minutes or until set in center. Immediately sprinkle top with crushed toffee bits. Cool 30 minutes. Refrigerate about 3 hours or until chilled. For bars, cut into 9 rows by 4 rows. Store covered in refrigerator.