Risotto with Prosciutto, Butter and Parmigiano – a recipe for a buttery risotto filled with prosciutto and Parmigiano cheese.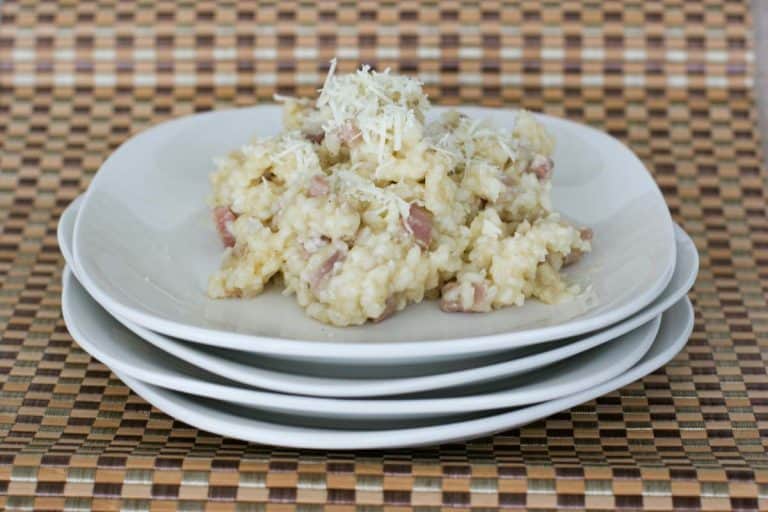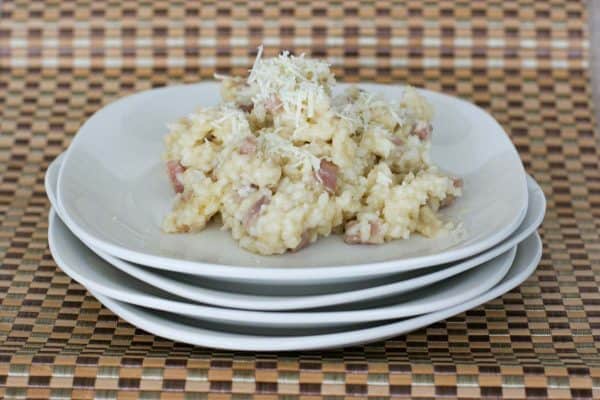 The Cookbook of the Month is back!! And I'm contemplating trying something new for 2010 – but I need your opinion to see if it is something you would all be interested in. I have really been wanting to learn how to cook new types of food. I seem to get stuck in the "comfortable" zone, cooking things that are familiar and things that I know my family will like. But sometimes, I want to spread my cooking wings and try new things – tastes from different regions, different countries. Maybe it's coming from all the shows I watch on the Travel Channel, but I really want to try something new. But I know that many of you really like the "weeknight" type dinner ideas, and many of these authentic recipes do take a bit longer. But are you all up for learning along with me, or for sharing your knowledge with me? Please comment below and let me know if this is something you would be interested in, and if so – I need some suggestions for good, authentic cookbooks from different regions around the world.
Regardless of if I do travel around the world this year through my Cookbook of the Month recipes, we are starting off Italian with this month's cookbook – Biba's Taste of Italy. In this cookbook, author Biba Caggiano takes us on a culinary tour of the Emilia-Romagna region of Italy. I'm excited to get a taste of this region of Italy – the pasta, soups, desserts…and this risotto!
I have to admit that I've never had risotto in a restaurant – or anywhere outside of my own home, for that matter. So to be completely honest, I don't even know if I do it correctly. But I sure do love it, and find myself being drawn to risotto recipes all the time. This was no exception. I was really wanting to do a more elaborate recipe, but as luck would have it, we are having a problem with the drain on our washing machine, which is located right by the kitchen. So my kitchen has been a mess the last couple days. And without a clean kitchen, it's really hard for me to really get into a recipe. So I went simple on this. But although it is a simple recipe, it really was delicious! If you have never made risotto before and it intimidates you, this is a recipe you should start with. Just the basics, but oh, so delicious!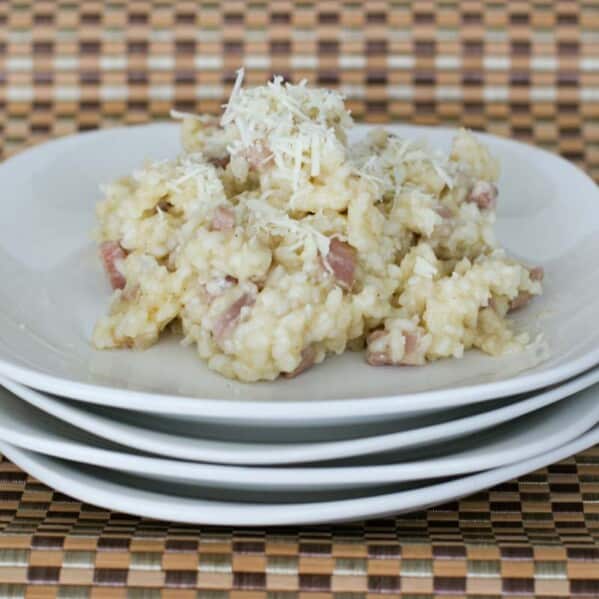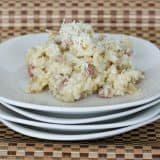 Risotto with Prosciutto, Butter, and Parmigiano
---
Author:
Prep Time: 10 mins
Cook Time: 30 mins
Total Time: 40 minutes
Yield: 4-6 servings 1x
Category: Main Dish
Method: Stove Top
Cuisine: Italian
Description
Risotto with Prosciutto, Butter and Parmigiano – a recipe for a buttery risotto filled with prosciutto and Parmigiano cheese.
---
Scale
Ingredients
6–7 cups chicken broth
4 tablespoons unsalted butter
1/2 cup finely minced yellow onion
2 cups Arborio rice
1 thick slice prosciutto (about 1/4 lb.), diced
1/2 cup freshly grated Parmigiano-Reggiano
salt and pepper to taste
---
Instructions
Heat the broth in a medium saucepan; keep warm over low heat.
Melt 3 tablespoons of the butter in a large skillet over medium heat. When the butter begins to foam, add the onions and cook, stirring, until pale yellow and soft, about 5 minutes. Add the rice and stir quickly for a minute of two, until the rice is translucent and well coated with the butter. Add the prosciutto and stir for about 1 minute. Add about 1/2 cup of the hot broth and cook until it has been almost completely absorbed. Continue cooking and stirring the rice in this manner, adding broth 1/2 cup at a time, until the rice is tender but still firm to the bite, about 18 minutes.
When almost all of the last addition of broth is incorporated, add the remaining 1 tablespoon butter and about half of the Parmigiano. Stir quickly until the butter and cheese are melted and the rice has a moist, creamy consistency.
Taste, adjust seasoning, and serve immediately with the remaining Parmigiano.