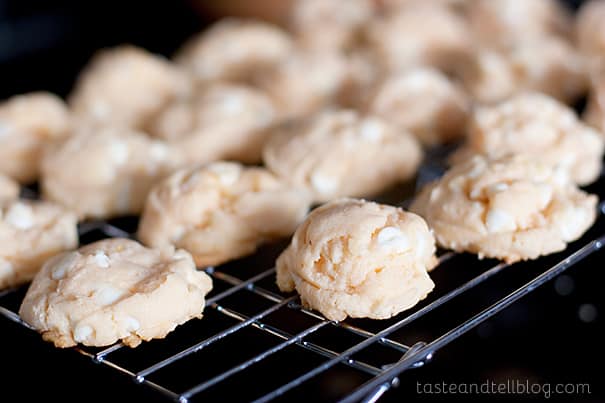 Are you ready for Christmas yet? I can't believe it's just right around the corner!!
I decided to take a break from the chocolate today and bring you a sweet citrus cookie. The boxes of oranges are making their way onto the store shelves, and I couldn't be happier. I love a juicy sweet orange for a snack during the day, and around this time of year, I can't get enough of them! Which is why I was drawn to this recipe. You'll notice that it is made with a cookie mix. No offense to cookie mix users, but I don't usually use them. I think it's just as easy to make them from scratch. But I wanted to try this recipe, and so I went with the cookie mix. I was afraid the cookies were going to have that artificial taste to them, but you actually couldn't even tell I used a mix! My husband loved these. Thankfully, we gave most of them away, or I'm sure we could have polished off the whole bunch!
Orange Cream Cookies
adapted from Betty Crocker Christmas Cookies Jan/Dec 2009
makes 3 dozen cookies
1 pouch (1 lb 1/5 oz) Betty Crocker sugar cookie mix
3 tablespoons butter, melted
1 teaspoon orange extract
zest of 1 orange
1 teaspoon vanilla
1 egg
5 drops yellow food color
2 drops red food color
1 bag (12 oz) white vanilla baking chips (2 cups)
Heat oven to 350°F. In large bowl, stir all ingredients except baking chips until soft dough forms. Stir in baking chips.
On ungreased cookie sheets, drop dough with 1 1/2 tablespoon-size cookie scoop or by rounded tablespoonfuls about 2 inches apart.
Bake 9 to 10 minutes or just until dough is set (do not overbake). Cool 1 minute; remove from cookie sheets to cooling racks. Cool completely.