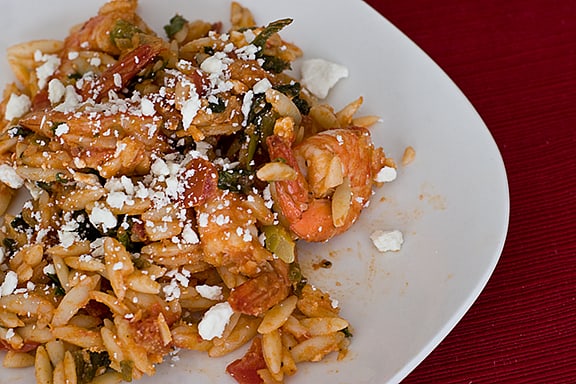 Have you ever had one of those days? You know, where just about everything goes wrong? I had one of those earlier this week. I had a photo session, and I was at my location, waiting for my client. As I was waiting, I was messing around with my camera settings, making sure I had everything set up just how I wanted. I pressed a button and immediately thought – oh no! I had erased all the photos that were on my card!! Luckily, it was only one days worth of photos, and they were only personal photos from around the house. Unfortunately, though, the dinner I had made the previous night was on there. Under normal circumstances, it wouldn't be a huge deal – it would be just one dinner I wouldn't blog about. But of course, it was this week's Cookbook of the Month recipe!! Luckily, we still had some leftover in the fridge. But yeah – this is a meal that doesn't photograph well as leftovers. But at least there is a photo, right??? (Oh yeah, and after I did that, I ended up slipping off a curb and twisting my ankle. It still hurts to walk on it. At least the session went well!)
This meal was the easiest I've made from this book so far. But I do have to admit I left out one ingredient, that was another whole recipe. (It seems like every recipe in this book leads to at least one more recipe from the book!) Again, I didn't plan well enough in advance. There is a garlic puree that is supposed to be in the recipe, but it takes a couple of hours, and by the time I went to make dinner, I just didn't have the extra time. My shrimp was already thawed, so I went for it without the garlic puree. I'm sure that it would have added a whole new dimension to this dish, but I have to say – even without it, this was really good. And I know that most of you are like me – we like something quick and easy. Leaving out the garlic puree made this exactly that – quick and easy. And it felt like a nice, healthy dinner as well. No complaints at all on this one!
Recipe rating: 4.4 out of 5
Shrimp with Orzo and Tomato
adapted from How to Roast a Lamb
Serves 4 generously
Total time: about 20 minutes
1 lb shrimp, peeled and deveined
salt and pepper
1 1/2 cups orzo, uncooked
2 tablespoons extra virgin olive oil
2 cloves garlic, smashed and finely chopped
3 shallots, finely chopped
9 whole scallions, thickly sliced
1/2 cup water
3 plum tomatoes, roughly chopped
1 1/2 cups smooth tomato sauce or puree
3/4 cup crumbled feta cheese, divided
6 cups baby spinach leaves (about 8 ounces)
small handful of torn herbs, such as dill, mint, and/or parsley
extra virgin olive oil
Preheat the oven to 275F. Season the shrimp with salt and pepper.
Cook the orzo according to package directions and toss it with 1 tablespoon of the oil. Reserve, keeping warm.
In a large, heavy soup pot, Dutch oven or wok, warm the remaining tablespoon of oil over high heat. When the pot is very hot, add the garlic and shallots, and saute for 1 minute. Add the scallions and shrimp, and sear for 30 seconds. Add the water, tomatoes, and tomato sauce. Cook for 2 minutes and remove the shrimp to the reserved orzo. Continue to reduce the liquid until the mixture has thickened (2 to 3 minutes), and season with salt and pepper.
Place a serving bowl in the preheated oven for 2 minutes to warm.
To the pot, add the orzo and shrimp, half the feta, and the spinach, and toss to combine. As soon as the spinach has wilted (about 1 minute), transfer to the preheated bowl.
To finish, scatter the remaining feta, the fresh herbs, and a drizzle of olive oil over the top.