Praline Pavlova Cookies – a meringue cookie is topped with a chocolate filling and a crispy almond praline.
I don't usually post 2 sweet recipes in a row, but I guess this week is a treat!! I feel like my kitchen has been full of goodies the last few weeks – between family birthdays, work birthdays, this month's cookbook of the month, and all of the sweet treats calling to me from my cookbooks!!
As you probably already read on Helen's blog, I was able to recently try my first macaron. In all honesty, before I started blogging, if you would have asked me what a macaron was, I would have explained the popular coconut cookie here in the US (spelled macaroon instead of macaron). But this cookie is so much more!!
I'd have to say that my cookie future has forever been changed after trying some of these beautiful cookies. In fact, my husband and I couldn't even eat them without first holding them up and inspecting their perfect shape before we took our first bite. My husband seriously couldn't get over how perfect they looked and tasted – he actually accused Helen of not making them herself!! I know that these are difficult cookies to make, but I will be attempting them here in the next few weeks.
Since so many of the cookies I make are similar in the way they are prepared, I thought I'd try something a little different than the normal drop and bake cookie for this week's recipe from the cookbook of the month – The Cookie Book.
There are so many tasty sounding recipes, but I decided on these Praline Pavlova Cookies. They start with a meringue base, filled with a chocolate filling and topped with almond praline. All three flavors I love, so I figured they would taste wonderful together!
So I started the meringues, but sort of ran out of steam while they were baking. I've been quite busy at work lately, so by the time I had gotten home and made dinner, completing these cookies was just not in the stars for me that night. Plus, the sun was going down, and the recipe says that these cookies must be eaten right after assembling. So I finished the meringues, and mixed the filling together. I stored the meringues in an airtight container, and stored the filling separately.
The next day at lunch, I made the praline and assembled a few cookies for photos and for my husband and I to snack on.
I was actually surprised when I took my first bite – I was expecting a crispy shell from the meringue, and I don't know if it's because I stored them overnight, but they were a little bit soft and chewy. I totally loved them!! The three flavors all went together really well, and I loved the little hint of cinnamon you got from the meringue.
I am also now a convert to using superfine sugar whenever anything calls for melting sugar. I usually have some on hand, but only use it when recipes specifically call for it. I'm so glad this one did!! The sugar melted so easily and uniformly – it turned something that I usually am scared of into something very easy!
If you chose to make these, I would definitely follow the advice to eat them right after they are assembled. We just kept all three components separate and assembled as we went.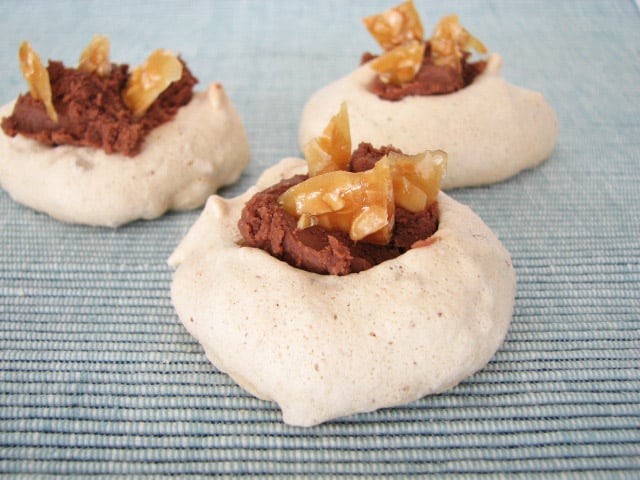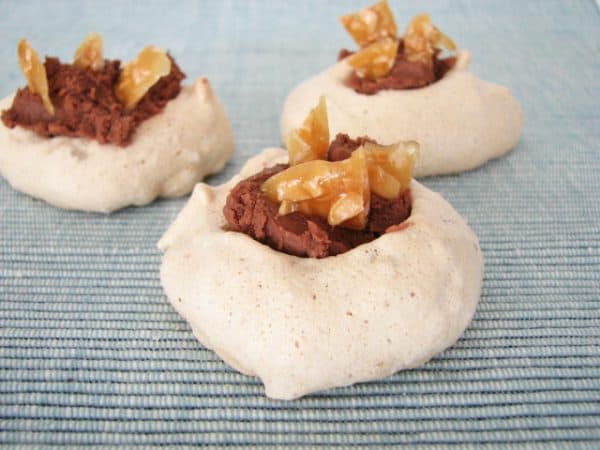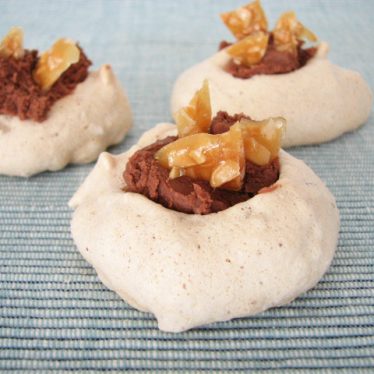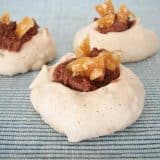 Praline Pavlova Cookies
---
Description
Praline Pavlova Cookies – a meringue cookie is topped with a chocolate filling and a crispy almond praline.
---
Scale
Ingredients
for the cookies
2 extra large egg whites
large pinch of ground cinnamon
3 1/2 ounces/ 1/2 cup superfine sugar
2 ounces/ 1/2 cup pecans, finely chopped
for the filling
2 ounces/ 1/4 cup butter, at room temperature, diced
3 1/2 ounces/ scant 1 cup confectioners' sugar, sifted
2 ounces semisweet chocolate
for the praline
4 tablespoons superfine sugar
1/2 ounce/ 1 tablespoon finely chopped toasted almonds
---
Instructions
Preheat the oven to 275F. Line 2 baking sheets with parchment paper. Put the egg whites in a bowl and whisk until stiff. Stir the cinnamon into the sugar. Add a spoonful of sugar to the egg whites and whisk well. Continue adding the sugar, a spoonful at a time, whisking well until the mixture is thick and glossy. Stir in the chopped pecans.
Place 14 spoonfuls of meringue on the prepared baking sheets, spaced far apart. Using the back of a wetted teaspoon, make a small hollow in the top of each meringue, so it looks like a little nest. Bake in the oven for 45-60 minutes, until dry and just beginning to color. Remove from the oven and set aside to cool.
To make the filling, beat together the butter and confectioners' sugar until light and creamy. Break the chocolate into even-size pieces and place in a heatproof bowl. Set over a pan of barely simmering water and stir occasionally until melted. Remove from the heat and leave to cool slightly. Add the chocolate to the butter mixture and stir well. Divide the filling among the meringues, putting a little in each hollow.
To make the praline, pour the sugar in a small non-stick frying pan. Heat gently until the sugar melts to form a clear liquid. When the mixture begins to turn brown, stir in the nuts. When the mixture is a golden brown, remove from the heat and pour immediately onto a lightly oiled or non-stick baking sheet. Leave to cool completely and then break into small pieces. Sprinkle over the meringues and serve.