Chocolate and peanut butter are combined in these easy balls that everyone will love.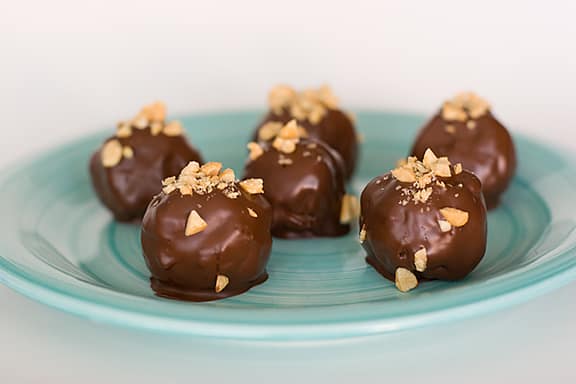 If I could, I would love to be one of those people who are on top of everything. Remembering everyone's birthdays, have a month ahead of schedule prepared meal plan, have all my Christmas gifts bought by October… But I'm not. As much as I try, I am slowly coming to accept the fact that I'm not that person. I forget my best friend's birthday, I'm lucky to have 3 days of meals planned, and I'm usually shopping the week before Christmas. But just because I can't seem to become that total person, I still try. And hopefully, little by little, one day I will be on top of everything.
This year, I'm already starting to think about what I want to do for neighbors and friends for Christmas. I didn't do anything at all last year because I was 8 months pregnant and exhausted. But I don't have any excuses this year! So when I saw this recipe for these Chocolate Peanut-Butter Balls, I thought this would be the perfect time to try them out and see if I want to put them on my holiday plate.
First of all, let me say how easy these are. No baking, and the actual hands on time is minimal. I substituted semi-sweet chocolate for the milk chocolate, but I do wish I would have stuck with the milk. They needed that little bit of extra sweet from the milk chocolate, and the semi-sweet chocolate made them super rich. But at least that way I only needed to eat just one instead of the whole plate full! I'll have to see what makes the final cut for my holiday plate this year, but these are certainly in the running!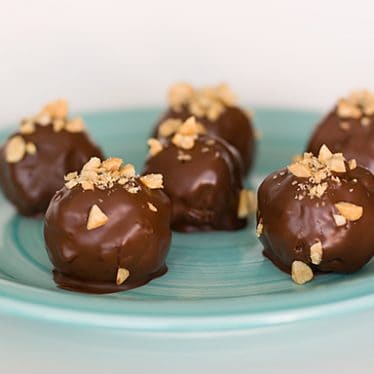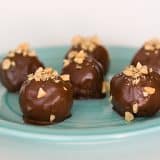 Chocolate Peanut-Butter Balls
---
Prep Time: 30 minutes
Total Time: 5 hours
Yield: 2 dozen balls 1x
Description
Chocolate and peanut butter are combined in these easy balls that everyone will love.
---
Scale
Ingredients
1 cup chunky peanut butter
1/2 cup dark corn syrup
1 cup crisp rice cereal
6 ounces milk chocolate, broken into pieces
1/4 cup chopped peanuts
---
Instructions
Beat the peanut butter and corn syrup in a medium-size bowl until well blended. Stir in cereal until well mixed.
Using a rounded tablespoon, shape mixture into balls. Place on a large baking sheet lined with aluminum foil. Chill for several hours until firm.
Place the chocolate in the top of a double boiler over hot water. Stir chocolate until melted. Using a fork, spear a peanut-butter ball; dip into chocolate, turning to coat completely; shake off excess chocolate by gently tapping fork on edge of bowl. Return the ball to the baking sheet. Sprinkle the top of the ball with chopped peanuts. Repeat with remaining balls.
Let stand for 2 hours or until chocolate is hardened.