Caramel Chocolate Nut Ice Cream – a homemade caramel ice cream loaded with toasted pecans and chunks of chocolate.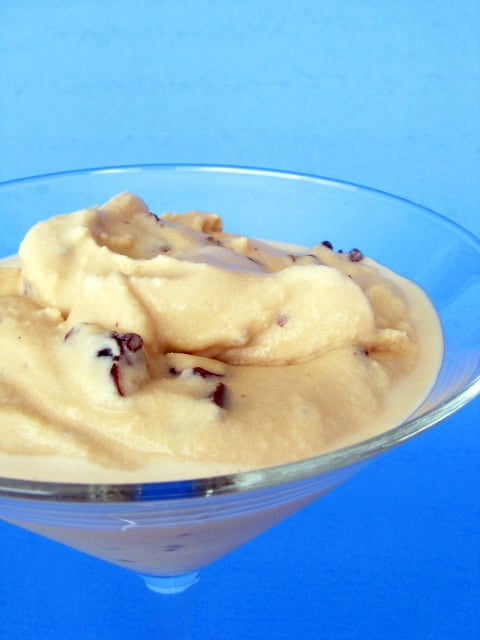 Yes – this is supposed to be ice cream. But this particular ice cream is proving to be my nemesis.
When I saw this recipe in Barefoot Contessa Parties!, I knew it was getting bookmarked. Caramel ice cream with chocolate and nuts? Count me in!! So I had everything bought, and set out to make it a few weeks ago.
Melting sugar and I have a love/hate relationship. I've had times where it has worked well for me, but most of the time, it is one of those kitchen techniques that I struggle with. This first time was no exception. I set the water and sugar in a pan to cook, not stirring, but it wouldn't melt evenly. I had the heat on very low, so it took some time. At one point, I thought it was going along well, but when I turned up the heat to bring it to a boil, it's like all of the water boiled out and all of my sugar crystallized. So that night, it just didn't work for me.
I tried again last week before I left on vacation. It seemed to be working better the second time, but then the same thing happened, where my sugar started to look crystallized. I decided it was now or never, so I started to break up the chunks and I hoped for the best. After a bit of time, it all started to melt together, but I was afraid it was going to get too caramelized and taste burnt – but I couldn't stop because there were still a few chunks of sugar in the mixture. I just stirred furiously, and eventually the chunks melted in and it was saved!!
The cream step worked out, and into the fridge it went to chill overnight.
The next step was toasting the pecans. Not a difficult thing – something I have done many times before. But I got distracted, and ended up over toasting them. My husband still thought they tasted good, although I thought they were a bit burnt, but he convinced me to add them anyway.
The next day, it all went into the ice cream maker. I had a few hours before we had to be to an appointment, so I thought I had plenty of time. But here's the thing – our freezer is pretty tiny. And usually very full. I've tried keeping the ice cream maker in the freezer at all times, but I usually end up taking it out to make room for things that have to be frozen. I remembered to put it back into the freezer the day before I froze the ice cream, but I don't think that was enough time. My ice cream never quite set up. I left it in the ice cream maker for a good hour and a half before transferring it to the freezer because I had to leave, but what I ended up with was more like soft serve instead of regular ice cream.
All problems aside, this really was a delicious ice cream. I loved the caramel flavor of the ice cream, and even though the pecans were over-toasted for my taste, the combination of flavors was wonderful. It's a very rich ice cream, so one scoop was all I needed to be satisfied. I am going to make this again – especially to prove to myself that I can do it and do it right!!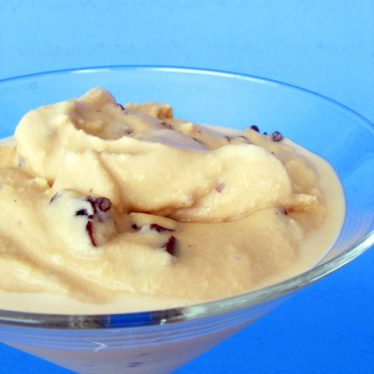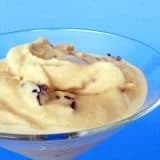 Caramel Chocolate Nut Ice Cream
---
Author:
Yield: 1 quart 1x
Description
Caramel Chocolate Nut Ice Cream – a homemade caramel ice cream loaded with toasted pecans and chunks of chocolate.
---
Scale
Ingredients
1 1/4 cups sugar
3 cups heavy cream
1 tablespoon pure vanilla extract
1 1/2 cup pecan halves (5 ounces)
3 to 3 1/2 ounces chocolate, diced (she suggests using Lindt Lindor Truffles, which I used – they worked great)
---
Instructions
Place 4 cup water and sugar in a large, heavy- bottomed saucepan, and cook over low heat, without stirring, until the sugar is dissolved. Increase the heat to high and boil until the sugar turns a warm mahogany or caramel color, 3 to 5 minutes. Do not stir, but swirl the pan occasionally so the caramel cooks evenly.
Remove the caramel from heat and carefully pour in the cream. The caramel is very hot, and the mixture will bubble up violently, then solidify. Don't worry. Return it to low heat and cook, stirring with a wooden spoon, until the caramel dissolves, 5 to 7 minutes. Add the vanilla. Pour into a container and refrigerate until very cold.
Preheat oven to 350°F. Roast the pecans on a baking sheet for 8 to 10 minutes, until crisp. Cool, chop, mix with the diced chocolate, and store in the freezer until ready to use.
Freeze the caramel mixture in an ice cream freezer according to the manufacturer's directions. When it is frozen, add the cold chopped pecans and chocolate and mix in completely. Transfer to quart containers and store in the freezer until ready to serve.