I'm so excited to be doing a little cookie exchange with my friend Carrian from Sweet Basil. McCormick asked us to share one of our favorite holiday cookies, so she is here today sharing these delicious Cinnamon Spice Cookies, and I'm over at her site today sharing a fun Chocolate Peppermint Cookie. They are 2 wonderful Christmas cookies that would be perfect for any cookie swap!!


It's officially the season of… Cookies. I know, you thought I was going to say giving, and trust me, that's so true. In fact I'm even giving away a $600 Vacuum on my site, but let's be honest, who needs a clean house when there's cookies?! I could not be more thrilled to be posting on one of my very dear friend's site, and this cookie swap is going to be so delicious. I've been making so many cookies lately I actually worried that I might get sick of them, but sure enough here I am devouring one more. I've especially been drawn to all of the warm, spicy flavors of the holidays.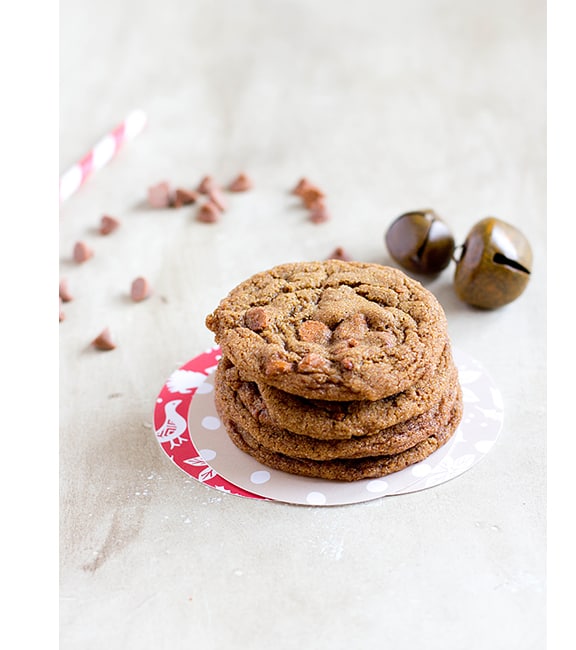 I love this time of year, and I love how it helps people everywhere get back into the kitchen. It seems like the baking aisle is as busy as the mall, and I think there is nothing better. Just walking into the stores around here smells different. Seriously. Every store has a display of cinnamon pine cones right by the front doors. The smell is amazing. I wish I was crafty enough to do something with those pine cones!
Anyway, whether you are a baker, crafter or none of the above these cookies are sure to put you in the holiday spirit just as McCormick has been helping you to do for years and years.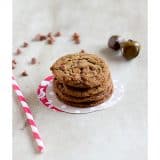 Cinnamon Spice Cookies
---
Prep Time: 15 minutes
Cook Time: 8 minutes
Total Time: 1 hour 30 minutes
Description
The tastes of the holidays come alive in these spiced cookies, perfect for a cookie exchange or for the cookie jar.
---
Scale
Ingredients
3/4 Cup Butter, unsalted, softened
1/4 Cup plus 1 Tablespoon Sugar
1/4 Cup plus 1 Tablespoon Brown Sugar
1/2 Cup Molasses
1 Large Egg
2 1/2 Cup Flour
2 Teaspoons Baking Soda
1 Teaspoon McCormick Ground Ginger
1 Teaspoon McCormick Ground Cinnamon
1/2 Teaspoon Mccormick Ground Cloves
1/2 Teaspoon Sea Salt
1 1/2 Cups Cinnamon Chips
*additional sugar for rolling
---
Instructions
In a standing mixing bowl, combine the butter and two sugars. Turn the mixer on to medium high speed and mix for 3 minutes. Turn off the mixer and add the molasses. Mix until just incorporated and add the egg. Mix again, and turn off the mixer.
In a separate bowl, add the flour, baking soda, seasonings and salt. Mix well with a whisk or fork and add to the butter mixture. Mix on medium speed for 1 minute. Add the cinnamon chips and mix well. Remove the bowl from the mixer and cover tightly with saran wrap. Let rest in the fridge for at least 1 hour or overnight if needed.
Heat the oven to 375.
Place parchment paper or a silpat liner on the baking sheet and scoop out tablespoon sized balls. Roll the dough in the palms of your hand and then in the bowl of sugar. Bake for 8 minutes. Remove the pan from the oven and allow to cool for a minute before moving to a cooling rack.

**Disclosure- I am in a working partnership with McCormick, but all opinions are my own.**