Marbled Caramel Chocolate Slice: A shortbread cookie base is topped with a soft caramel, then 3 types of chocolate form a marbled top in these impressive cookie bars.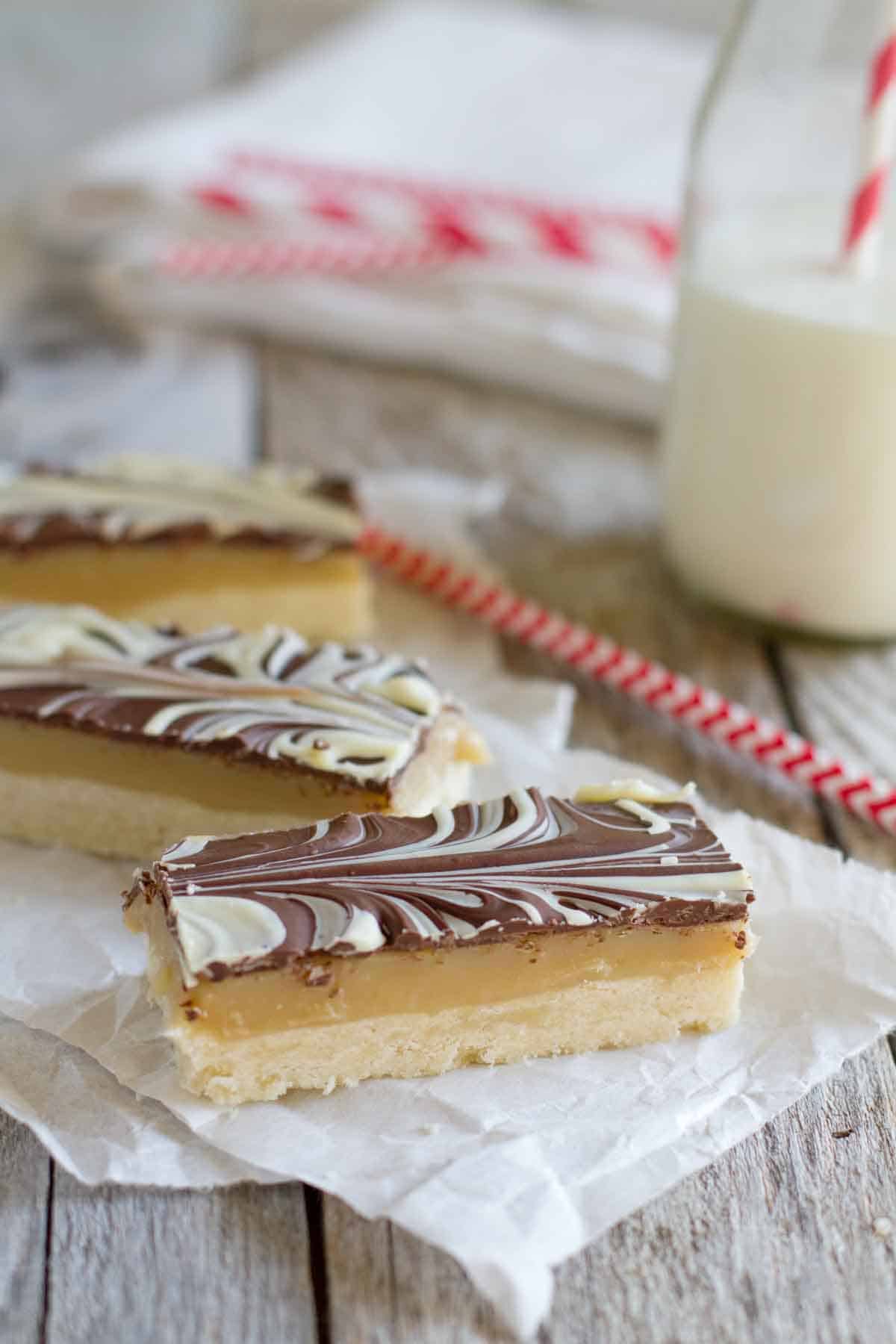 Originally published March 21, 2008 – While I was brainstorming cookie plate ideas, these bars popped into my mind, so I had to re-photograph them to bring to you today. These bars are not only impressive looking, but they are so delicious – especially for caramel lovers. They would make the perfect addition to any holiday cookie platter!
Do you ever find a recipe, especially one with a photo, and want to make it right then because it looks so good and so impressive? And then you go and make it, and the presentation just doesn't turn out like it was in the book or how you saw it in your head? This is one of those recipes.
I've been excited to try this recipe since I first got this cookbook. I was actually going to make it last week, but since my first recipe from this book was chocolate and caramel, I thought I should wait a week. Then I saw Cookie Baker Lynn's post yesterday – she did this cookie, and hers look beautiful!!
Well, I got started last night. I should have known from the beginning that my baking mojo was off. I started with the shortbread base, but when it didn't turn into a dough, I went back and re-read the ingredients. Wow – I misread and only added half the amount of butter! So more butter was added, the dough came together, and I went to put the dough in the pan. It barely spread across the bottom of my jelly roll pan, but I figured it was just a very thin base. The caramel filling came together easily and without any problems. I spread it on top of the baked cookie base, and decided to wait until this morning to do the chocolate topping. I decided to go back in and re-read Lynn's post to see if she had any pointers, and I noticed that she mentioned the 9×13 pan. Ummm, maybe that's why my base was so thin – I used my regular jelly roll pan, which is 12 1/2 x 17 1/2! I already had that much done, so there was no going back.
So this morning, I set out to do what I would be the most fun – the marbled chocolate topping. I'm not an artist by any means, which should have given me the first hint that these wouldn't turn out like the picture. I melted my chocolates, but when I put the milk chocolate and the semi-sweet chocolate on, my chocolates were the exact same color. Oh well, I thought – the white chocolate part is what makes it look really good. All I had at home was some white chocolate chips – I know that chocolate chips are harder to melt, but we don't often eat white chocolate, so I thought I'd use some of the chips up. Mistake – they would not melt, but instead they liked to just stay in a big clump. I had already done the other chocolates, so I couldn't run to the store. I did some quick thinking, and added a bit of shortening to the white chocolate, and that seemed to help a little bit. I was able to smooth it out for the most part. But my marbling is a mess. I think my chocolates had dried a bit too much by this point, and the chocolate layer was too thin because of the size of my pan. Not exactly the beauties I thought they would end up looking like.
But I guess the taste is most important – and how can you go wrong with shortbread, caramel and chocolate? You can't!! These are delicious, rich, and sweet. In fact, it's only 9:30 in the morning and I'm already on a sugar high!! Definitely a tasty treat.
I'm off to enjoy a day off (I love it when the stock market is closed!) and to eat more than my fair share of Marbled Caramel Chocolate Slices!!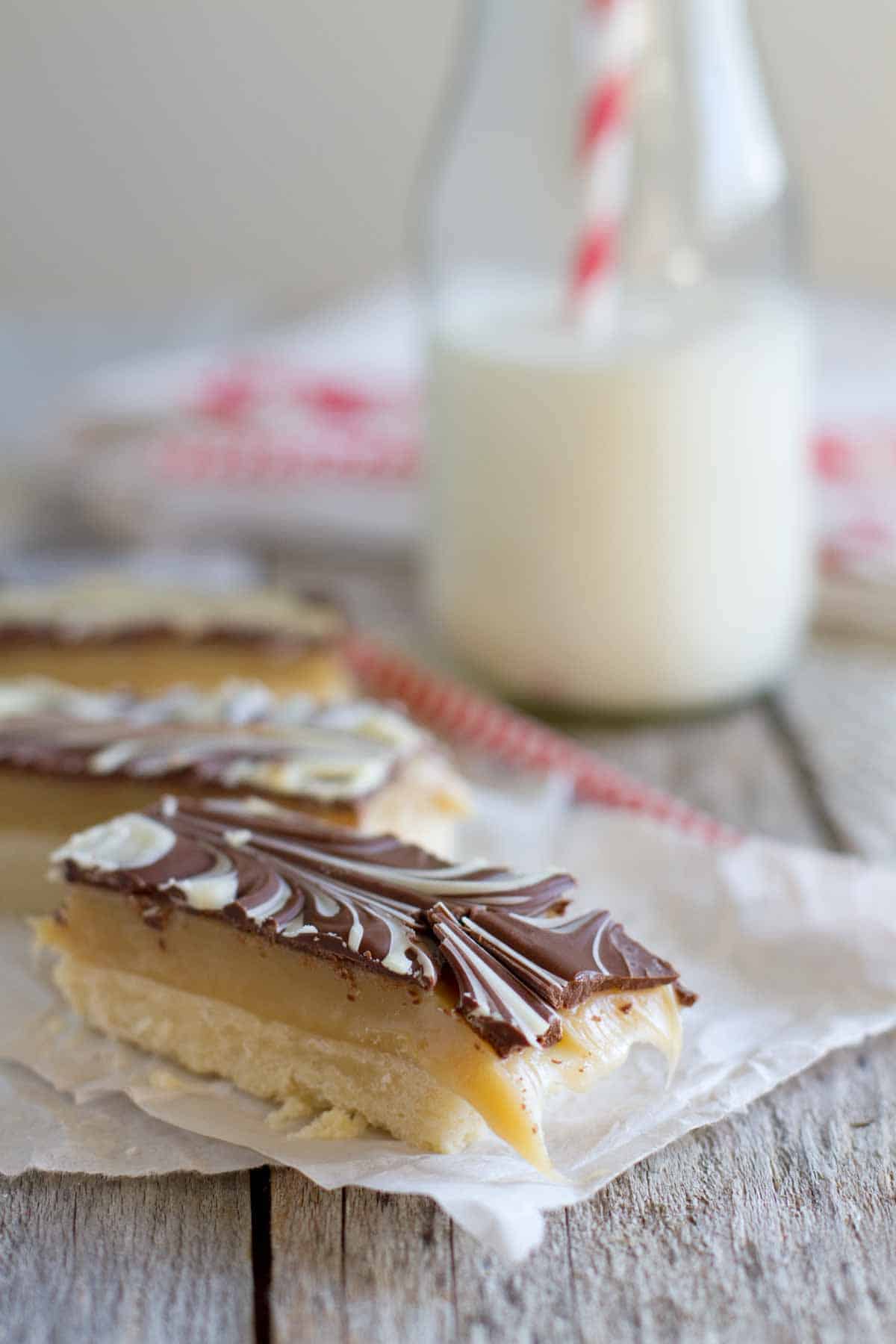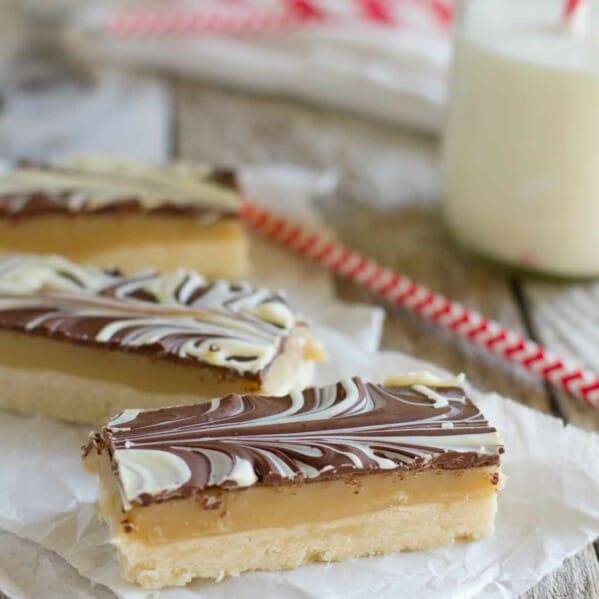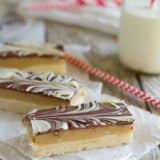 Marbled Caramel Chocolate Slice
---
Author:
Prep Time: 15 minutes
Cook Time: 30 minutes
Total Time: 1 hour 30 minutes
Yield: 54 bars 1x
Category: Dessert
Method: Baked
Cuisine: American
Description
A shortbread cookie base is topped with a soft caramel, then 3 types of chocolate form a marbled top in these impressive cookie bars.
---
Scale
Ingredients
for the base
2 1/4 cups all-purpose flour
1/2 cup sugar
3/4 cup butter, softened
for the filling
7 tablespoons butter, diced
1/2 cup light brown sugar
2 14–ounce cans of sweetened condensed milk
for the topping
3 1/2 ounces semi-sweet chocolate
3 1/2 ounces milk chocolate
2 ounces white chocolate
---
Instructions
Preheat the oven to 350 deg. F. Line a 13 x 9-inch jelly roll pan or baking dish with parchment paper and lightly grease it.
Put the flour and sugar into a bowl and cut in the butter until the mixture resembles fine breadcrumbs. Work it together until it forms a dough Put the dough into the prepared pan and press it out with your hand to cover the base. Press it evenly into the pan. Prick all over with a fork and bake for about 20 minutes, or until firm to the touch and very light brown. Set aside and leave it in the pan to cool.
To make the filling, put the butter, brown sugar and condensed milk into a pan over medium het, stirring until the sugar has dissolved. Stirring constantly, bring to the boil. Reduce the heat and
simmer the mixture very gently, stirring constantly, for about 5 – 10 minutes, or until it has thickened and has turned a caramel color. Make sure to stir constantly to avoid burning the caramel. Remove from the heat. Pour the filling mixture over the cookie base, spread evenly, then leave until cool.
To make the topping, melt each type of chocolate separately in a microwave or in a heatproof bowl set over a pan of hot water. Spoon stripes about 2 inches wide of semisweet and milk chocolate down the length of the pan, alternating semisweet and milk chocolate. Place spoonfuls of the white chocolate randomly over the top. Use a skewer to form a marbled effect on the topping. Let sit until the chocolate sets.
Once set, cut into bars 1″x2″.
Keywords: marbled caramel chocolate bars