Smooth and creamy, this Butterscotch Popsicle Recipe is sweet with a touch of salty and perfect for a warm day.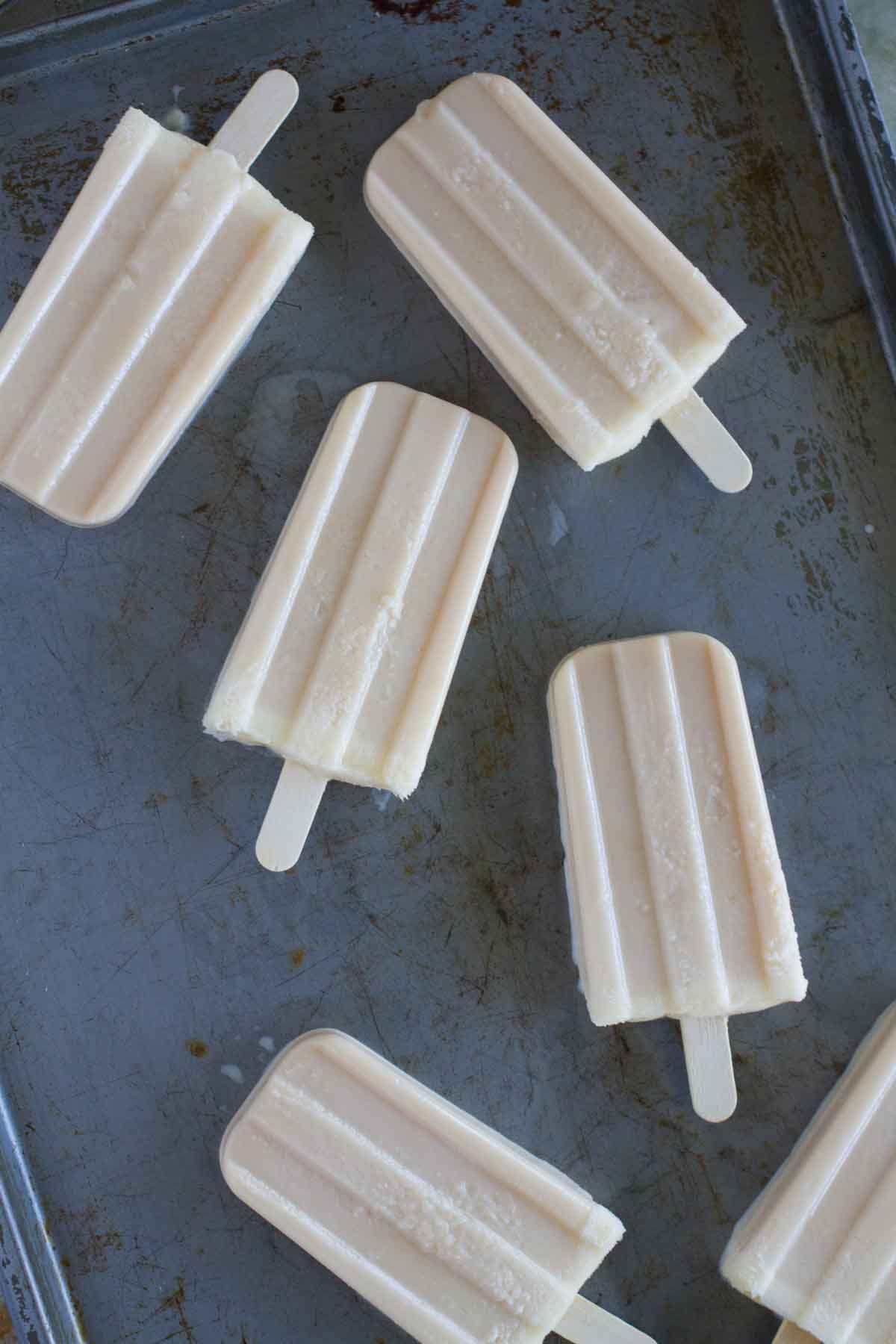 I am on a cookbook kick! I started off at the beginning of this year saying that I wanted to do 52 cookbook reviews this year. The goal was one a week, and although I've missed a few weeks and doubled up a few weeks, I'm right on schedule for 52. Honestly, I didn't know if I'd be able to do it! I think this just proves that I am, indeed, a cookbook addict.
I know that summer is winding down, but we still have another good month before the temperatures really do. So I have a feeling that I'll be getting use out of today's recipe and today's cookbook before the fall temps hit.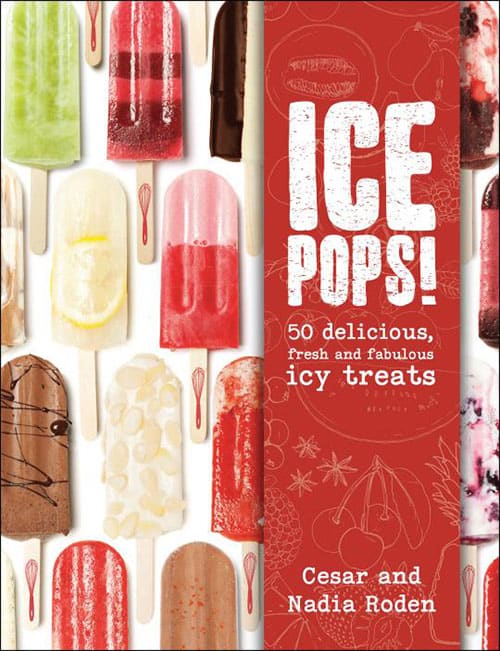 Ice Pops! by Cesar and Nadia Roden is filled with 50 recipes for ice pops – some basic flavors and some creative and inventive flavors. In fact, I think the array of flavors makes this book useful year round – not just when it's hot outside! Some of the more "basic" flavors, like blackberry or strawberries and cream, are super tempting (and super kid friendly!) but I'm also really intrigued by the more exotic flavors, like Pistachio and Rose, White Grapefruit and Star Anise, and Lychee and Lemongrass. The array of flavors is vast, and I think you could find a recipe for anyone in this book.
Here are the details:
Number of Photos: Lots. There is a photo of every popsicle recipe.
Difficulty Level of Recipes: Easy to Medium. There are some recipes where you basically just combine the ingredients and pour them into your popsicle mold, while there are others that are a little more involved, like having to make a custard.
Availability of Ingredients: Easy to Medium. Most of the ingredients are pretty basic, but there are a few that may be harder to find, like dried hibiscus or lychees.
Other recipes I want to try:
Raspberry and Lime
Strawberry and Pepper
Rhubarb and Custard
Milk and Honey
New York Black and White
Mexican Chocolate
Cucumber and Lime
Buy Ice Pops! on Amazon.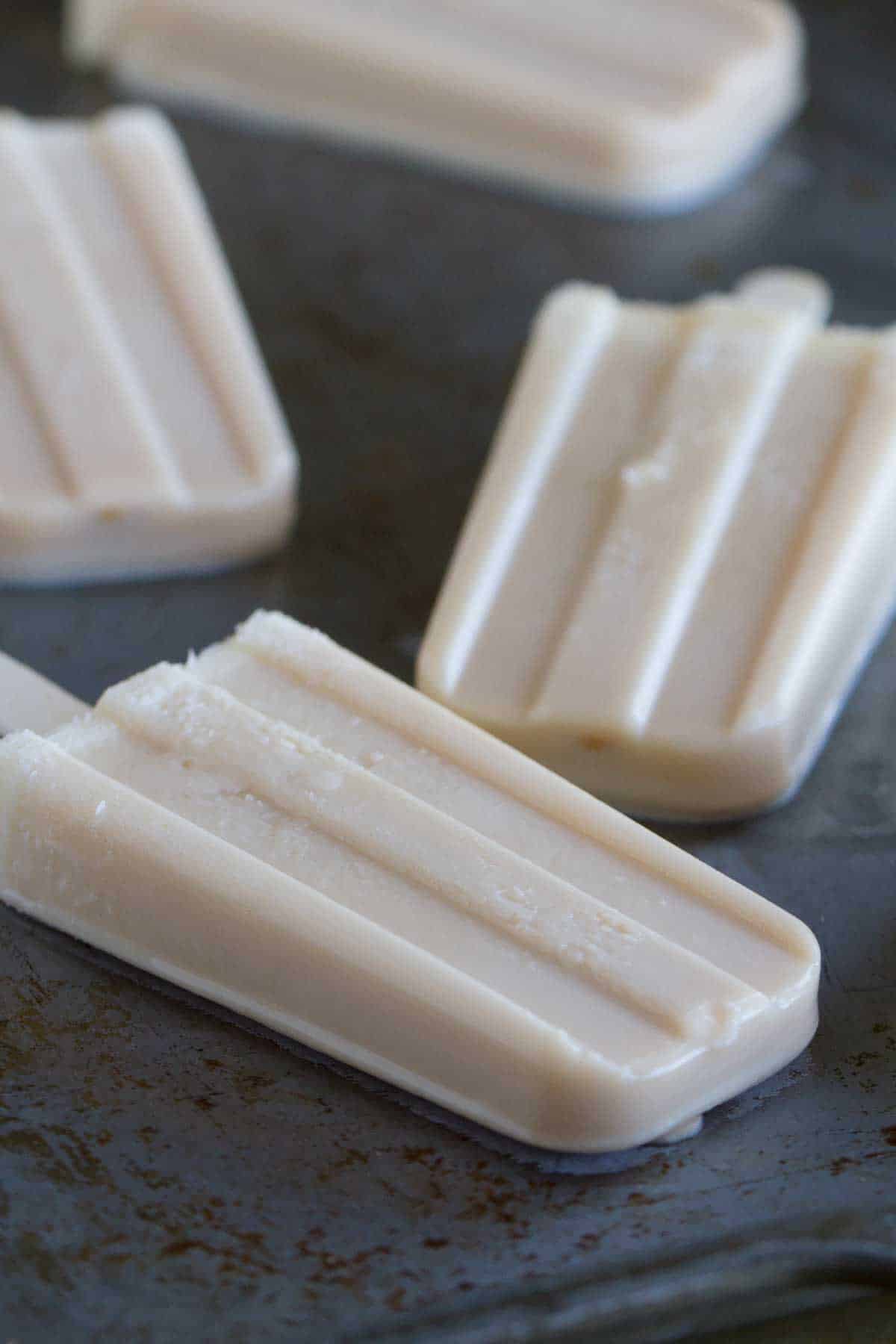 I picked out about 10 of the recipes that I wanted to make, and then I let my kids choose from those. It's kind of funny, because as a food blogger, I think we tend to choose the most colorful recipes so they look good for the photographs, but they ended up choosing the most boring looking popsicle recipe. Good thing it doesn't taste boring, though!!
I'm a butterscotch fan, so I was actually happy that they chose this recipe. You start by combining sugar, butter and cream and cooking it until it turns a dark amber color. In the book, it says it should take 10-12 minutes, but it took me about 3 times that. But I don't think it's a fault of the recipe – I think it's an altitude thing. Because I know it takes me a lot longer to make caramel that it does for someone at sea level. So just be prepared to know that it can go fast, or it might take awhile. Just make sure you keep an eye on it and watch for the color to change. It's pretty easy, as long as you don't get distracted. 🙂
The kids loved these, so I knew they made the right choice. And I loved them as well! The only complaint I had with them is that they melted pretty quickly once I got them out of the molds, so we had to eat them outside so they didn't drip all over the house. But I'd say this Butterscotch Popsicle Recipe was a success if that's the only complaint!
PS – this is the ice pop maker I have and I love it!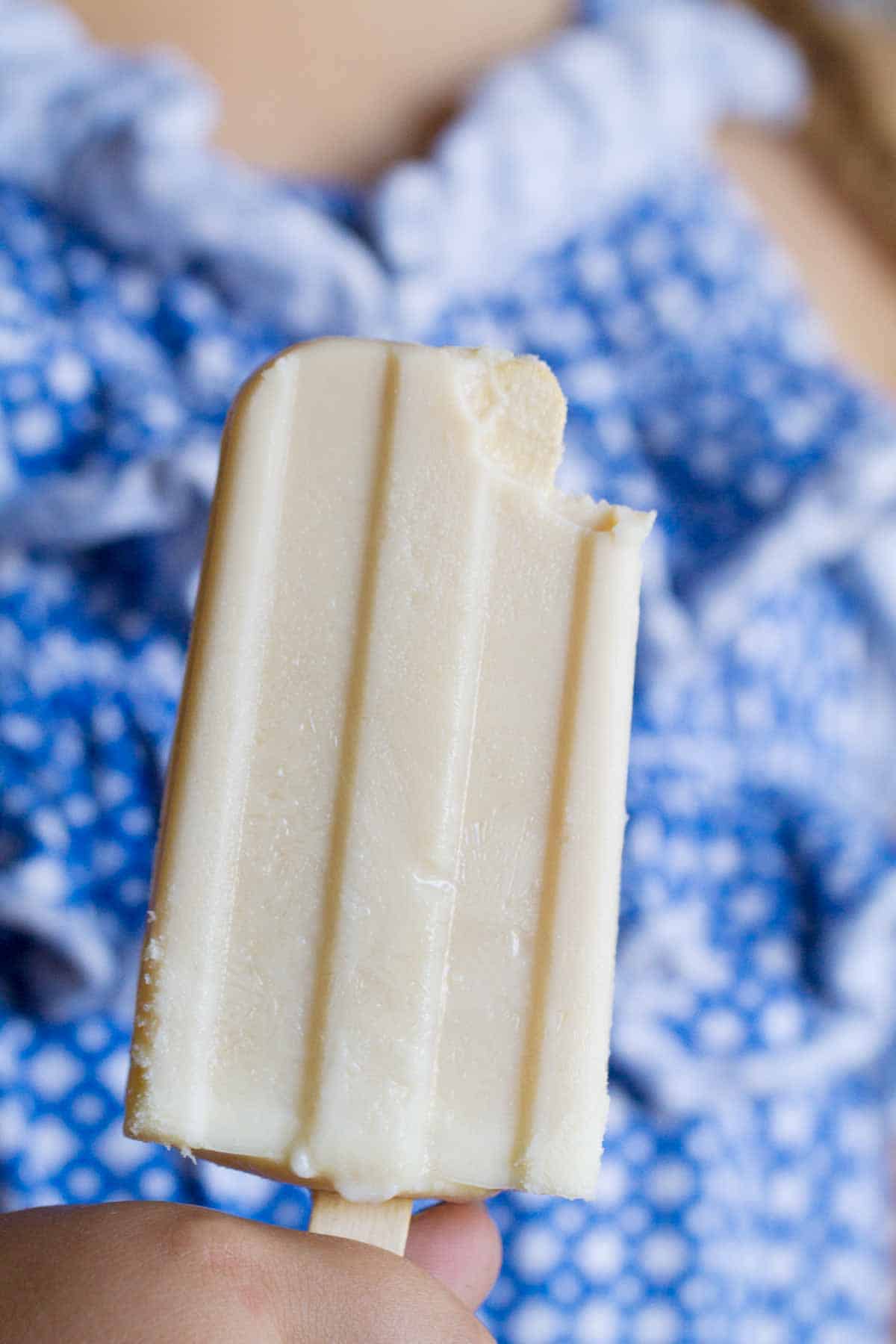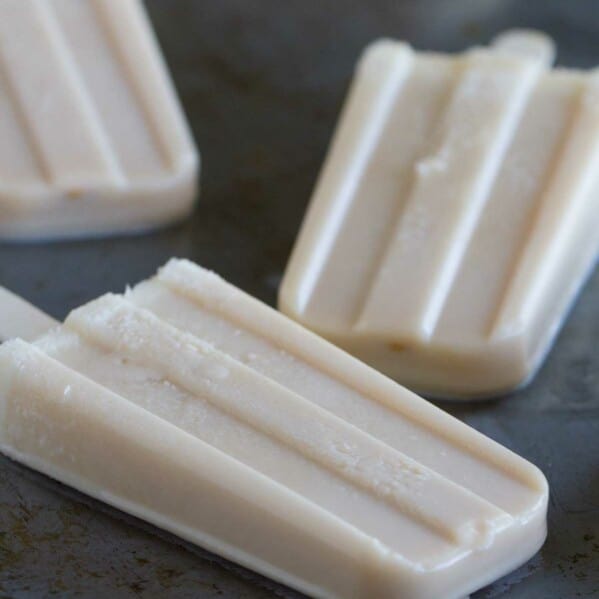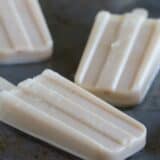 Butterscotch Popsicle Recipe
---
Author:
Prep Time: 5 minutes
Cook Time: 15 minutes
Total Time: 6 hours 20 minutes
Yield: 10 servings 1x
Category: Dessert
Method: Stove Top
Cuisine: American
Description
Smooth and creamy, this Butterscotch Popsicle Recipe is sweet with a touch of salty and perfect for a warm day.
---
Scale
Ingredients
1/2 cup sugar
2 tablespoons unsalted butter
1 cup heavy cream
2 3/4 cups whole milk
1 teaspoon vanilla extract
1/4 teaspoon salt
---
Instructions
Combine the sugar, butter and cream in a saucepan. Bring to a simmer over low heat. Simmer for 10-12 minutes*, stirring occasionally. Watch for the mixture to darken and thicken, becoming a dark amber color.
Once it turns amber, stir in the milk and bring the mixture back up to a simmer, then simmer for 2 minutes. Remove the pan from the heat and stir in the vanilla and salt. Let it sit until room temperature.
Pour the mixture into your ice pop mold, leaving 1/4-inch at the top for the mixture to expand as it freezes. Insert the sticks and freeze completely.
Recipe Notes:
*depending on your altitude, this may take a lot longer. It took me about 3 times this long. Just make sure you are occasionally stirring and keeping a watchful eye on the mixture.
recipe source: Ice Pops!