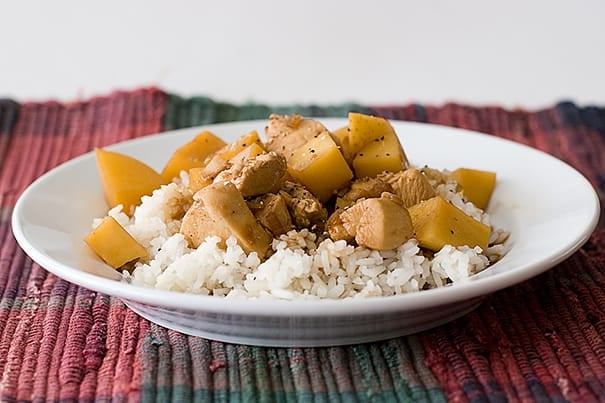 I hope you all had a wonderful Mother's Day – especially all you moms! We ended up having my in-laws over for dinner, but my mother in law ended up doing most of the cooking. I can't complain, though, because everything she brought was delicious and I by the end of the evening, I was stuffed full. It was a great Mother's Day, and it is such a special day to me now, especially since I am a mother!
I don't have a clever segue into this dish, but I'll jump right in anyway! This comes from a family cookbook, and I am rarely led astray from family cookbooks. I had actually been wanting to make this recipe for quite sometime, and recently I found myself with an excess of potatoes, so it was the perfect meal! I actually had to look up "Adobo" because I was curious what it really meant. In this recipe, it refers to adobo in Filipino cuisine. It is the process of cooking the meat in a soy sauce, vinegar and spice mixture. Not to be confused with Spanish adobo. Yes, it really is all very confusing! Regardless, I really enjoyed this meal. It's quite simple, but it packs a ton of flavor. And it doesn't hurt that it only takes a few minutes to prep then you can just let it cook away!
Adobo Chicken with Potatoes
from the Goodman Family Cookbook 2007
serves 8-10
total time: about 45 minutes
5 chicken breasts, cut into chunks
1/2 onion, chopped
5 cloves garlic, chopped
oil
1 cup apple cider vinegar
1 cup soy sauce
2/3 to 1 cup water
salt and pepper to taste
lemon pepper, for sprinkling
2 bay leaves
1 tablespoon sugar
3 large potatoes, peeled and cut into chunks
rice, for serving
Heat oil in a skillet and saute garlic until lightly brown. Add onions to skillet and continue to saute. Put chicken into a large stock pot on stove and pour garlic and onions over chicken. Add remaining ingredients and stir. Cover and cook for about 30 minutes.
Serve over rice.