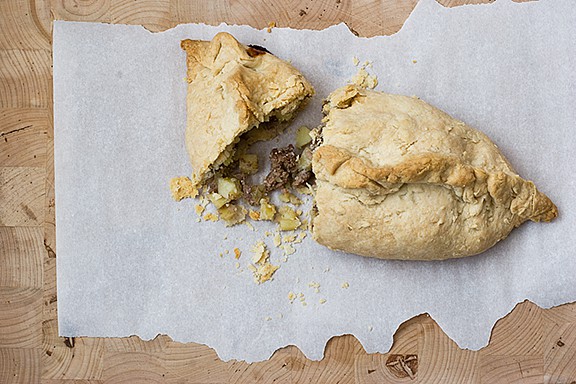 I have really been trying to cut down on grocery expenses lately. It seems like grocery bills just keep going up and up. So when I find a recipe that uses inexpensive ingredients, I'm all over it. That is what I thought when I saw this recipe. Simple, cheap ingredients. And it was even better that I had some potatoes on hand and ground beef in the freezer. Throw in some flour and butter, and dinner is ready!
I liked these ok, but I think they would be even better with a few changes. First of all, these are HUGE!! Each pastie is supposed to feed one person, but they are seriously humongous. I think one could easily feed 2 people. What I should have done is make them half the size. I also forgot to add salt and pepper, and you do not want to forget the salt and pepper in these, especially since there are so few ingredients.
What is your favorite recipe to use when you are trying to go "cheap"?
Meat and Potato Pasties
from Real Simple May 2010
serves 4
hands-on time: 40 minutes
total time: 2 hours, 20 minutes
1 pound ground beef chuck
2 medium russet potatoes (1 pound), peeled and cut into 1/4-inch pieces
2 medium onions, finely chopped
salt and pepper
4 cups all-purpose flour, spooned and leveled, plus more for rolling
1 1/4 cups (2 1/2 sticks) cold unsalted butter, cut into pieces
Heat oven to 350F. In a large bowl, combine the beef, potatoes, onions, 1 teaspoon salt and 1/4 teaspoon pepper.
Place the flour, butter and 1 teaspoon salt in a large bowl. With a pastry blender or 2 knives, cut in the butter, working until the mixture resembles coarse meal, with a few pea-size lumps remaining. Add 2/3 cup ice water; mix with a fork and work with your hands until a dough comes together. If the dough is still crumbly, add more ice water, 1 tablespoon at a time (up to 4 more tablespoons). Do not overwork. Shape the dough into 4 small disks and let rest for 10 minutes.
On a lightly floured surface, roll each disk into a 10-inch circle.
Divide the beef mixture among the circles of dough, shaping the meat into a small loaf. Gather and pull up the sides of the dough around the filling, pressing the edges together to form a seam on top. Using your fingers, crimp the seam. Transfer the pasties to a parchment-lined baking sheet. Bake until golden brown, 1 1/4 to 1 1/2 hours.