If you are in Utah, I will be making these cookie sandwiches on Channel 2′s Fresh Living today at 1pm!

Ah, summer…
If there is one thing that screams summer to me, it is watermelon. It's not even technically summer yet, (edit – I'm a dork and just realized that today is actually the first day of summer!!), but we've already made our way through 3 of them. So what better way to celebrate summer than with watermelon treats?
And ok – technically, these aren't even watermelon. They are strawberry. And chocolate. And buttercream. No watermelon in sight. Except for the fact that they look like watermelons. That's what matters, right?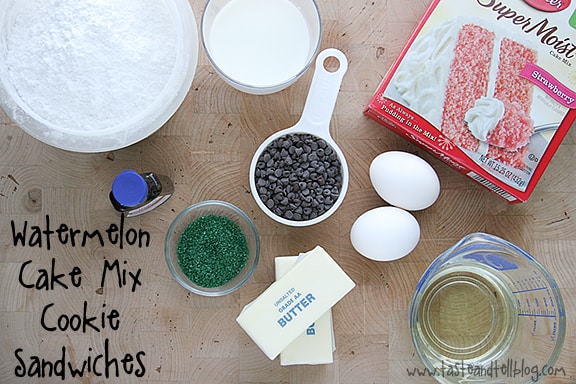 I have to go on the record that I totally stole this idea from one of you. Back in 2007, I did a post on cake mix cookies. Thanks to Pinterest, (follow me there if you are on!), these cookies have been my #2 most popular post for months now. You all love cake mix cookies! And one of you left a comment, saying that it would be fun to put mini chocolate chips in the cookies, and to make them into ice cream sandwiches, with the edges rolled in something green to resemble a watermelon. I saw that idea, and couldn't get it out of my head. I did decide to substitute the ice cream with a buttercream filling, just to make these easier to transport and to share. But ice cream would definitely be my second favorite choice!!
If you want to really go with the watermelon idea, you can always do a white cake mix, colored with food coloring.  And you can flavor them with watermelon flavoring oil.  I haven't tried this, but I'm pretty sure it would work.  But I took the easy way – and even though they are strawberry flavored, they still scream summer to me!!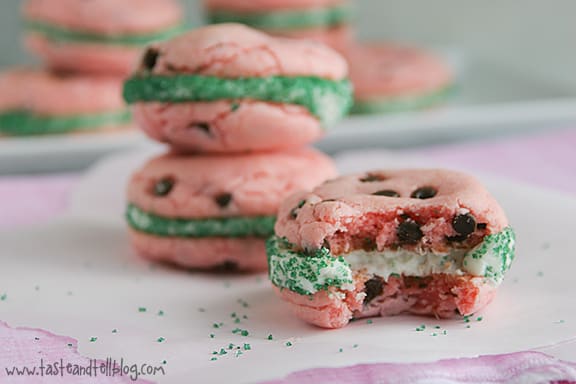 Watermelon Cake Mix Cookie Sandwiches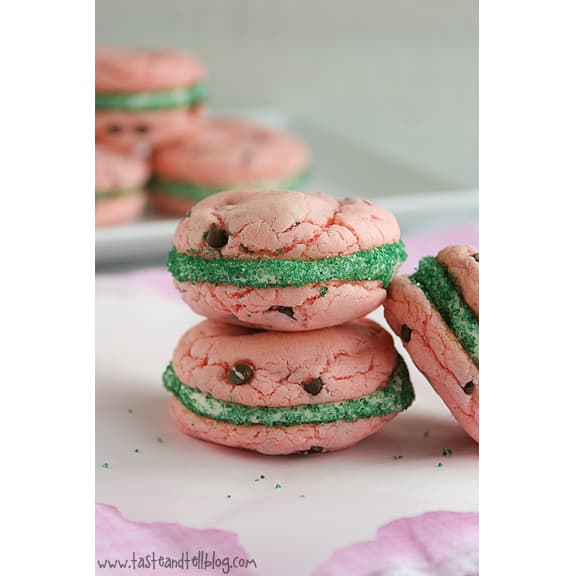 Strawberry cake mix cookies are studded with chocolate chips, filled with buttercream frosting, and rolled in green sugar. The perfect watermelon cookie sandwich for summer!
Ingredients
1 box strawberry cake mix
2 eggs
1/2 cup vegetable oil
1/2 cup mini chocolate chips
1/4 cup butter, at room temperature
2 cups powdered sugar
1/8 cup milk
1/2 teaspoon vanilla
green colored sugar
Instructions
Preheat the oven to 350F. In a bowl, mix together the cake mix, eggs and vegetable oil until combined. Mix in the chocolate chips.
Drop by tablespoonfuls onto an ungreased cookie sheet. Bake in the preheated oven for 8-10 minutes. Cool completely.
In another bowl, beat the butter until smooth. Gradually add in the powdered sugar. Add the milk and the vanilla and mix until smooth.
Turn half of the cookies upside down. Using an offset spatula or a piping bag, add frosting to the bottom of the cookies. Top with another cookie to make a sandwich. Roll the edges of the frosting in the colored sugar.
http://www.tasteandtellblog.com/watermelon-cake-mix-cookie-sandwiches/
Recipe from www.tasteandtellblog.com
More watermelon inspired sweet treats:
Watermelon Bombe Cake from The Family Kitchen
Watermelon Cupcakes from Bakingdom
Frozen Watermelon Roll from Fake Ginger