1.3K Flares
1.3K Flares
×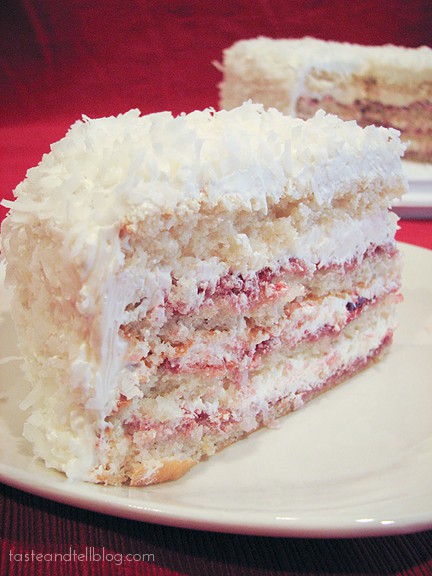 First of all, and most importantly, Happy Birthday (and blog birthday) to Meeta!! Meeta's blog is the first food blog I found, discovered through her wonderful pictures on flickr. I remember se
eing something about one of the Monthly Mingles she was holding and being very confused about what was going on. Now that I have been blogging for a few months, I am no longer confused about what a blogging event is, and I am proud to be sending my first entry to this Monthly Mingle event. I knew I wanted to participate when I heard it was a birthday party (I do love sweets!) but I didn't know what I wanted to make. I thought of doing some cupcakes, but then I received my copy of Baking: From My Home to Yours and saw a picture of this recipe, and I knew that I had to make it for the birthday bash. It looked like the perfect party cake!!

So, being the procrastinator I am, I waited until the end and finally made the cake last night. I am striving to become a better baker – I have always been a cake mix baker before. But I do have to say, there is something really therapeutic about baking – especially the step when you rub the sugar and the lemon zest together with your fingers. I stood there, fingers covered in sugar, just inhaling the wonderful scent of the lemon sugar. My novice baking skills really show in this cake – it's not nearly as pretty as Dorie's. I wanted the layers to be perfect, but my skills aren't quite there yet, and I had trouble keeping the buttercream frosting on top of the raspberry preserves – instead it kept mixing in with the raspberry preserves. And I have to admit that at one point, I doubted Dorie (shame on me) when I was putting together the buttercream frosting. This was my first time making buttercream frosting and after 4 or 5 minutes of beating, it was still very thin. But I followed the instructions and kept beating, and sure enough, just as Dorie wrote, after about 7 minutes, the frosting became a beautiful thick, glossy frosting. I almost didn't have enough frosting (I think I put too much in between the layers) but luckily, the coconut on the cake covered any spots that were a little thin on frosting. Overall, it was a very good learning experience for me. I have decided that baking is an art. There are many, many blogs out there that bake so beautifully, and I truly consider those people artists. I only hope that with practice, one day my baked goods will turn out as beautiful!
I do have to mention that this cake is very sweet. I cut myself a piece once I finished to enjoy my accomplishment, but I couldn't finish a normal sized piece of cake. The cake is very good, but very sweet – so it is probably best enjoyed with a tall glass of milk! I cut the rest of the cake into smaller pieces to take to work the next day.
Perfect Party Cake
from Baking: From My Home to Yours
by Dorie Greenspan
FOR THE CAKE:
2 1/4 cups cake flour
1 T baking powder
1/2 t salt
1 1/4 cups whole milk or buttermilk
4 large egg whites
1 1/2 cups sugar
2 t grated lemon zest
1 stick (8 T) unsalted butter, at room temperature
1/2 t pure lemon extract
FOR THE BUTTERCREAM
1 cup sugar
4 large egg whites
3 sticks (12 oz) unsalted butter, at room temperature
1/4 cup fresh lemon juice
1 t pure vanilla extract
FOR FINISHING
2/3 c seedless raspberry preserves, stirred vigorously or warmed gently until spreadable
About 1 1/2 c sweetened shredded coconut
GETTING READY: Center a rack in the oven and preheat the oven to 350 degrees F. Butter two 9-x-2 inch round cake pans and line the bottom of each pan with a round of buttered parchment or wax paper. Put the pans on a baking sheet. TO MAKE THE CAKE: Sift together the flour, baking powder and salt. Whisk together the milk and egg whites in a medium bowl. Put the sugar and lemon zest in a mixer bowl and rub them together with your fingers until the sugar is moist and fragrant. Add the butter and, working with the paddle or whisk attachment, or with a hand mixer, beat at medium speed for a full 3 minutes, until the butter and sugar are very light. Beat in the extract, then add one third of the flour mixture, still beating on medium speed. Beat in half of the milk-egg mixture, then beat in half of the remaining dry ingredients until incorporated. Add the rest of the milk and eggs, and the remaining dry ingredients. Finally, give the batter a good 2 minute beating to ensure that it is thoroughly mixed and well aerated. Divide the batter between the two pans and smooth the tops with a rubber spatula.
Bake for 30 to 35 minutes, or until the cakes are well risen and springy to the touch. Transfer the cakes to cooling racks and cool for about 5 minutes, then run a knife around the sides of the cakes, unmold them and peel off the paper lines. Invert and cool to room temperature right side up. TO MAKE THE BUTTERCREAM: Put the sugar and egg whites in a mixer bowl or other large heatproof bowl, fit the bowl over a pan of simmering water and whisk constantly, keeping the mixture over the heat, until it feels hot to the touch, about 3 minutes. The sugar should be dissolved, and the mixture will look like shiny marshmallow cream. Remove the bowl from the heat.
Working with the whisk attachment or with a hand mixer, beat the meringue on medium speed until it is cool, about 5 minutes. Switch to the paddle attachment if you have one (I don't, so I continued to use my hand mixer.) Add the butter a stick at a time, beating until smooth. Once all the butter is in, beat the buttercream on medium-high speed until it is thick and very smooth, 6 to 10 minutes. During this time, the buttercream may curdle or separate – just keep beating and it will come together again. On medium speed, gradually beat in the lemon juice, waiting until each addition is absorbed before adding more, and then the vanilla. You should have a shiny, smooth, velvety, pristine white buttercream.
TO ASSEMBLE THE CAKE: Using a sharp serrated knife and a gentle sawing motion, slice each layer horizontally in half. Put one layer cut side up on a cardboard cake round or a cake plate protected by strips of wax or parchment paper. Spread it with one third of the preserves. Cover the jam evenly with about one quarter of the buttercream. Top with another layer, spread with preserves and buttercream and then do the same with a third layer. Place the last layer cut side down on top of the cake and use the remaining buttercream to frost the sides and top. Press the coconut into the frosting patting gently all over the sides and top.
I would love to try this again and do it cupcake style – also I would like to try it with fresh fruit. I love this cookbook!!
1.3K Flares
1.3K Flares
×