Make your own tots at home! These Sweet Potato Tots are the perfect indulgence – and better for you than the fast food tots! Plus a review of Superfoods at Every Meal.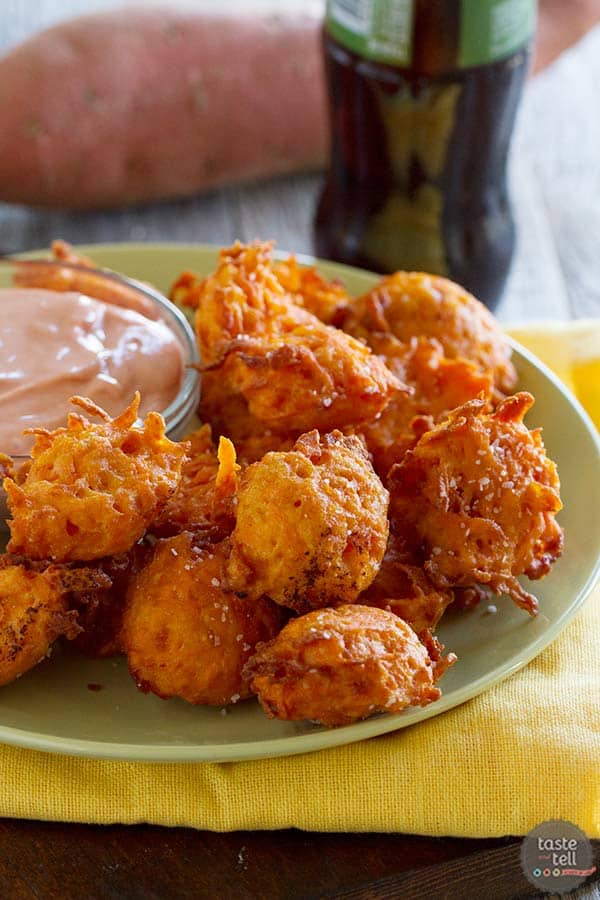 Ok, this might sound kind of silly, but I think I'm addicted to cooking. And to cookbooks. (Well, if you know me, the cookbook thing is pretty believable…)
I'm leaving for a week long vacation today. And as a self-employed one woman show, a lot goes into getting ready to leave town. The plan was to spend many days making sure to have plenty of recipes done, and then to spend the week before leaving doing everything on the computer. I told my husband to be forewarned that dinners this week were going to be very simple.
It hasn't even been a week since I've really cooked something, but I'm already having withdrawals. All I want to do is cook something fun. Something new. And knowing that it will be another week until I cook is not helping.
I told you I am crazy.

I have found myself standing in front of my cookbook shelf, picking up a cookbook here and there, flipping through the pages, mentally picking things to make. And one of those cookbooks that keeps ending up in my hands is today's cookbook review – Superfoods at Every Meal by blogger Kelly Pfeiffer of Nosh and Nourish.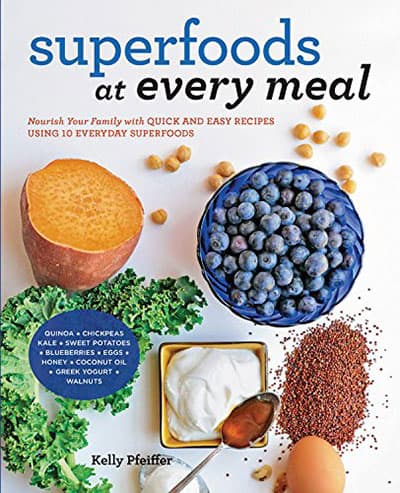 I had been eagerly awaiting a copy of this book. I was able to go through a pdf of the book many months ago, but there is nothing like holding an actual cookbook in your hands. And this is a fun one to add to my collection.
This book focuses on adding at least one superfood to every recipe – quinoa, chickpeas, kale, sweet potatoes, blueberries, eggs, honey, coconut oil, Greek yogurt and walnuts. The thing that I love about this concept is that it's totally doable. It's not changing your whole diet and expecting your family to fall in love with health foods. It's making small changes, which in the long run turn into big changes. And I totally love that.
And the bonus is that all 10 of these superfoods are pantry staples for me. So whipping up one of Kelly's recipes is easy.
Here are the details:
Number of Photos: lots. There is almost a photo of every recipe. And they are beautifully done and make you want to get into the kitchen to cook them.
Difficulty Level of Recipes: easy to medium. There are some baking recipes that might be somewhat on the medium side if you are an inexperienced baker, but the instructions are clear. The majority of the recipes, though, are quite easy and should be easy for the majority of people.
Availability of Ingredients: easy. I think that a few years ago, healthier ingredients may have been harder to fine, but today, you should easily be able to find all of these ingredients in any grocery store.
Other recipes I want to try:
Quinoa, Corn and Black Bean Quesadillas
Maple Sweet Potato Hash with Fried Eggs
Coconut Curried Soup
Honey Sesame Fish Tacos with Lime Greek Yogurt Sauce
Balsamic Kale and Chicken Sausage Pizza
Chocolate Covered Strawberry Bread
Buy Superfoods at Every Meal on Amazon.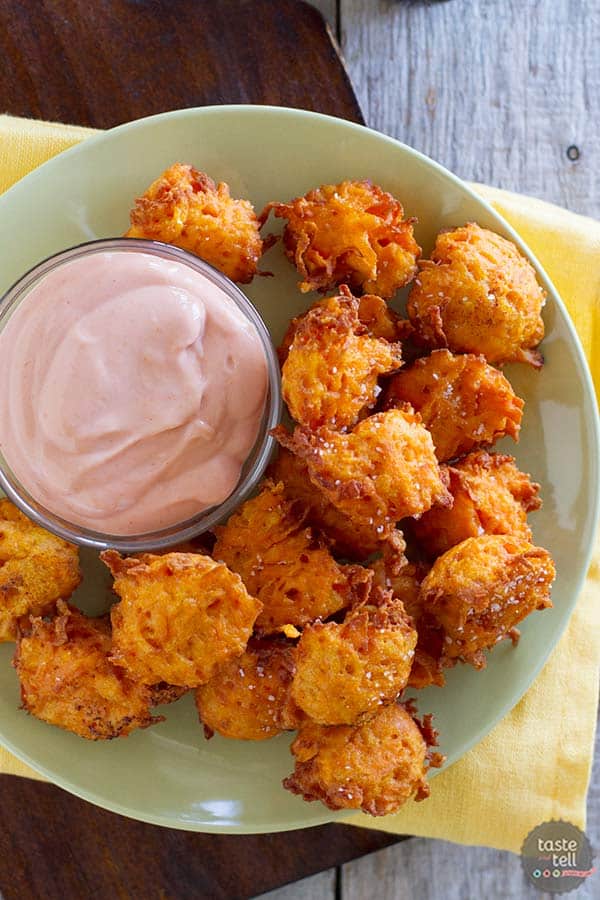 And of course, I had to take a cookbook filled with healthy recipes and use the one that gets deep fried, right? 😉 I had several recipes chosen to try, but for some reason, this one just kept coming back to me. I think it has something to do with my love of sweet potatoes and my love of snack foods.
These sweet potato tots are way better than you'll get at the local fast food joint. The sweet potatoes give them so much flavor. Believe me – you'll fall in love with these and want to keep popping them into your mouth.
It doesn't hurt, either, that these are pretty simple to make. If you are afraid of frying, don't be. I don't have a fancy deep fryer, so I just use a pot. And I used a small cookie scoop to scoop the batter into the fryer and it worked perfectly.
The only change I made to this recipe was to sprinkle on some kosher salt once they came out of the oil. It's a little trick I learned awhile back. That salt really enhances the flavor, taking these over the top.
I'm so excited to continue to explore this cookbook and to make more of the recipes. I think they are ones that my whole family is going to love!!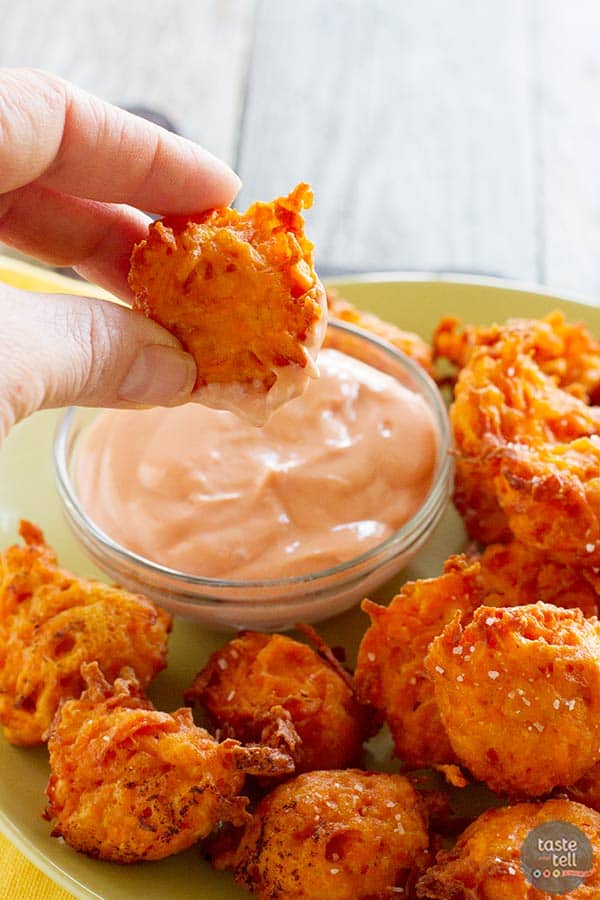 Like what you see here? Make sure you are following Taste and Tell for more great recipes and ideas!!

Facebook ** Pinterest ** Twitter ** Instagram ** Google+
or you can subscribe to my newsletter or Feedly or Bloglovin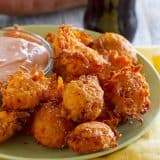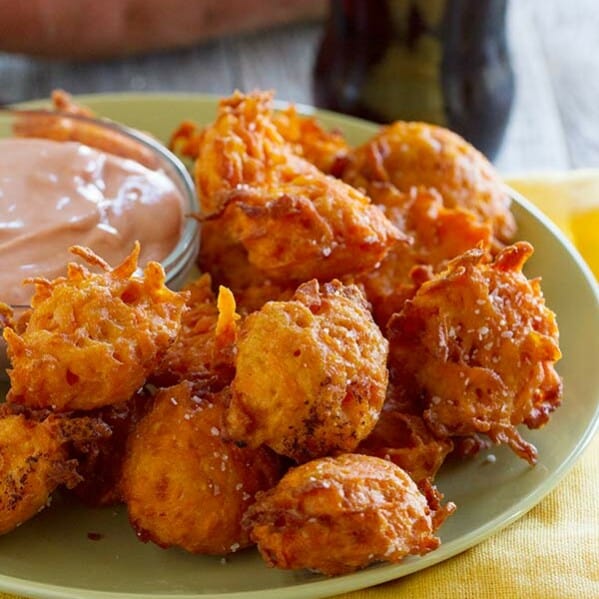 Sweet Potato Tots with Creamy Ketchup
---
Author:
Prep Time: 20 mins
Cook Time: 10 mins
Total Time: 30 mins
Yield: 24-36 tots 1x
Description
Make your own tots at home! These Sweet Potato Tots are the perfect indulgence – and better for you than the fast food tots! Plus a review of Superfoods at Every Meal.
---
Scale
Ingredients
Sweet Potato Tots:
1 large sweet potato, peeled
1 egg
1/4 cup (30g) all-purpose flour
1/4 teaspoon sea salt
1/4 teaspoon paprika
1/4 teaspoon garlic powder
3 cups oil, for deep frying*
Creamy Ketchup:
1/4 cup (58g) plain Greek yogurt
1/4 cup (60g) ketchup
---
Instructions
For the tots:
Bring a large pot of water to a boil. Add the whole sweet potato and cook for about 15 minutes. You want it to be slightly softened, but not easily mashed – you will need to be able to grate it. Drain and let it sit until cool enough to handle, then grate with a cheese grater.
Combine the shredded potato and egg in a medium bowl and use a fork to combine. In another bowl, combine the flour, salt, paprika and garlic powder. Add the flour mixture to the potato and stir to combine.
Pour the oil into a deep fryer or in to a heavy pot. Heat the oil until it is 375ºF. Place a few sheets of paper towels on a plate to drain the tots when they are done cooking.
Form the potato mixture into 1-inch balls** and add to the hot oil, being careful not to overcrowd the pot. (It will take you several batches to cook all of the potato mixture.) Fry for 3 minutes, then remove with a slotted spoon and drain on the paper-towel lined plate. Repeat with the remaining batter, allowing the oil to come back to temperature between batches.
For the sauce:
In a small bowl, combine the yogurt and the ketchup. Serve with the hot tots.
Recipe Notes:
*the recipe calls for peanut oil, but I don't usually keep peanut oil on hand, so I used vegetable oil.
**I used a small cookie scoop to make the balls. It worked perfectly!
***I sprinkled my tots with kosher salt after they came out of the oil. I always like doing this with fried foods – I think it adds a lot of extra flavor.
Recipe from Superfoods at Every Meal, shared with permission by Fair Winds Press
Don't miss a thing! Follow me on Pinterest to see what I'm pinning!
Visit Taste and Tell's profile on Pinterest.




I received this book from the publisher for this review, but all opinions are my own. This post contains affiliate links. If you purchase an item from Amazon from the link Taste and Tell receives a small commission. Thank you for supporting Taste and Tell through your purchases!