A healthier alternative for pizza night, this crust is made from sweet potatoes and whole wheat flour and only takes minutes to make. Top it with Canadian bacon and pineapple for a great sweet and savory pizza.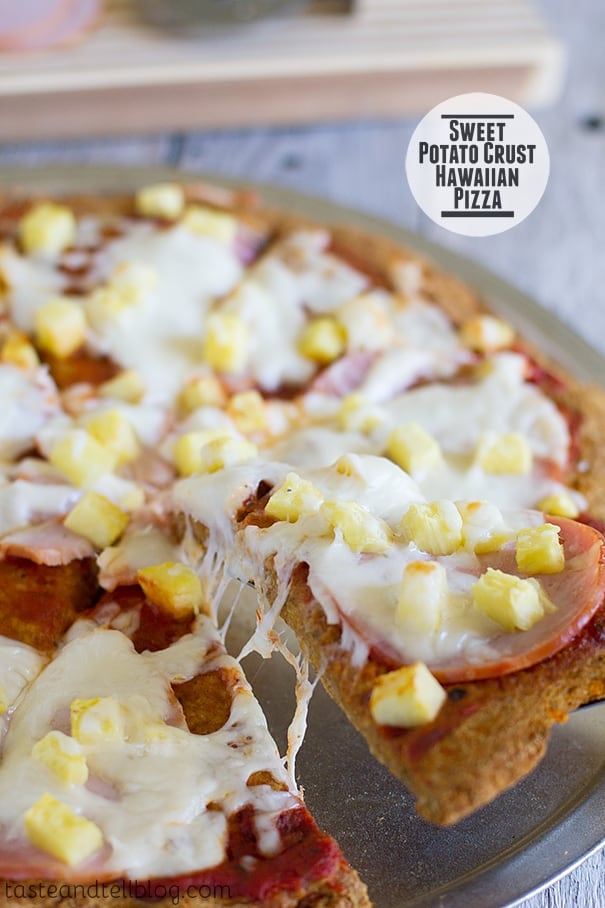 This post has been sponsored by Jones Dairy Farm



I used to work out a lot. Like going to the gym 5-6 days a week. At 5am.
Let's just say – things have changed since I've had kids.
I was really good while I was pregnant with Abbi. I worked out right up to the end of my pregnancy. But once she came, getting to the gym was harder. And then I added another kid, and it was even harder. Add in a third? Well, it became basically impossible.
I actually went a couple of years without a gym membership. And then, a few months ago, I decided I needed to do something, so I bought a new gym membership, complete with childcare, thinking that would be my answer.
Not so much. The last time I went, Camden had a bit of separation anxiety and cried the entire time I was working out. I felt so badly when I went to get him, that I have hesitated going back. Not to mention that the childcare is so busy that you have to schedule days in advance. And, we are in sick season, so taking my kids to pick up germs right now doesn't really appeal to me. So the only time I have been going is at night once the kids are down for bed.

But you guys – I actually worked out 6 times last week. At home. We have the new xbox fitness, and I'm having so much fun with it!! You get scored and get points and try to beat the averages in your age range – it really does add a whole new level of fun. And the workouts are actually quite intense. But I have been looking forward to them and love that I can do them at home.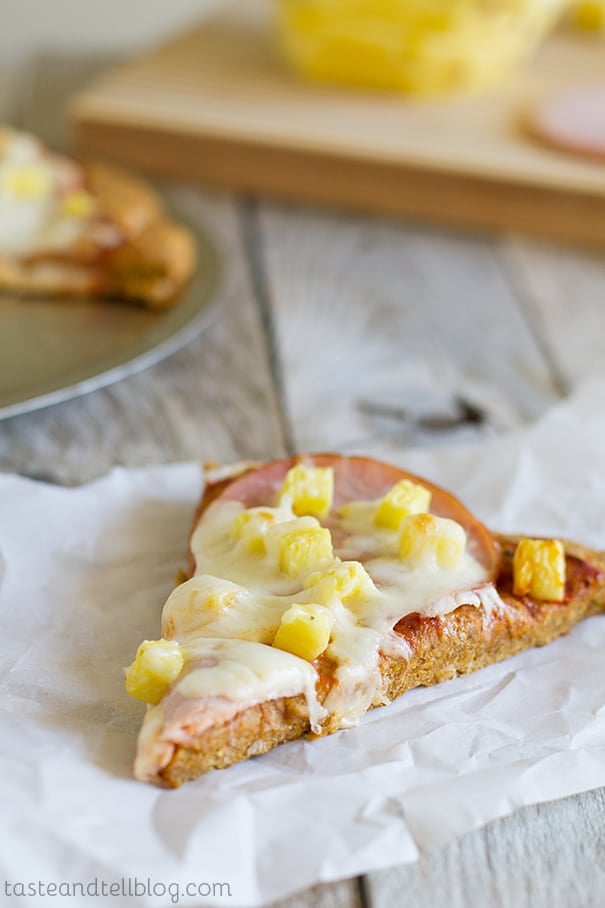 Since I've been busting my butt working out, I haven't wanted to undo all of my hard work in the kitchen. We love having pizza night, and will often make pizza once a week. And it goes without saying that pizza night isn't exactly the healthiest night.
So I decided to change things up.
This pizza crust is made from mashed sweet potatoes and whole wheat flour. No yeast – so you don't have to wait for it to rise. So not only is this a healthier alternative, but you can make it last minute.
I will give full disclosure – you won't be able to fool anyone into thinking this is a normal pizza crust. It definitely doesn't taste or feel like a traditional yeast pizza crust. But – it's a great way to make a healthy change. You get a little bit of sweetness from the potatoes and a little bit of earthiness from the whole wheat flour. And then you add the Canadian bacon.
My husband's favorite kind of pizza is Hawaiian – Canadian bacon and pineapple. So not only did I think the sweetness of the pineapple would go well with the sweet potatoes in the crust, but Canadian bacon is a healthier choice than pepperoni, sausage, or any of the other meats you'll see on pizza.
And let's just talk about this Canadian bacon. You all know that I am a huge fan of Jones Dairy Farm, right? Their products are all natural and are made the same way they have been made for years. And they are a family run business with family values – that goes a long way with me as a consumer. And the most important part – all of their products taste awesome. The Canadian bacon included. It was the perfect topping for this pizza, along with the fresh pineapple. We love pineapple in our house, and often have fresh pineapple on hand, but you could probably get away with using canned pineapple as well.
If you are looking for a healthy change to pizza night, give this Sweet Potato Crust Hawaiian Pizza a try!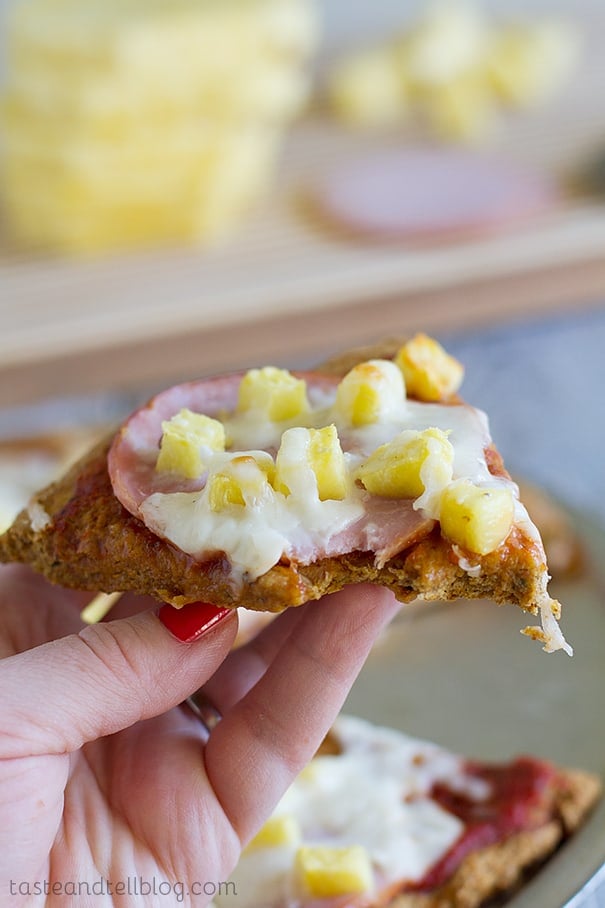 Like what you see here? Make sure you are following Taste and Tell for more great recipes and ideas!!

Facebook ** Pinterest ** Twitter ** Instagram ** Google+
or you can subscribe to my newsletter or Feedly or Bloglovin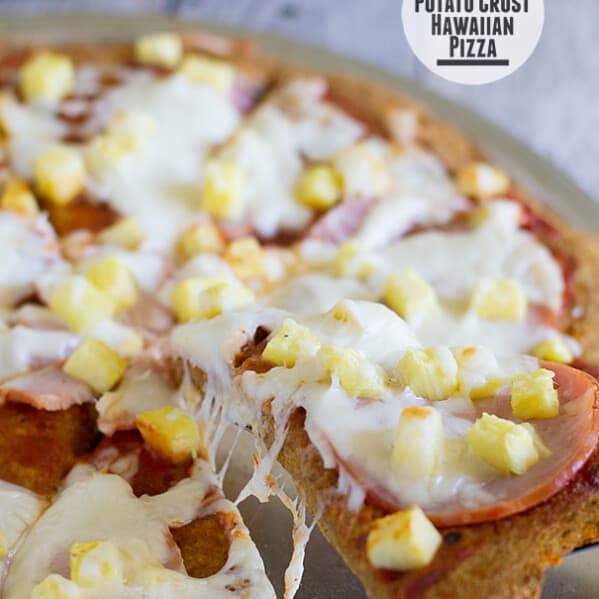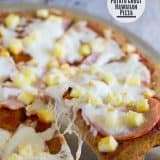 Sweet Potato Crust Hawaiian Pizza
---
Prep Time: 15 minutes
Cook Time: 35 minutes
Total Time: 50 minutes
Yield: 8 slices 1x
Description
A healthier alternative for pizza night, this crust is made from sweet potatoes and whole wheat flour and only takes minutes to make.
---
Scale
Ingredients
1 1/2 cups mashed sweet potatoes
1 1/2 cups whole wheat flour
2 teaspoons baking soda
2 teaspoons Italian seasoning
1 teaspoon salt
1/2 cup pizza sauce
7 slices Jones Dairy Farm Canadian Bacon
1/2 cup diced pineapple
1 1/2 cups shredded Mozzarella cheese
---
Instructions
Preheat the oven to 400F.
In a large bowl, combine the mashed sweet potatoes, whole wheat flour, baking soda, Italian seasoning and salt. Mix until completely combined. With oiled hands, pat the dough into a 12″ pizza pan. Bake in the preheated oven for 15-20 minutes, or until lightly browned.
Remove the pizza from the oven evenly spread the pizza sauce over the top. Top with the Jones Dairy Farm Canadian bacon and the diced pineapple. Sprinkle the cheese over the top. Return the pizza to the oven and cook an additional 10-15 minutes, until the cheese is melted and bubbly.
I am in a working relationship with Jones Dairy Farm, and this post has been sponsored. I'm so glad to be able to work with companies and organizations that I truly believe in. Thank you for supporting them, too.