Pin It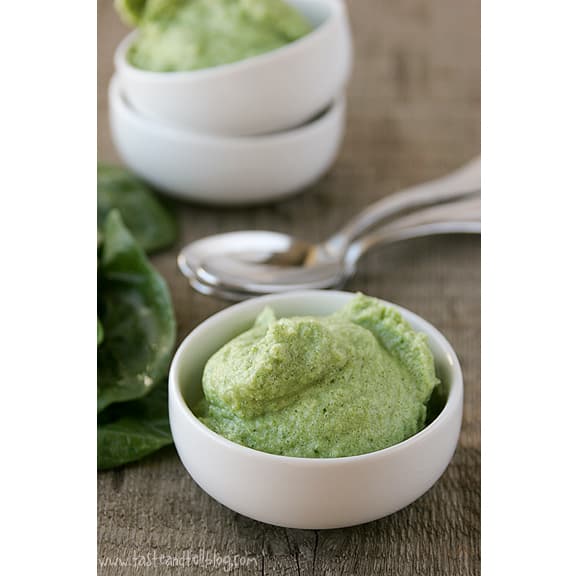 I have a bit of an obsession when it comes to all things kitchen. I wish I was one of those people who could just get by with the minimum. But I have to have 10 different spatulas. I have to have both a stand mixer and a hand mixer. (And at least 2 whisks.) A waffle maker, a panini press, different sizes of cast iron skillets and 3 or 4 pie plates. I tell ya – it's an obsession!
Awhile back, I got a new food processor (to replace a cheap food processor – believe me people, you get what you pay for!!) I was in love. I still am in love. I don't know how I lived without this thing. And then I moved. I lived with my parents for a little while, and while we were packing up, I was trying to decide what to take and what to send to storage. I didn't want to lug a bunch of stuff around, so I was being choosy. I had planned on bringing my food processor, because my mom doesn't have one, but she said that I didn't need to, because I could just use her blender. Her blender? But I needed to make baby food. How was I going to do that in a blender?
Little did I know that a blender could really do so much. And during those weeks at my mom's house, I learned that I needed a new kitchen appliance – and I had my eyes set on a Blendtec.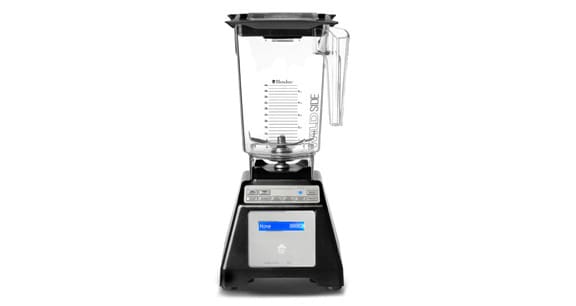 You would not believe the surprise and excitement I experienced when the folks at Blendtec wanted to know if I'd like to review one of their blenders. It came at the perfect time – we had just moved out of my parent's house, so I no longer had access to my mom's blender. And it seemed like all I would see all over Pinterest was green smoothie after green smoothie. I had a blender, but I know it had been months and months since I had used it, and like I said before – you get what you pay for. That blender I had was cheap, didn't blend worth anything, and ended up just taking up space because I didn't trust it to do the job.
I've had my Blendtec for a few weeks now, and I'm not lying when I say I've used it almost every single day. I make a smoothie most mornings. Both of my kids beg for them. (I guess Easton doesn't technically beg, since he can't even talk yet, but if he sees me with one, he will reach and cry until you give him some!) I have made everything from baby food to pesto to ice cream. And I have a ton more recipes waiting to be used.
Let me just tell you, this thing is amazing. The most powerful appliance that I have ever seen. I'll admit that it is pretty loud, but for the work it does, I guess it has to be!! I'm not going to say that I'll never use my beloved food processor again, but this thing works just as well (if not better) and is 10 times easier to clean. And as much as I hate having stuff all over the tops of my counters, my Blendtec has earned a permanent spot right on top!
And this ice cream?  Simply delicious.  If you've ever had snow ice cream, the taste and texture of this ice cream reminded me of snow ice cream.  You don't taste the spinach at all, but it's a great way to get those extra vitamins and nutrients in.  I'd say it's probably the healthiest ice cream I've ever eaten!!  And it's also great for those ice cream cravings when you don't have any frozen treats in the house.  This comes together in no time flat – craving satisfied!

Pin It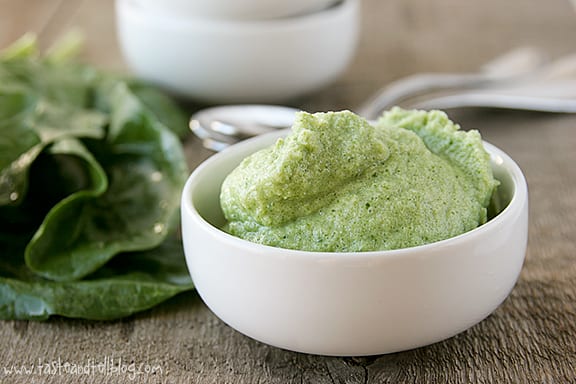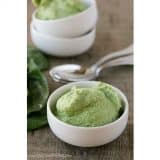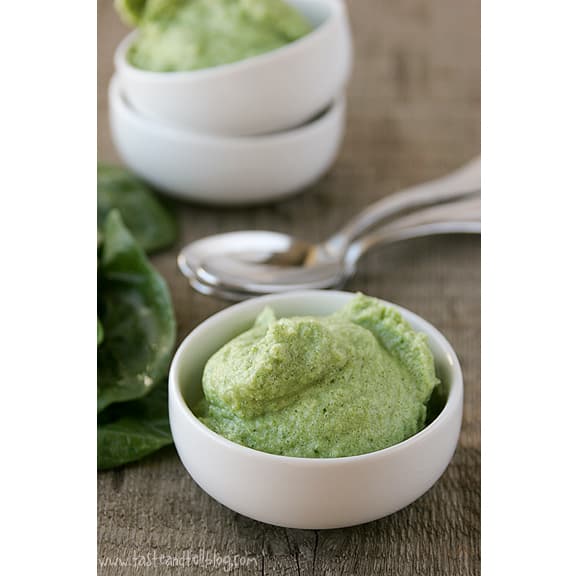 Spinach Ice Cream
---
Prep Time: 5 minutes
Total Time: 5 minutes
Yield: 6 servings 1x
Description
Get 20% of your daily vitamin A from dessert! This ice cream may sound strange, but you'll never even guess that it's made from spinach.
---
Scale
Ingredients
3/4 cup half and half
1/4 cup agave nectar syrup
2/3 cup fat-free powdered milk
2 cups spinach, lightly packed
1 1/2 tablespoons vanilla extract
2 1/2 cups ice cubes
---
Instructions
Add the ingredients to the jar in the order listed. Select the "ice cream" button, then serve.
————–
recipe from Blendtec
**Disclosure – I was sent a Blendtec blender for this review, but was not compensated for the review.  All opinions are my own – and even if I wouldn't have been sent the blender, I'd be saving up for it right now!**