Frosted Butterscotch Cookies – a soft brown sugar cookie is topped with a sweet butterscotch cookie in this kid-favorite cookie.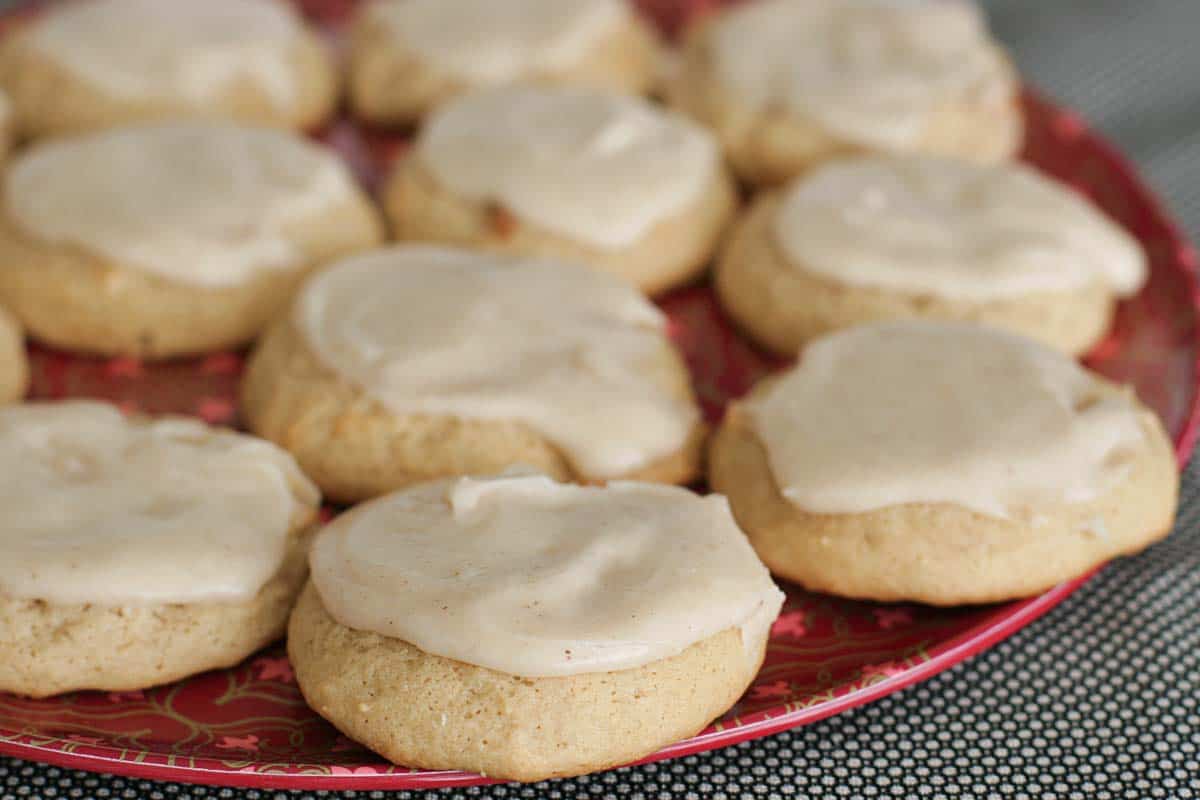 My husband loves Oreo cookies.  Loves them.  He'll eat homemade cookies, and even really likes some that I make, but if faced between the decision of a homemade cookie or an Oreo, I think he'd chose the Oreo.  So it's pretty funny to me that my daughter – who turns 2 this month! – asks for cookies by either saying "dadda's cookie" or "momma's cookie."  When she asks for dadda's cookie, it means an Oreo, and momma's cookie means a homemade cookie!  Luckily, she likes my baking, so my cookie attempts are not always shunned!
When I came across this recipe, I knew I had to try these cookies.  All you have to say is "browned butter" and I know that I'm looking at a recipe that I'll love!!  And yes – I did love these cookies.  They are definitely more of a cake-like cookie than a chewy cookie, and they are quite sweet.  But it's good, because you are satisfied after 1 (or maybe 2!)  The dough is super soft and sticky – I was all prepared to add more flour after testing the first batch.  But they baked up beautifully as the recipe is written.  And don't even start your frosting until the cookies are cool. The frosting will harden up pretty quickly.  In fact, I found that I had to add more water than the recipe calls for just to get a spreading consistency.  If you like your cookies soft and sweet, this recipe is for you!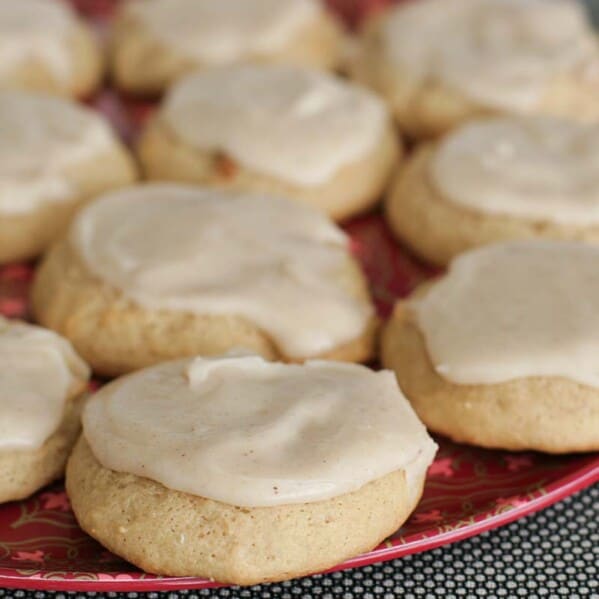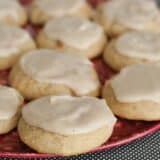 Frosted Butterscotch Cookies
---
Author:
Prep Time: 15 minutes
Cook Time: 12 minutes
Total Time: 1 hour
Category: Dessert
Method: Baked
Cuisine: American
Description
Frosted Butterscotch Cookies – a soft brown sugar cookie is topped with a sweet butterscotch cookie in this kid-favorite cookie.
---
Scale
Ingredients
Cookies:
2 1/2 cups all-purpose flour
1 teaspoon baking soda
1/2 teaspoon salt
1/2 teaspoon baking powder
1 1/2 cups packed brown sugar
1/2 cup shortening
2 eggs
1 teaspoon vanilla
1 (8-oz) container sour cream
Browned Butter Frosting:
1/2 cup butter
3 1/2 cups sifted powdered sugar
5 teaspoons boiling water
1 1/2 teaspoons vanilla
---
Instructions
Preheat oven to 375 degrees F. Grease cookie sheets. Set aside.
In a medium mixing bowl stir together flour, salt, baking soda, and baking powder. Set aside.
In large mixing bowl beat the brown sugar and shortening with an electric mixer on medium speed until well mixed. Add eggs and 1 teaspoon vanilla. Beat until well mixed. Add flour mixture and sour cream alternately to beaten mixture, beating after each addition.
Drop dough by rounded teaspoons 2 inches apart onto prepared cookie sheets. Bake for 10 to 12 minutes or until edges are lightly browned. Transfer to a wire rack and let cool.
To make frosting, in a medium saucepan heat and stir 1/2 cup butter (no substitutes) over medium-low heat until golden brown. (Do not scorch.) Remove from heat.
Stir in powdered sugar, boiling water, and 1-1/2 teaspoons vanilla. Beat until frosting is easy to spread.
Immediately spread on cooled cookies. If frosting begins to set up, stir in a small amount of additional boiling water. If desired, top with additional chopped walnuts or walnut halves.
Recipe Notes:
Keywords: butterscotch cookies