Perfect for a cold night, this easy gourmet hot chocolate is easily customizable. The featured Spiced Orange Hot Chocolate and Peanut Butter Caramel Hot Chocolate are a hit for kids and adults!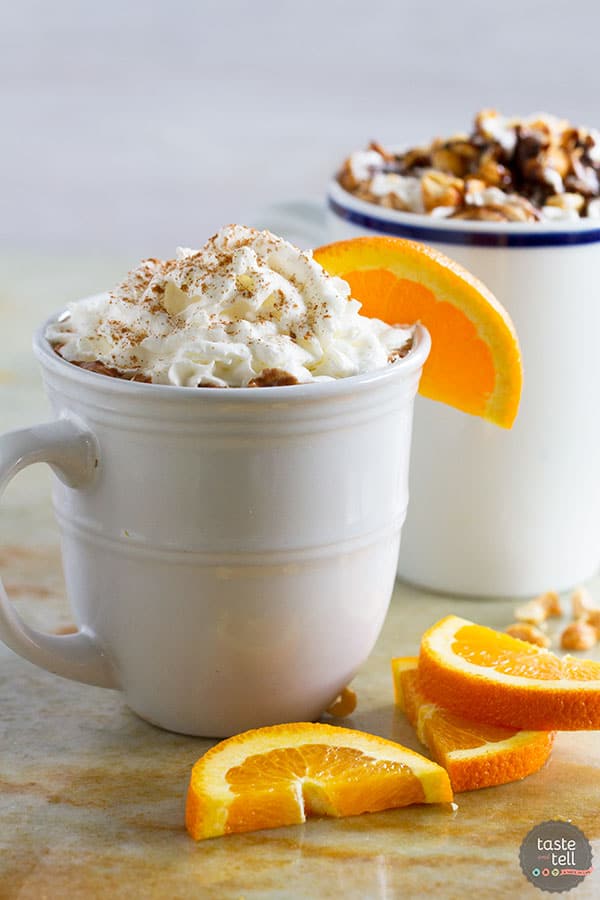 This post is sponsored by Reddi-wip



This is my favorite time of year. It's just something in the air. I always want to be kinder, spend more time with my family, and spend extra time reflecting on of the blessings in my life.
If there is one thing in this world that I am the most thankful for, it is my kids. I always knew that I wanted to be a mom, but I had no idea how much it would change me for the better.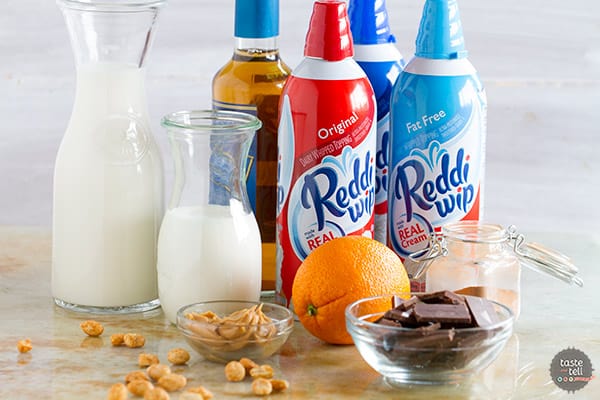 As a mom, one of the things I want the most for my kids is for them to find joy in life. It's not always an easy concept to teach, because we are constantly surrounded by events and outside sources that will try to bring us down, but I want my kids to be happy. To live life to it's fullest. Did you know that only 2 out of every 5 Americans think they have enough joy in their lives?
So then comes the big question. How exactly do we teach our kids to have joy in their lives?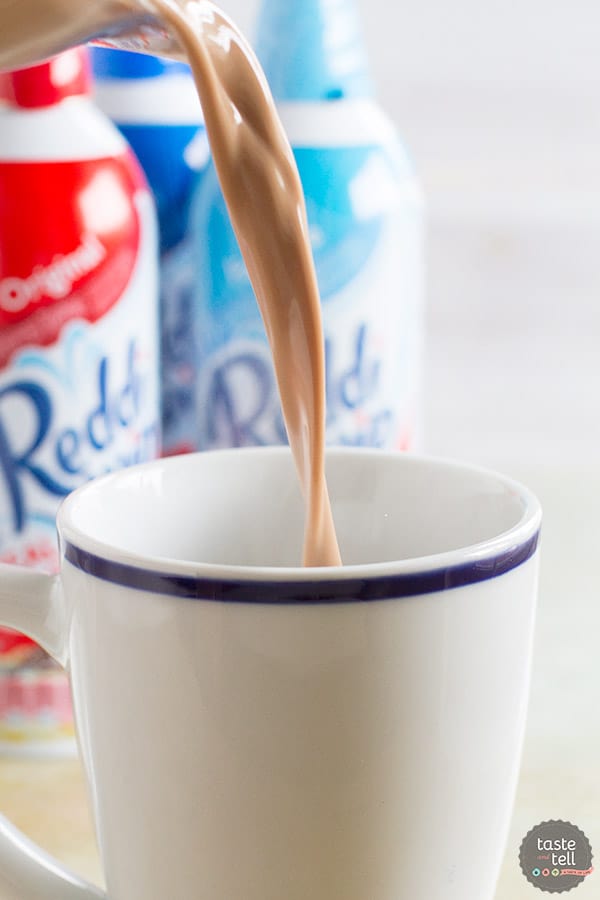 Well, the good thing is that we all want joy in our lives. 96% of Americans agree that we would all be happier if we tried to share joy. I think the key word in that sentence is share. Sure, we can all find things on our own that make us happy and bring us joy, but that joy is usually fleeting and temporary – unless we share it with others.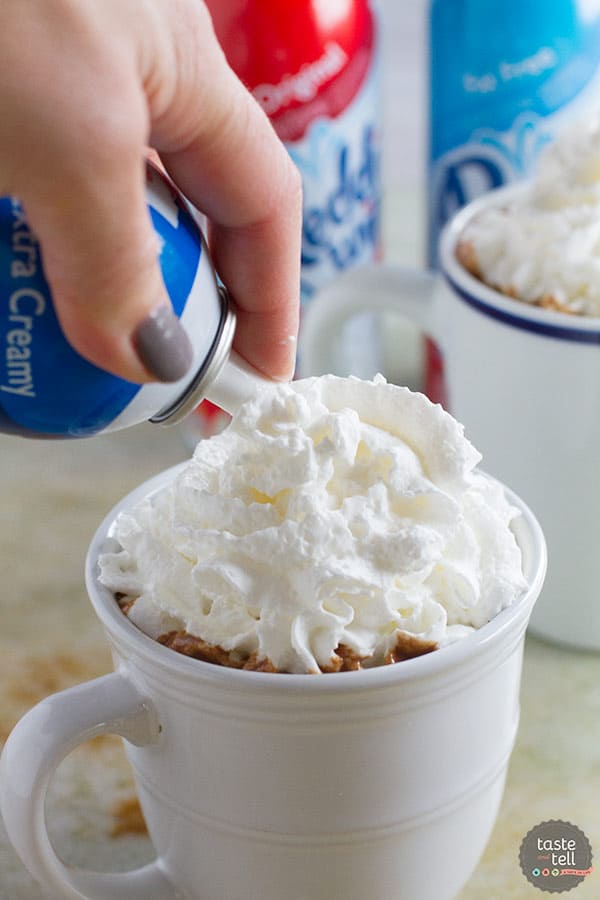 So this season, I'm dedicating myself to find ways to share more joy, to spread more joy. It can be anything from sharing a joyful moment of my own with others, or creating ways to bring joy to those around me – especially my kids.
One thing that my kids love more than anything else is hot chocolate. They would drink it in the dead of summer, but they especially love it as a way to warm up after being outside in the cold. So I decided to come up with a few hot chocolate recipes that are way better than the powdered envelope to share with my kids. This hot chocolate is the real deal. Real chocolate, milk and cream – all topped with a dollop of Reddi-wip. (Which, by the way – a definite way to bring joy into our house is to let the kids add their own Reddi-wip. It's almost as good as Christmas!!)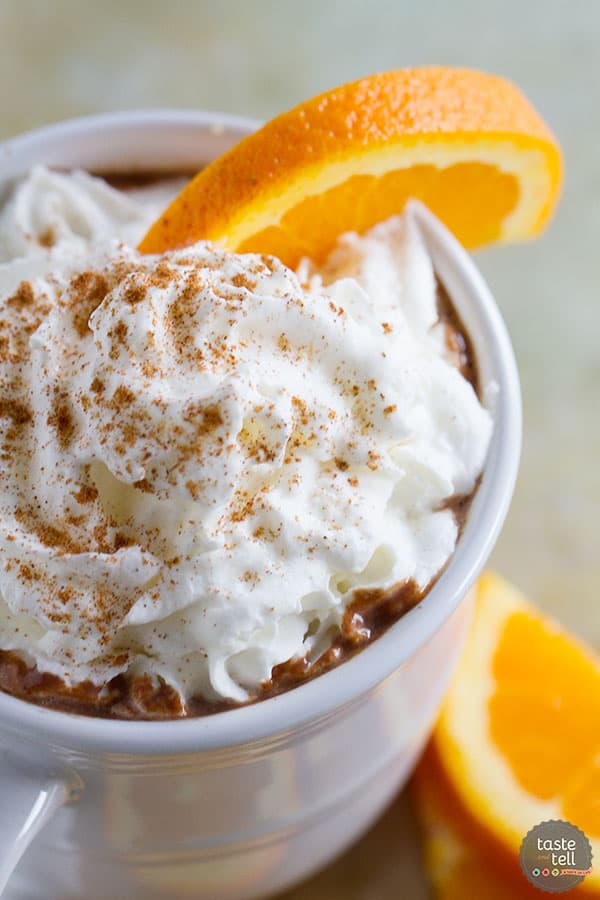 As "fancy" as this hot chocolate is, it is so super simple to make – you'll wonder why you haven't been making it this way all along. You can make this on the stove-top or the microwave, and it pretty much takes just as long as heating up the powdered hot cocoa. I decided to go with 2 flavors to appease all three of my kids. 🙂 The first is a Spiced Orange Hot Chocolate – with a little added orange zest and pumpkin pie spice. This seriously tastes like the holidays to me. The second is rich and decadent – a Peanut Butter Caramel Hot Chocolate, complete with peanut butter and caramel syrup. If you don't have the caramel syrup, it is also delicious without, but that caramel element really took it over the top.
And of course, both versions are required to be topped with Reddi-wip, because what is hot chocolate without it? I don't want to know!
I'm hoping that through small gestures like this, that I can spread joy to my kids and show them what joy truly is. Show them that it can be found in small gestures, but that it is always best when it is shared!
Reddi-wip would love to know how you share joy with others. Share by using the hashtag #ShareTheJoy so we can all see how you are sharing the joy!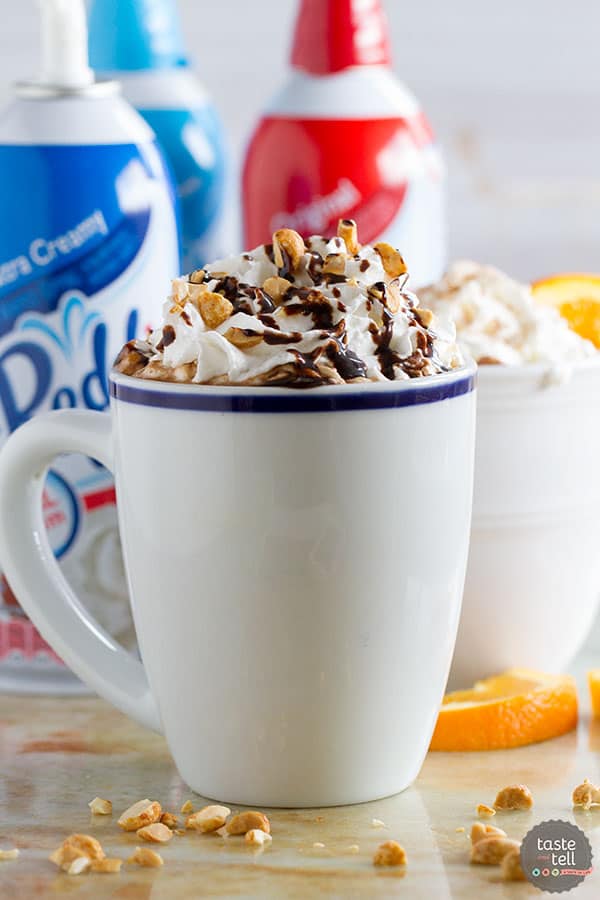 Like what you see here? Make sure you are following Taste and Tell for more recipes and ideas!
Facebook | Pinterest | Instagram | Twitter | Google+ | Weekly Newsletter | Feedly | Bloglovin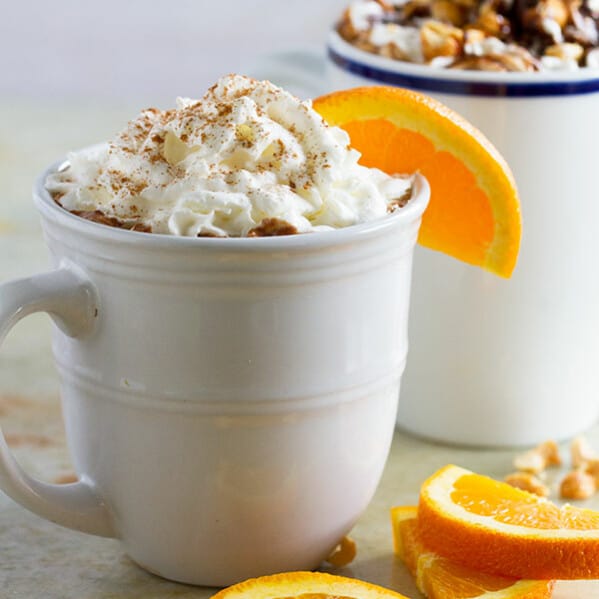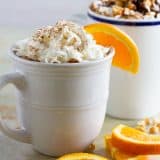 Gourmet Hot Chocolate – 2 Ways!
---
Prep Time: 5 mins
Cook Time: 10 mins
Total Time: 15 mins
Yield: 1-2 servings each 1x
Description
Perfect for a cold night, this easy gourmet hot chocolate is easily customizable. The featured Spiced Orange Hot Chocolate and Peanut Butter Caramel Hot Chocolate are a hit for kids and adults!
---
Scale
Ingredients
Base:
1 cup milk
1/2 cup heavy cream
2 oz milk chocolate
Reddi-wip topping
Spiced Orange Hot Chocolate
1 teaspoon grated orange zest
1/8 teaspoon pumpkin pie spice
Peanut Butter Caramel Hot Chocolate
2 tablespoons creamy Peter Pan® peanut butter
1 teaspoon caramel syrup
---
Instructions
In a small saucepan or microwave safe bowl, combine the milk, cream and chocolate. Gently heat, stirring frequently, until the chocolate has melted and the mixture is smooth.
For the Spiced Orange Hot Chocolate, stir in the orange zest and pumpkin pie spice. Pour the mixture into a mug and top with Reddi-wip topping. If desired, serve with an orange slice and sprinkle lightly with additional pumpkin pie spice.
For the Peanut Butter Caramel Hot Chocolate, stir the peanut butter into the warm mixture and whisk to combine. If the peanut butter doesn't smooth out quickly, heat up the mixture a little longer until the peanut butter melts. Stir in the caramel syrup. Pour into a large mug and top with ReddI-wip. If desired, top with chopped peanuts, caramel syrup or chocolate sauce.
Don't miss a thing! Follow me on Pinterest to see what I'm pinning!
Visit Taste and Tell's profile on Pinterest.



This is sponsored content written by me on behalf of Reddi-wip. The opinions are all mine.