Homemade whole wheat rolls are topped with different seeds in this beautiful Crown Loaf.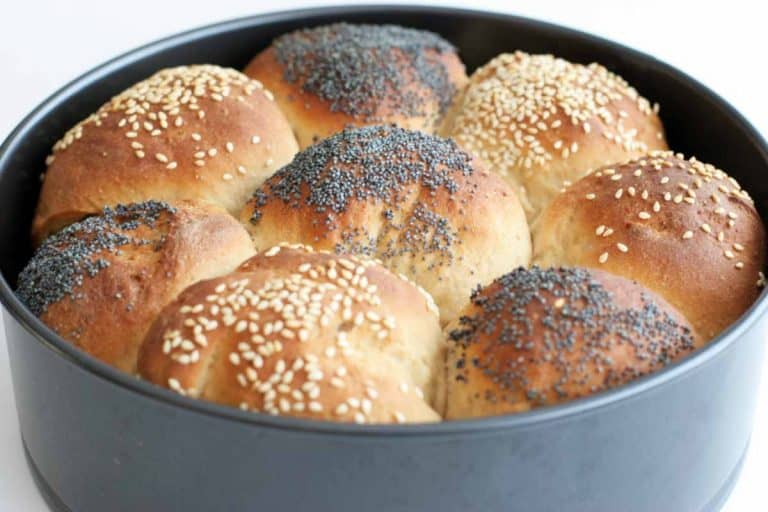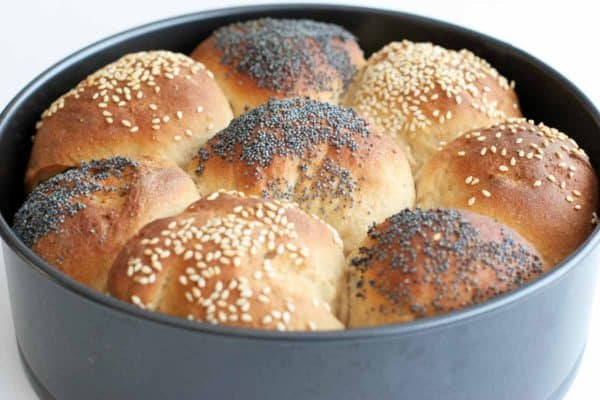 One thing I have enjoyed since becoming a stay-at-home wife is baking more bread. I really do enjoy making bread, but it's not something that I could usually pull off on a weeknight, and the weekends would get so hectic that setting aside a few hours to bake bread rarely happened.
But now that I'm home every day, I've been able to make bread a few times. Now the only problem is that my husband isn't a big bread eater, so I've probably been eating more bread than I should be!!
The original title of this recipe is a Three-Seed Crown Loaf. There are supposed to be sesame seeds, poppy seeds, and sunflower seeds. But for some reason, after shopping at 2 different stores, I couldn't find any sunflower seeds. But then – as it normally happens – now that I've already made the bread, I'm finding sunflower seeds everywhere!!
This recipe claims that it is so easy that even a bread novice could make it. I agree that it was pretty easy, but I wouldn't say this was the best tasting bread I've ever had. It calls for 4 cups of whole wheat flour, and I did have whole wheat and half white flour. I don't know if that had anything to do with it. The rolls were good, but not something I want to make over and over again. But I do love the look of the rolls, and think that maybe with some tweaking, this would be a great recipe. And it could be that I like the lighter texture of a white roll and I just need to get used to baking with whole wheat. Maybe it's time for some experimentation…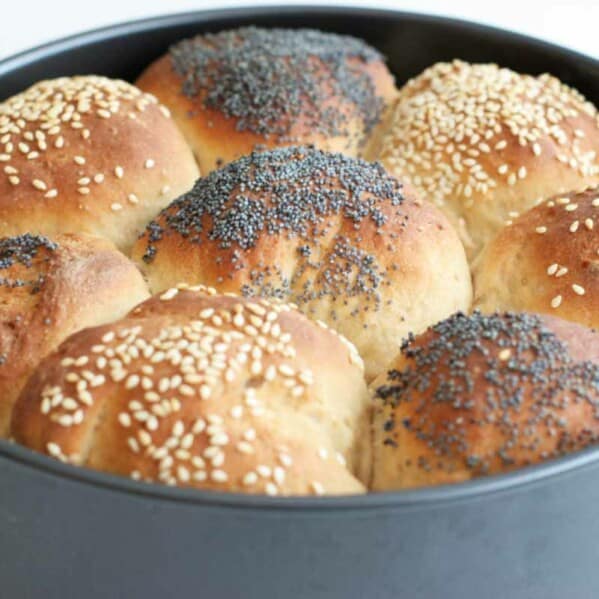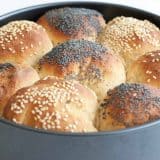 Crown Loaf
---
Author:
Category: Bread
Method: Baked
Description
Homemade whole wheat rolls are topped with different seeds in this beautiful Crown Loaf.
---
Scale
Ingredients
2 cups whole-wheat flour
2 cups bread flour
2 teaspoons salt
1 envelope instant yeast
1 1/4 cups lukewarm water
2 tablespoons honey
2 tablespoons plus 1 teaspoon vegetable oil
2 tablespoons poppy seeds
2 tablespoons sesame seeds
---
Instructions
Measure the flour, salt, and yeast into a mixing bowl. Measure the water into a cup, then stir in the honey and 2 tablespoons of oil. Pour the liquid into the dry ingredients.
Mix with the paddle attachment to form a soft dough. The dough should be wet enough to cling to the bowl; add more lukewarm water if necessary.
Change to the dough hook, or turn out onto a floured surface to knead. Knead the dough for 10 minutes.
Rub the teaspoon of oil in a large bowl. Put the dough in the bowl, turning to coat with water. Cover the bowl with plastic wrap and let it stand in a warm place for about 1 1/2 hours or until doubled.
Turn out the dough and pat flat. Shape into a round, cut into 8 wedges, then roll into balls. Dip half the balls in the poppy seeds and the other half of the balls in sesame seeds.
Grease an 8-inch springform pan. Place the balls in the pan and let rise for 35-40 minutes.
Preheat the oven to 450F. Bake for 10 minutes. Lower the heat to 400F and cook for 20 minutes longer. Remove the springform catch, remove the bread from the pan, and let cool on a wire rack.
Recipe Notes:
adapted from Cooking Club of America Cooking Essentials