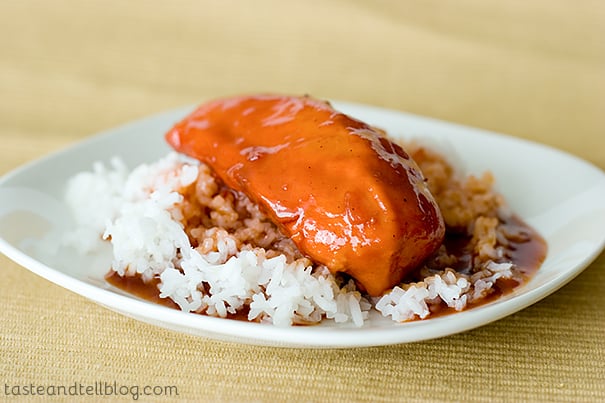 Last year when I got laid off, I had this idea in my head of what life as a stay-at-home mom was going to be like. Part of the idea was dinner on the table every night. The first couple of months after Abbi was born, I realized that it is just not that easy. My baby was definitely my priority, and dinner often got pushed to the back burner.
Fast forward to now. My beautiful girl is now 9 months old, and almost doesn't seem like a baby any more. But still, sometimes dinner is hard to get on the table. Maybe it's the time of day – she's usually so good about playing by herself and keeping herself occupied, but as soon as the evening strikes, a lot of the time she wants full attention. I try to keep her entertained by letting her watch me make dinner while sitting in her high chair. Sometimes it works, and sometimes it doesn't. I've had a fair share of times that dinner ends up half made on the stove, only to end up eating peanut butter and jelly sandwiches for dinner.
I loved quick and easy dinners before, but now I completely love them. Don't get me wrong, I love to make something complicated and "all out" every once in awhile, but for every day – quick and easy is my mantra. And really, it doesn't get any easier than this recipe. Seriously – a total of probably 5 minutes of prep work, throw it in the oven and less than an hour later, dinner is on the table. That is exactly why I chose this recipe. Another recipe you can make while holding a 9-month old in one hand!!
I was pleasantly surprised by how much I liked this. As I was making it, I thought to myself, "you never like things made with these onion soup packets. Why in the world did you choose this recipe??" But I'm glad I did, because it was quite tasty, and even better the next day! I think I should start rating recipes by how good they are as leftovers sometimes! And even though this is nothing fancy or spectacular, I'd totally make it again!
Recipe Rating: 4.1 out of 5
Sweet and Sour Chicken
adapted from Recipes from River View
Serves 4
4 chicken breast halves
1 cup Catalina salad dressing
1 cup brown sugar
1 envelope dry onion soup mix
rice, for serving
Preheat oven to 350F. Place chicken in a casserole dish.
In a small bowl, combine the dressing, brown sugar and onion soup mix. Pour over chicken breasts. Cook in preheated oven for about 45 minutes, or until no longer pink in the middle.
Serve over rice.