Change up your pizza routine with this Chili Cheese Stromboli! Pizza dough is packed with chili and lots of cheese, then rolled and baked for a fun dinner idea.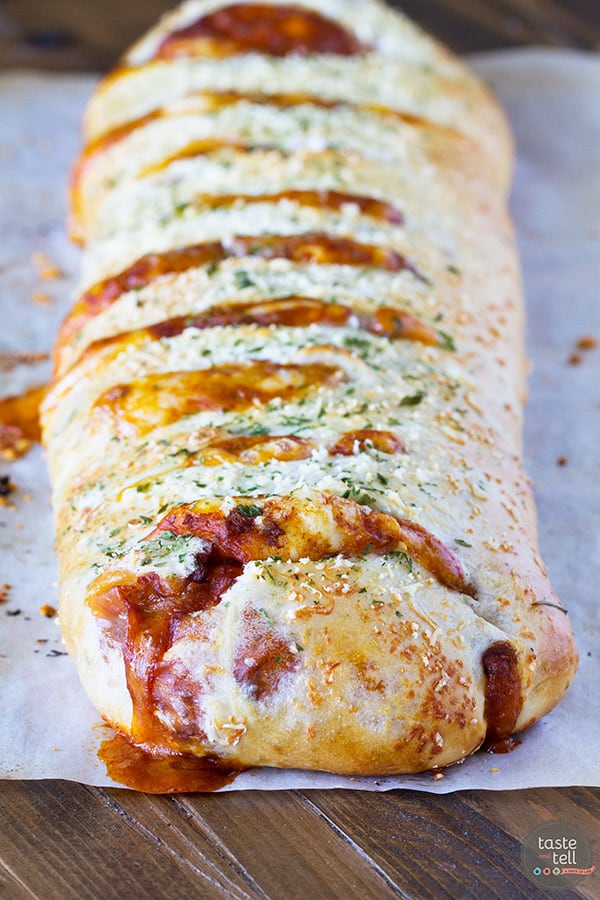 This post is sponsored by EVITE® and HORMEL®. I'm so glad to be able to work with companies and organizations that I truly believe in. Thank you for supporting them, too.


To say we are a pizza loving family is an understatement. If it were up to my kids, we would have pizza every other day. And I love pizza, too. Don't get me wrong. But my kids' choices are, well… boring. Pepperoni and cheese. Every. Single. Time.
I'll try to keep it more exciting for my husband and I and make a special "adults" pizza. Because as much as I like pizza, it can get old when you are having pepperoni and cheese once a week.
But this week, I decided to change things up a bit entirely. I decided to go the stromboli route. Now, I don't venture away from pizza very often. I do calzones every now and again (my husband loves them!) But I honestly don't think I've ever made a stromboli. And when I had some pizza dough, a can of HORMEL® Chili and a drawer full of cheese, I knew I just had to make an ooey, gooey, messy and delicious stromboli.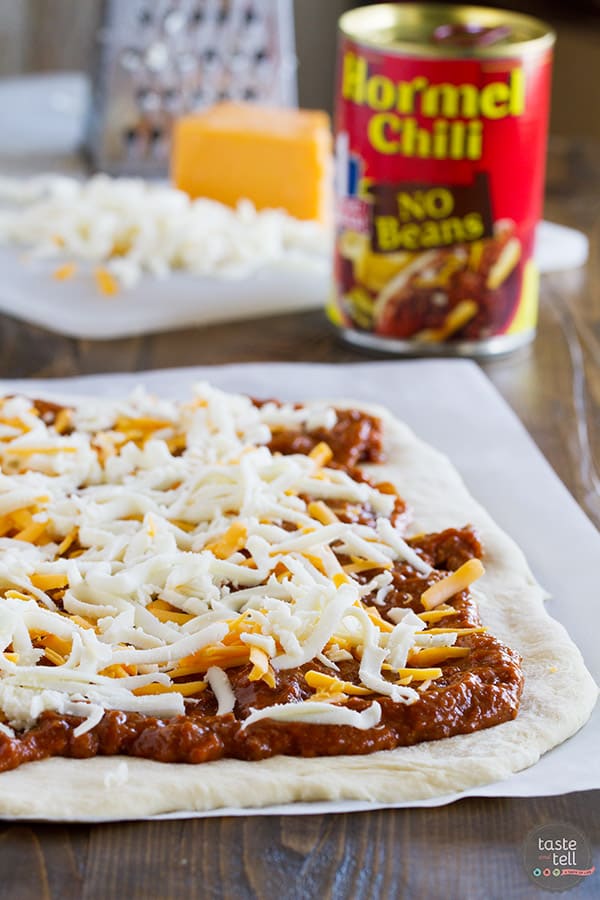 I love to keep a few cans of HORMEL® Chili on hand at all times because I'm a hot dog and chili dog addict and I never know when a craving will hit. And honestly, I thought of putting some cut up hot dogs in my stromboli, as well, but then I worried that it would be a little overkill. 😉
This Chili Cheese Stromboli is a super simple dinner idea. I love my homemade pizza dough recipe, but feel free to use store bought if you are in a time crunch. It is as simple as rolling out the dough into a large rectangle, topping it with your chili and cheese, and then rolling it up. I topped mine with some freshly grated parmesan and dried parsley, then baked it off until it was gooey and bubbly and hot.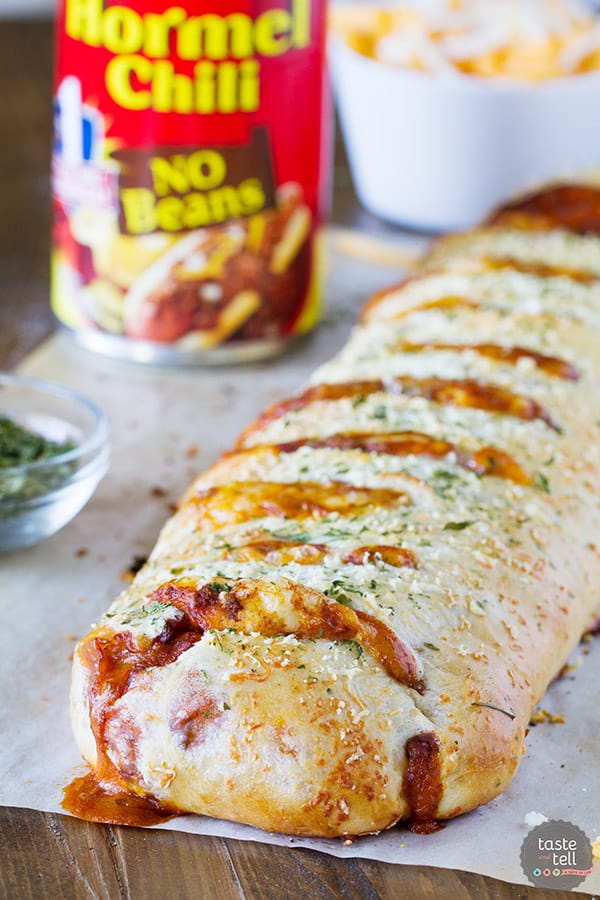 I could hardly wait for it too cool down before cutting it into slices and serving it. It is definitely messy – make sure you have some napkins ready – but totally worth it. This Chili Cheese Stromboli is a great dinner idea, or it's also great for game day. (Anyone planning on watching March Madness??)
So next time you want to change up pizza night, give this Chili Cheese Stromboli a try. Your tastebuds won't be disappointed.
For even more recipe ideas, turn to the HORMEL® site!
And if you are looking for game day eats for the big tournament this month, you have to check out these March Frenzy Game Time Eats!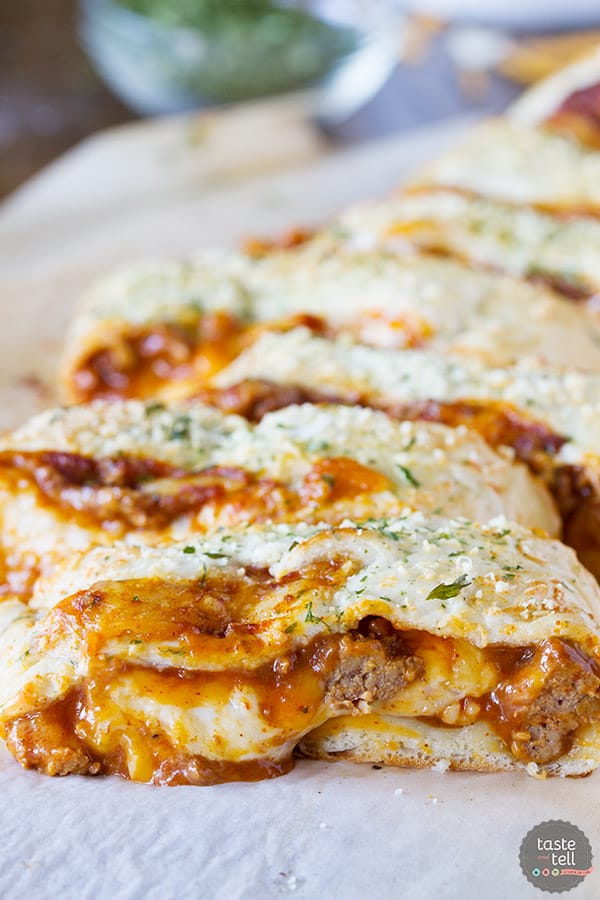 Like what you see here? Make sure you are following Taste and Tell for more recipes and ideas!
Facebook | Pinterest | Instagram | Twitter | Google+ | Weekly Newsletter | Feedly | Bloglovin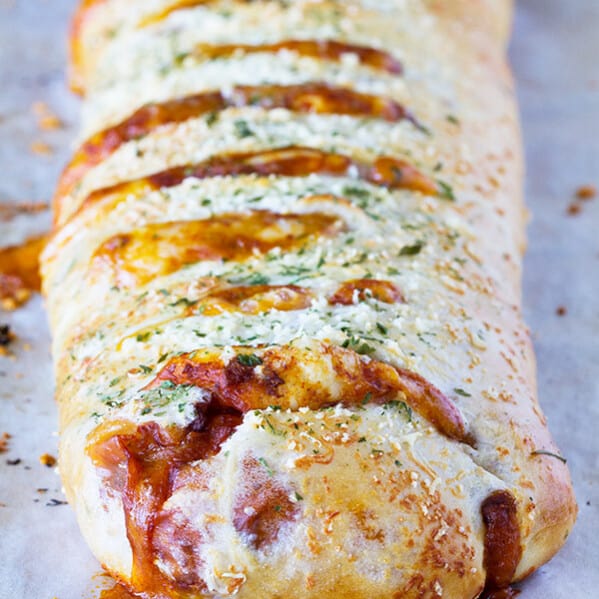 Chili Cheese Stromboli
---
Author:
Prep Time: 15 mins
Cook Time: 15 mins
Total Time: 30 mins
Yield: 4-6 servings 1x
Description
Change up your pizza routine with this Chili Cheese Stromboli! Pizza dough is packed with chili and lots of cheese, then rolled and baked for a fun dinner idea.
---
Scale
Ingredients
12 oz pizza dough
1 can (15 oz) HORMEL® Chili, no beans
3/4 cup grated cheddar cheese
3/4 cup grated mozzarella cheese
1 egg
1/4 cup freshly grated parmesan cheese
1 teaspoon dried parsley
---
Instructions
Preheat the oven to 450ºF. If using a pizza stone, let the stone heat for 30 minutes.
Roll the pizza dough out on a piece of parchment paper to a rectangle about 10×14. Spread the HORMEL® Chili evenly over the dough, leaving a 1-inch border on all sides. Top evenly with the cheese.
Lightly beat the egg with a splash of water. Brush some of the egg wash over the border.
Starting on the long side, roll the dough jelly roll style, rolling as tightly as possible, pinching the edges closed. Using a very sharp knife, cut slits in the top of the dough about every 1 1/2 inches. Brush the whole top of the stromboli with more of the egg wash. Sprinkle with the parmesan cheese and the parsley.
Bake in the preheated oven until golden brown, about 12-15 minutes. Let the stromboli sit for 5 minutes before cutting into slices.
Don't miss a thing! Follow me on Pinterest to see what I'm pinning!
Visit Taste and Tell's profile on Pinterest.