1.6K Flares
1.6K Flares
×
A healthier alternative to the well known fried Chicken Parmesan, this Baked Chicken Parmesan is crispy and juicy and will leave you just as satisfied!
Photos Updated October 2014


Originally posted December 5, 2007 – It's amazing how far I have come since I started Taste and Tell. When this post was originally written, when my blog was less than a year old, I had never had spaghetti squash. Now I eat it all the time! And this is the first recipe where I used the technique of baking on a cooling rack to keep the food crispy. I have quite a few recipes here on Taste and Tell now that use that same technique. It's fun to see how much I have learned and experienced in these last few years!!
I actually remade this a few months ago, but since eating healthy is on the lips of a lot of people, I knew I needed to re-share this recipe. This is a satisfying meal that is low in calories. Healthy and satisfying – I'll take it!
This dish has a couple of things going for it.
1 – It's healthy
2 – It tastes good!
I went to an aerobics class on Thanksgiving morning, and for getting up and going to the gym on Thanksgiving, the instructor gave us each some of her favorite healthy recipes. This was one of them. (She also included some recipes for different protein shakes, so I'm thinking of doing a little series on protein shakes – would anyone be interested? That's my breakfast just about every weekday.)

The recipe she gave us for this Baked Chicken Parmesan did not include the spaghetti squash, but to my recollection, I don't think I've ever had spaghetti squash before, so I thought it would be a great way to incorporate some veggies. This was super easy to throw together and didn't taste like a "healthy" recipe at all. My husband wanted regular spaghetti noodles with his, but I ate mine with the spaghetti squash and it was very filling and very tasty. In fact, my plate is the one I took the picture of, and I couldn't even finish my portion! This Baked Chicken Parmesan recipe uses a technique that I have never used before. You are baking the chicken on top of a cooling rack. It helps to give the chicken more a a crispy exterior – the texture turns out much different than if you were to just bake it in a casserole dish. I will be using this method in the future for different things!!
So if you're trying to avoid the average 6-8 pounds gained during the holidays, this is a great meal to combat the calories from all of the goodies!!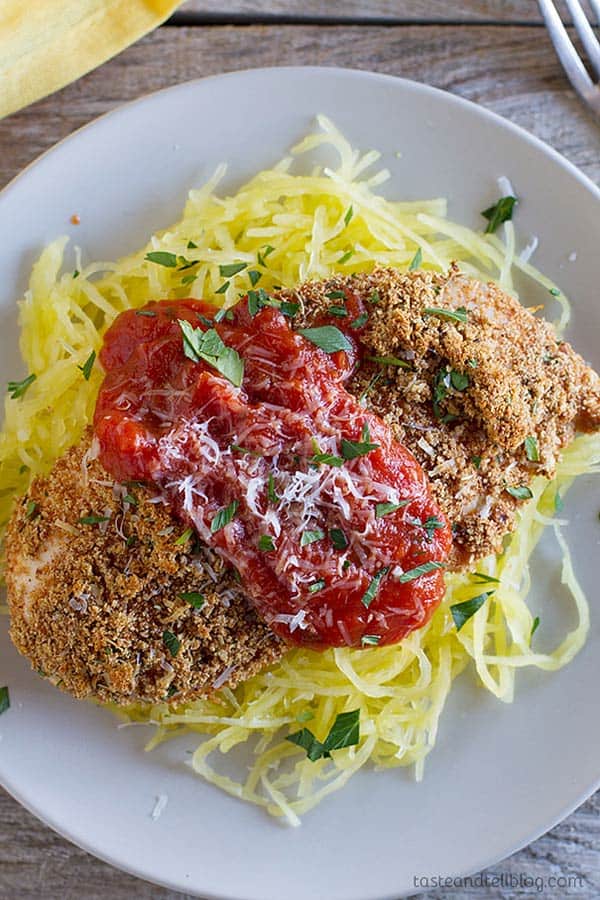 Like what you see here? Make sure you are following Taste and Tell for more great recipes and ideas!!

Facebook ** Pinterest ** Twitter ** Instagram ** Google+
or you can subscribe to my newsletter or Feedly or Bloglovin



Baked Chicken Parmesan
A healthier alternative to the well known fried Chicken Parmesan, this Baked Chicken Parmesan is crispy and juicy and will leave you just as satisfied!
Ingredients
4 slices whole wheat bread
¼ cup grated Parmesan cheese, plus more for topping
2 tablespoons minced fresh parsley
1½ teaspoons paprika
¾ teaspoon garlic powder
½ teaspoon dried thyme
¾ cup lowfat buttermilk
3 (8-10 oz each) boneless, skinless chicken breasts
1 cup prepared marinara (homemade or store-bought)
Instructions
Preheat the oven to 400ºF. Spray a cooling rack with nonstick cooking spray and set it over a baking sheet. Set aside.
Place the bread in a food processor or blender and process until you have fine crumbs. Pour the crumbs into a shallow bowl and add the ¼ cup Parmesan, parsley, paprika, garlic powder and thyme. Mix to combine.
Pour the buttermilk into a separate shallow bowl.
With a sharp knife, butterfly open each of the chicken breasts (cutting them open like a book), cutting each into 2 thinner pieces of chicken, for a total of 6 pieces. Dip each piece into the buttermilk, then into the breadcrumb mixture, using your hands to adhere the crumbs to the chicken if needed. Transfer to the cooling rack in a single layer.
Bake until the chicken is cooked through, about 15 minutes. Serve topped with the marinara and additional Parmesan cheese, if desired.
Notes
Keep it healthy by serving the chicken on top of a bed of spaghetti squash.
1.6K Flares
1.6K Flares
×