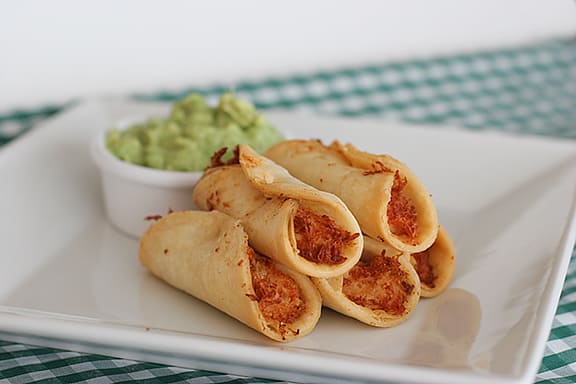 I hope you all had a wonderful Christmas!!
Today's recipe is a great recipe – both for New Year's and the football season!!
Now that Christmas has passed, it is time to focus on my favorite kind of food – appetizers!!! With New Year's right around the corner, and with football season in full swing, appetizers become my favorite kind of recipe to seek out. So of course, when I was asked to create a great entertaining recipe for the Campbell's Kitchen/Swanson Chicken Ultimate Football Challenge, I was all game! I'm not a big sport's person, but when there is a get-together for sports, I will be there because I know that there will also be food!
When I started to think about what kind of recipe I wanted to create, a few things came to mind. Bite-sized, of course, for a couple reason. First of all, food that is easy to grab without a plate and utensils as you pass the food table is always the most popular. And second, if the food is small, it's easier to try everything on the table!! And when I thought of "football" food, aka guy friendly food, I immediately thought of bacon, cream cheese and deep fried. There's not a better combination!!
These mini taquitos are what I finally came up with. And the Avocado Ranch Guacamole just takes them over the top. The perfect football food – in my opinion!!
Now, here's where I need your help. Of the participants in the Ultimate Football Challenge, Campbell's Kitchen is choosing 3 to travel to Philadelphia to battle it out to see who has the ultimate football recipe which will be featured on www.campbellskitchen.com. The 3 finalists are being judged on creativity, the use of Swanson's Chicken in their recipe, and reader response. So yes, you can help send me to Philadelphia, but even more than that, if I am chosen, I will get to go on a $250 shopping spree at the Campbell's Kitchen store for one of you!! So you have to comment if you want me to go, but you also have to comment if you want to be that reader who wins the goodies I pick up! I'm not one to usually beg for comments, but I'm making an exception this time!!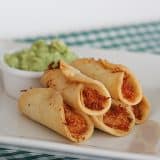 Chicken, Bacon and Cream Cheese Mini Taquitos
---
Prep Time: 30 minutes
Cook Time: 15 minutes
Total Time: 45 minutes
Yield: 32 taquitos 1x
Description
The perfect football appetizer! Chicken, bacon and cream cheese are rolled in mini tortillas and then fried.
---
Scale
Ingredients
Taquitos:
1/3 pound bacon, chopped
4 oz. cream cheese, at room temperature
2 12.5-oz. cans Swanson's canned Premium Chicken Breast
8 10-inch flour tortillas
oil, for frying
Avocado Ranch Guacamole:
½ cup smashed, fresh avocado
¼ cup mayonnaise
¼ cup sour cream
1 tablespoon buttermilk
1½ teaspoons white vinegar
⅛ teaspoon salt
⅛ teaspoon dried parsley
⅛ teaspoon onion powder
dash dried dill weed
dash garlic powder
dash pepper
---
Instructions
In a bowl, combine the cream cheese and chicken.
In a large skillet, fry the bacon until crisp. Remove with a slotted spoon into the bowl with the cream cheese and chicken. Combine mixture well.
Using a 3-inch circle cookie cutter, cut 4 smaller circles from each tortilla. Fill each tortilla with 2-3 teaspoons of the chicken mixture. Roll and secure with a toothpick. Refrigerate taquitos until ready to fry.
Heat the oil in a fryer, or in a dutch oven to 350F. Fry the taquitos in batches until the tortilla is golden brown, about 3-4 minutes. Remove to a paper towel lined plate to drain. Remove toothpicks.
To make the guacamole:
Smash avocado. Combine all ingredients and mix well. Keep refrigerated.
Serve taquitos with Avocado Ranch Guacamole.