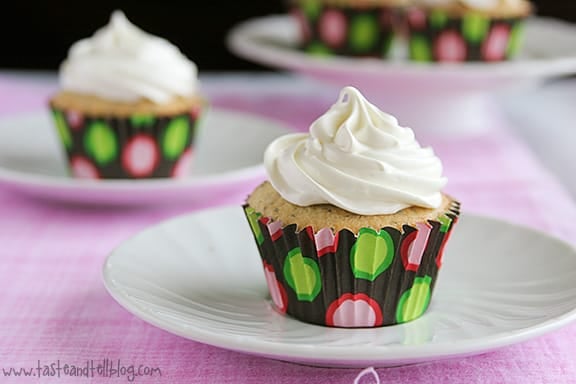 I seem to be addicted to cupcakes lately.  I, for one, am hoping that the cupcake trend sticks around for a long, long time!!

When I was asked by the folks at Reynolds® to create a spring themed cupcake, of course my mind went immediately to lemon.  (Surprise, surprise, right??)  But instead of going with something bold – like lemon curd, which has been my recent addiction – I went with something a little more subtle.  This lemon frosting is a twist on my all-time favorite frosting.  My mom's marshmallow frosting.  A bit of lemon extract brings on a whole new flavor profile that compliments the simplicity of the vanilla poppyseed cupcakes.
I have always been a fan of Reynolds®, but their new line of Baked For You® StayBrite® Baking Cups are awesome.  Not only can you find them at your regular grocery store, but they come in super cute designs that are designed to not fade during baking.  There is nothing worse than buying a super cute cupcake wrapper, only to not even be able to see the design after the cupcakes have been baked.  These baking cups worked like a charm, and my cupcakes baked up perfectly in them!


**This is a sponsored post by Reynolds®, but all opinions are my own – as always!!**