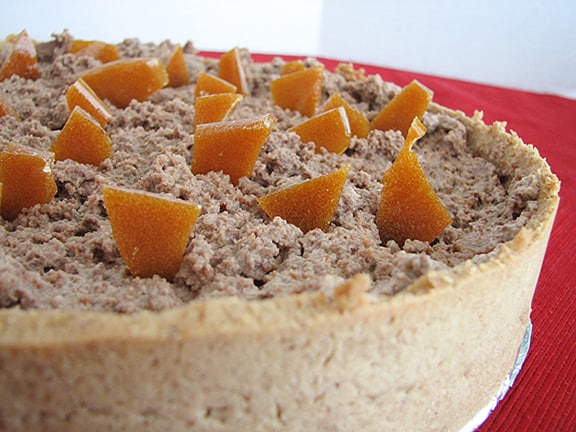 I think the kitchen gods were against me. Or maybe it was because I waited until the last possible moment to make this month's challenge, but it did not work out for me. I've always been one to believe that anyone can cook – all it takes is following some instructions in a recipe. I have been proven wrong!!
This month's challenge is a Milk Chocolate and Caramel Tart, chosen by Veronica and Patricia. I was really excited to see this challenge – it sounded like the perfect combination to me. I am a true American – I love milk chocolate. It seems like once you get away from America, everyone prefers dark
chocolate, but I grew up on milk chocolate and love it. And caramel? What's not to love???
Well, my problems started with the crust. I broke the one rule of the Daring Bakers – YOU HAVE TO FOLLOW THE RECIPE. Believe me, I didn't even realize I broke that rule until the next day, and really, I didn't drastically change anything. I had actually printed out the recipe while at work one day last week. I had planned on making the crust on Sunday and then finishing up on Monday. Well, on Sunday, I realized that I had forgotten my printed copy of the recipe at work. No big deal, I just went online to get the recipe again. I didn't want to print out the whole thing again, so I just made some quick notes on a post-it note and headed into the kitchen. Everything went together pretty easily – I used my blender the ground the hazelnuts, and since I don't have a food processor, I put the rest of it together in my mixer. I was afraid of over mixing, so once it barely started to come together, I took it out, formed it into a ball, and into the fridge it went. Well, the next day, I was thinking about it, and the thought came to my head – "I know there is cake flour in this recipe, but it's not in the caramel layer, and it's not in the chocolate layer…..hmmmm…." Well, as I suspected, I forgot to use cake flour, but used all purpose instead, because I had just written "flour" on my post-it note. See, not too big of a deviation, and I'm not sure if it affected the overall taste of the tart or not.

Next day, I went to start, and took my crust out of the fridge. It was as hard as a rock!!! I was so afraid that it was ruined, but I put it out on the counter for a bit, and after 45 minutes, it was still pretty hard. It was already getting late, so I popped it in the microwave for 30 seconds on 50% power, and it came out perfectly! I knew that some had problems rolling the crust, so I decided to roll it between 2 sheets of waxed paper – like I do for pie crust. I wasn't quite sure what pan to use – my tart pan is too shallow, and I didn't want to use a pie dish, so I opted for a springform pan. All was well until I went to put the rolled crust in the pan – the bottom made it ok, but not the sides. I ended up piecing the sides on, and then cutting around the top to make it even. Into the oven it went, weighted by a sheet of parchement paper and some beans. It looked pretty good when it came out – I was surprised.
I started on the caramel. I tried to make caramel about a month ago, and it wasn't a huge success, but it wasn't a failure either, so I figured I could probably handle it. I decided to use the allowed modification of doing the caramel with sugar, water and corn starch. Well, it all worked out ok, except I think I over-cooked it a bit, because it did taste a little burnt. I would have started over, but again, I was a procrastinator! I put it in the oven and took it out 15 minutes later, but it was still VERY liquidy. I would have put it back in the oven, but I wanted to follow directions, so I pushed away the voice in my head and let it cool. It still had not firmed up at all, so I put it in the fridge and started on the chocolate mousse.
DISASTER. Even if the other 2 components weren't perfect, at least they kind of worked for me. I first put the cream in the mixer to beat until stiff, but stepped away for too long and came back to what looked like lumpy butter and some liquid. Oops. So I started again, and paid attention this time. I melted my chocolate, and then went to fold the two together – I got a lumpy mess. The chocolate had separated and the mixture was not smooth at all. I was so frustrated by this time, I decided to just go with it. But when I put a spoonful of the mousse on the caramel layer, it started to sink. Oh, great, just what I need. I decided to wait until the next day, try the chocolate layer again, as I still had 1/2 pound of chocolate left, and give the caramel layer a day to firm up. So I get home from work the next day, and with renewed confidence, I start the cream and chocolate again. The exact same thing happened!!! If anyone can tell me what I am doing wrong, it would be much appreciated! I had no more cream and no more chocolate, so this was going on the tart. At least the caramel layer had semi firmed up…..
**UPDATE – I think I know what went wrong. I was reading Erin's post, and the same thing happened to her, because her chocolate was TOO COOL!!! Makes sense – and here I was afraid of it being too warm, but I KNOW it wasn't too warm – it actually felt room temperature to me….
My husband is working tonight, so after I made myself a quick dinner, I took some pictures of the tart and tried it out for myself. Hmmmm, I really like the idea of this, but I did not execute it well. The caramel layer was not as pronounced as I hoped it would be, (at least I couldn't taste that it was a bit burned!) and the texture of the chocolate mousse was, hmmm, interesting. Not really what would go on top of a tart!! The crust was a bit strong – and I even cut back on the cinnamon. Maybe it was because I used all purpose flour, but it tasted strongly of flour. I would like to try the idea of this sometime, but pull some different recipes in for the different layers. I'm guessing this was mostly baker's error, though!!!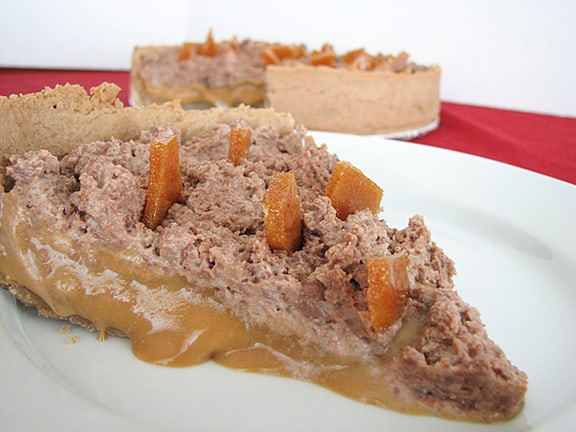 Pros:

I love chocolate, I love caramel – I really think the flavors go well together
I got to try making caramel again, and maybe next time it will be a total success!
I actually did my decorations with the dry sugar method – and although that took me 3 tries, I finally got it right!

Cons:

The flavors didn't blend together very well for me. I didn't taste 3 distinct layers
The mousse. Disaster.
The crust was too strong. I think it needed something a little more neutral.

I just talked to my husband and told him to eat all he wants when he gets home. Even if this tasted really good, I probably would not be taking the leftovers anywhere because I'm embarrassed about how ugly it is!! In fact, I probably wouldn't even post pictures here, but this group is about learning, and what a learning experience this was!! (I will not be procrastinating next month – just so I have time to re-do the challenge if I need to!!)
Again, I am including a slide show with crappy photos that were taken on automatic. But it's fun to see the process!!
(Now that am looking at these final photos, my chocolate mousse almost looks like dog food – maybe that's why I didn't like it!!)
To see how this is really supposed to be done, visit the Daring Bakers Blogroll where you will find links to the other members of the Daring Bakers. I'm sure the rest of them got it right!! Oh, and the recipe can be found here or here.