Scary spiders top cupcakes to make a treat perfect for a Halloween party.
I saw a pin on Pinterest awhile back that I got a big chuckle out of. I think I mostly laughed because I could totally relate with it. I often see ideas in books or online, and thinking that I can do anything, soon find out that many of these things aren't as easy as they look, or they take a lot of practice.  For my daughter's last birthday, I saw a gorgeous cake online, and decided that I was going to try to make it for her.  Thank goodness it was only family that came to her birthday party – otherwise, I might have been too embarrassed and there wouldn't have been a cake!!
That's kind of how I felt when I went to make these cupcakes.  Let's be honest here – I chose these cupcakes because they were cute, they looked easy, and my life has been a little crazy and hectic and short on extra time lately.  I went super easy and made the cupcakes from a box.  I threw together a basic buttercream, then set out to make the spiders.  Let me just say – these are not as easy as the originals look online!!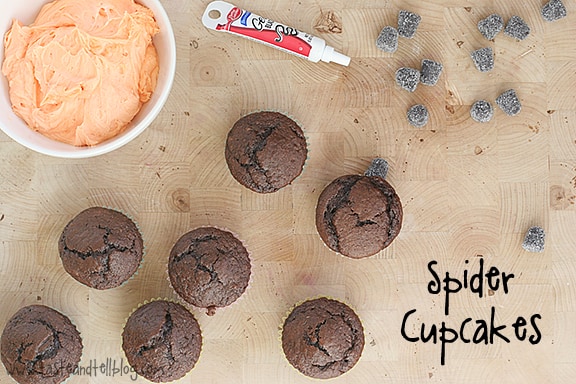 I think my first mistake might have been because the recipe calls for "large" black gumdrops.  I didn't want to buy a whole bag of gumdrops, so I just picked the black ones of the bulk bins at the grocery store.  And all they had were the normal sized gumdrops.  Let's just say that those gumdrops do not roll into the perfect little spider legs like they are supposed to.  And the gumdrop I put on top didn't roll into a perfect circle, either.  Instead, I was stuck with the gumdrop shape, which makes them kind of look like a black octopus to me, instead.  But – I still think that this is a great idea – and a fun one, too.  And I think if you have the right gumdrops, this would be a fun one to get the kids involved with, too!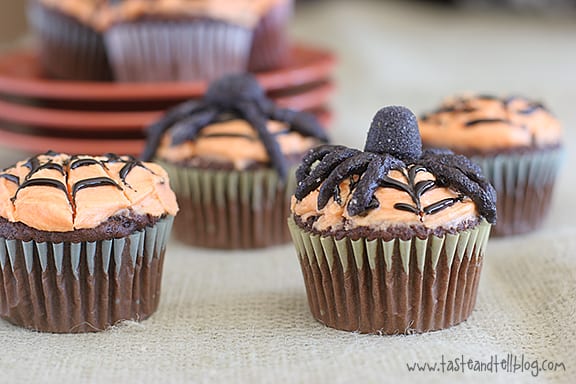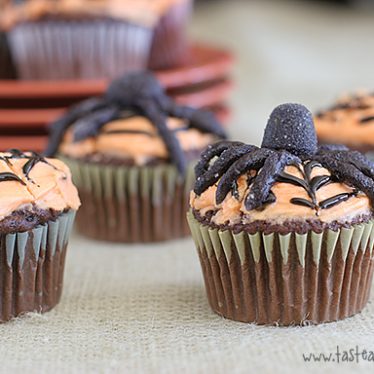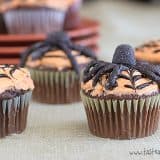 Spiderweb Cupcakes
---
Description
Scary spiders top cupcakes to make a treat perfect for a Halloween party.
---
Scale
Ingredients
1 batch cupcakes
buttercream frosting, tinted orange
black decorating gel
large black gumdrops
---
Instructions
Spread the frosting over the tops of the cupcakes.
Squeeze circles of the gel on the tops of the cupcakes. Pull a toothpick through the circles to make the spiderweb design.
To make the spiders: Cut one gumdrop into 8 pieces and roll into 8 legs. Place another gumdrop on top for the body. Place the spider on the cupcake.
———————————-
adapted from Betty Crocker