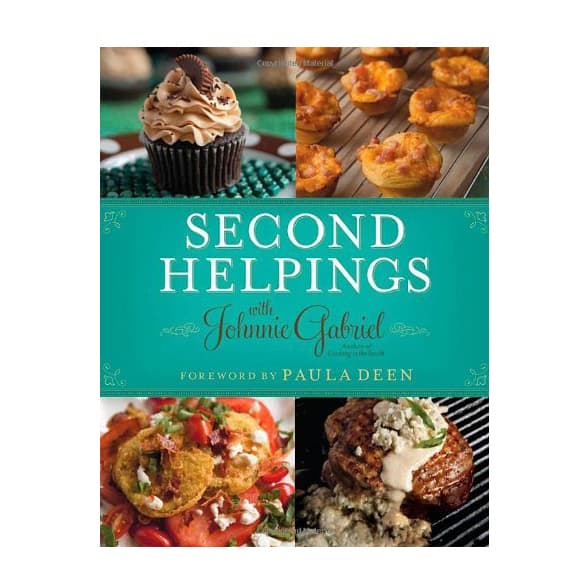 It looks like this is the week for cookbook reviews!! This is another one with a giveaway, so make sure you check out the details at the bottom of the post!!
I have to admit that before reviewing this cookbook, I didn't know who Johnnie Gabriel was. But come to find out – this lady really knows her food! Not only is she a restaurateur in Georgia and a cookbook author, but she's also Paula Deen's cousin. I have really been falling in love with Southern cooking from all of these Southern cookbooks!  This cookbook has a lot of recipes bookmarked in it – especially from the dessert section!
Number of Photos: lots
Not a photo for every recipe, but probably one for every 3-4 recipes. And while there are a few "lifestyle" photos throughout the book, the majority of them are of the finished recipes.
Difficulty Level of Recipes: easy
These are the kinds of recipes that have probably been passed down by grandmothers – and I think that grandmothers knew how to keep things simple!

Availability of Ingredients: easy
I was happy to find that there are quite a few recipes in this book that can be made from staples that I keep on hand!
Here's what I made:
Technically, these were supposed to be made in foil cupcake liners, but I didn't have any on hand, so I just made them in a muffin tin. These little frozen salads were actually quite good! I think they are a great change up to a traditional fruit salad, and I'm sure the kids would love this as a side dish! (And it's a bonus that they are good for you – just yogurt, sour cream and fruit!)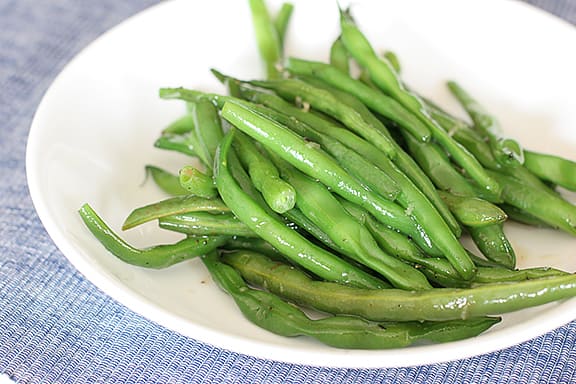 Maple Garlic-Glazed Green Beans
This was a simple side dish that was packed with flavor. I loved the sweet from the maple syrup – it was a great way to switch up green beans.
I was taking dinner to my sister and her family after she had her baby, and I couldn't decide what to make. After seeing this recipe, I thought it would be a great dish to take. Not only is it a comforting dish, but I was hoping it would be something her kids would love! Luckily, I made 2 of them so that we got to enjoy one at home. If you are a quiche fan, you would love this savory pie.
Ok, so this recipe was actually for a cake, but this was the dessert I was taking to my sister along with the Ham and Cheese Pie. I knew she wouldn't really want a full layer cake, (plus it's always embarrassing to take a cake minus one piece – the life of a food blogger!) So I decided to turn it into cupcakes. I know that not all cake recipes translate well into cupcakes, and this isn't one that I'd suggest making cupcakes out of. They did sink a bit in the middle, but even with the sinking, these cupcakes were easily the winner of our favorite recipe from this book. I can only imagine how amazing this would be as a cake! They were super moist and had a delightful texture. In the book, they suggest serving the cake with your favorite buttercream or cream cheese icing – I opted for cream cheese. Delicious! (And I'll definitely be trying the cake version of this one day!)
Vanilla Caramel Cake
from Second Helpings
2 1/4 cups firmly packed brown sugar
1 cup butter, at room temperature
1 tablespoon vanilla bean paste (I substituted vanilla extract)
3 eggs
1 teaspoon baking soda
3 cups cake flour
1 teaspoon baking powder
1/2 cup buttermilk
1/4 cup sour cream
Preheat the oven to 350F. Grease and flour 3 9-inch round cake pans.
In a medium bowl, using an electric mixer, cream the brown sugar, butter and vanilla bean paste. Add the eggs one at a time, mixing well after each addition.
Sift the baking soda, cake flour and baking powder. Add to the creamed mixture and mix just until incorporated. Add the buttermilk, mixing on low speed. Scrape down, but don't overmix.
Fold in the sour cream and divide among the prepared pans. Bake fro 25 to 30 minutes. The center of the cake will spring back when tapped. Frost with your favorite buttercream or cream cheese frosting.
Disclosure: I received a free copy for this review. The publisher is also providing the copies that are being given away. No monetary compensation was offered or accepted. The opinions above are my own. Others experience may vary.