A creamy and delicious creme brulee recipe that has fresh raspberries mixed in for a tasty change on a classic.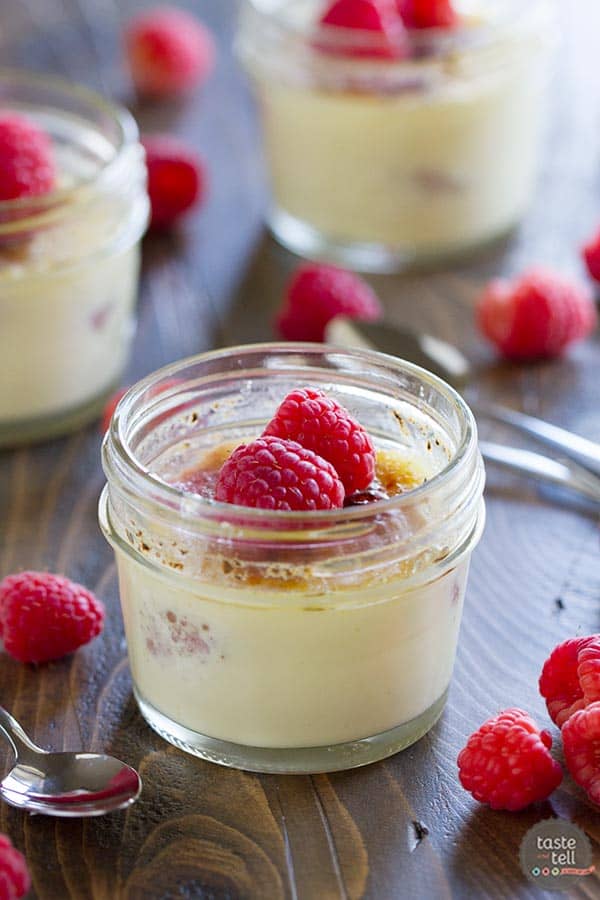 If you have been on a cruise before, you know that one thing that is not lacking is food. Especially dessert.
And I will not complain. I do love my dessert after all! But what I don't like is that there are so many choices and not enough time for them all. 😉
On my recent cruise with Princess Cruises, I had some amazing food. The first night, we ate in one of the dining rooms. It was a special menu that night to celebrate 50 years of cruising for Princess Cruise Lines. As I looked over the menu, I saw it – there on the dessert section was creme brulee. Creme brulee is one of my very favorite desserts. Which is why it was so hard to pass it up that night for the special dessert that was only being served that night.

Almost every night, our group dined together, which was fun. In fact, we only had one night when my husband and I ate alone. But I knew exactly what I wanted to do for dinner that night. My husband was tired and wanted to just order room service, but I dragged him back to that dining room, just because I wanted to order the creme brulee.
Not only was my husband tired, but he kept saying that he didn't understand my obsession with creme brulee. That he didn't even like it. But I was excited – I just wanted my creme brulee!!
We ended up having an amazing dinner that night. The food was top notch and some of our favorite food of the cruise.
And then came dessert. I – of course – ordered the creme brulee. And it was definitely worth waiting for – SO good. I asked my husband if he wanted to try it, and he reluctantly did.
And then ended up eating half of my dessert.
We had a good laugh about that – for some reason, he had the idea in his head that he didn't like creme brulee. Well, as it turns out, that was totally not the case, and yes – he, also, is a creme brulee fan.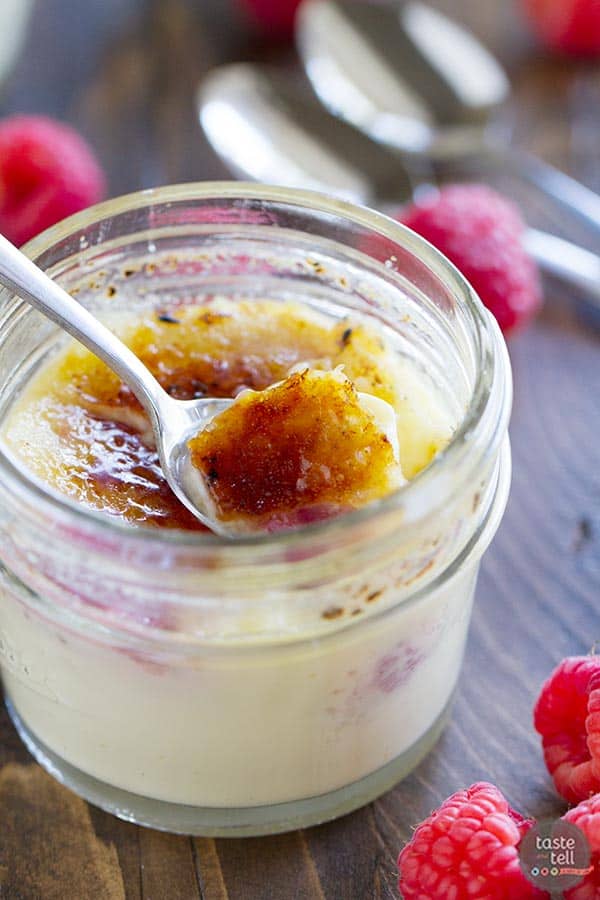 When we got home, I just knew I needed to make some creme brulee. I hadn't stopped craving it!! I have been buying berries like crazy lately, so I knew I wanted to find a way to incorporate them. This creme brulee recipe is incredibly creamy, not too sweet, and definitely decadent. Because of the raspberries, the custard doesn't set up as firmly as it would if you were to leave them out. But I loved the raspberries in there.
And can we talk about torching the tops? I had a kitchen torch – one of those little things you can buy at most kitchen stores. But man, that little thing was wimpy. I had been using it for a few years, and always cursed it when I had to get it out. So I used this creme brulee recipe as my excuse to buy a big torch. I just went to Home Depot and bought a torch (spend the few extra dollars to get a torch that is self igniting – you won't regret it!) and now I want to torch everything. 🙂 But really – with my old kitchen torch, it would have taken forever to brulee the tops of this dessert, while the big bad boy can do it in seconds. #totallyworthit
Well, my creme brulee hating husband is a creme brulee hater no more. He ate 3 of these in one day. So yeah, I think they went over well!!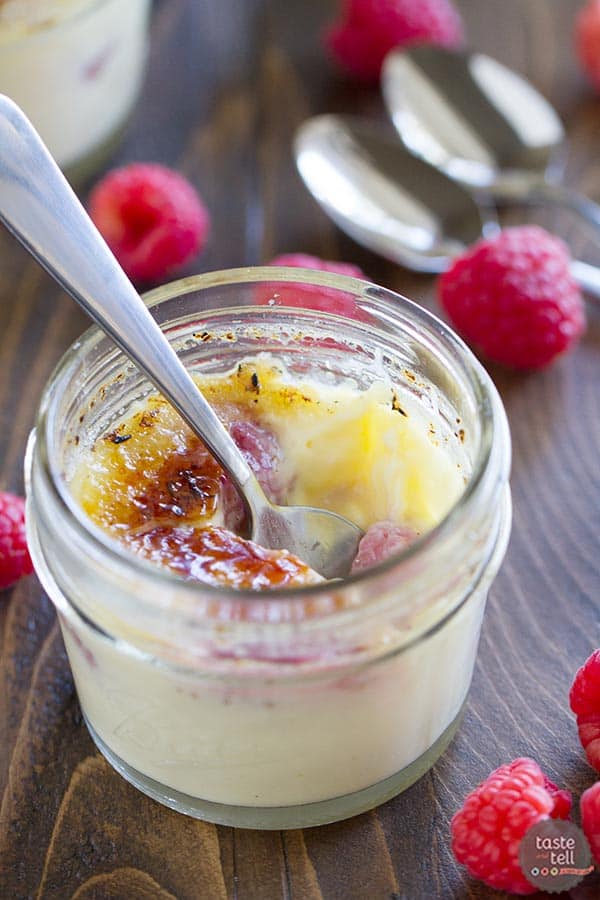 Like what you see here? Make sure you are following Taste and Tell for more great recipes and ideas!!

Facebook ** Pinterest ** Twitter ** Instagram ** Google+
or you can subscribe to my newsletter or Feedly or Bloglovin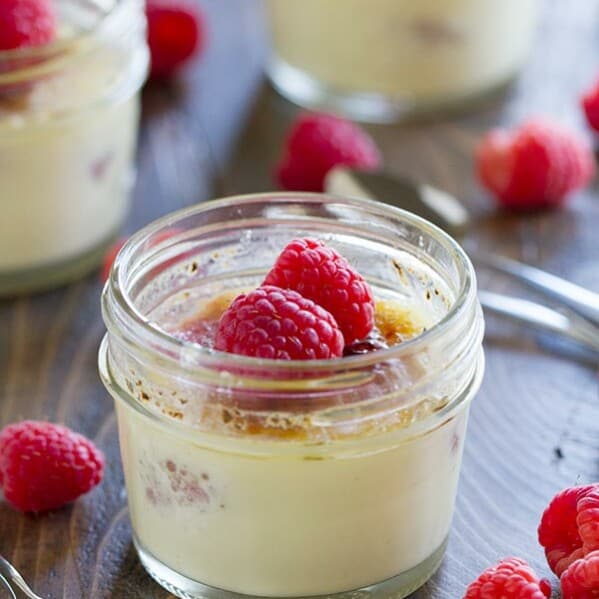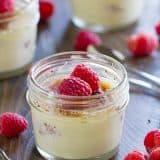 Raspberry Creme Brulee Recipe
---
Author:
Prep Time: 15 mins
Cook Time: 60 mins
Total Time: 1 hour 15 mins
Yield: 6 servings 1x
Description
A creamy and delicious creme brûlée recipe has fresh raspberries mixed in for a tasty change on a classic.
---
Scale
Ingredients
2 1/2 cups heavy cream
1 vanilla bean*
6 large egg yolks
1/4 cup sugar
6 oz fresh raspberries, plus more for serving
3–4 tablespoons sugar**
---
Instructions
Preheat the oven to 300ºF.
Place the cream in a saucepan over medium-low heat. Split the vanilla bean in half, and scrape out the seeds. Add the seeds and the bean to the cream. Heat the cream just until bubbles start to form around the outside of the pan.
Meanwhile, combine the egg yolks and the sugar in a large bowl and whisk until they are lighter in color.
Place individual serving sized ramekins in a baking dish. Divide the raspberries between the ramekins.
Once the cream has just started to bubble, remove the vanilla bean. Slowly pour a few tablespoons of the cream into the egg mixture, whisking vigorously the whole time. Continue to add the warm cream until it has all been incorporated, making sure to whisk the entire time. If Pour the mixture into the ramekins, over the raspberries.
Fill a large liquid measuring cup with very hot water. Transfer the baking dish with the ramekins to the oven, then carefully pour the water into the baking dish, about halfway up the sides of the ramekins, being careful to not get any water into the custards.
Bake until the creme brûlée is set, but it still has a little bit of a jiggle in the center, 50-60 minutes. Remove the dish from the oven, and carefully remove the ramekins from the hot water. Let them cool completely, then refrigerate until completely chilled, at least 2 hours but preferably overnight.
When ready to serve, sprinkle the tops of the creme brûlée with the sugar. Using a kitchen torch, torch the sugar until it is melted and crispy. Let sit for a few minutes before topping with a few additional raspberries and then serve.
Recipe Notes:
*If you don't have a vanilla bean, add in 1/2 teaspoon of vanilla extract to the cream just before adding the cream to the egg yolk mixture.
**I like to use superfine sugar – I think it melts easier, but regular granulated sugar will work.
Don't miss a thing! Follow me on Pinterest to see what I'm pinning!
Visit Taste and Tell's profile on Pinterest.





This post has been sponsored by Princess Cruises. I'm so glad to be able to work with companies and organizations that I truly believe in. Thank you for supporting them, too.