Perfectly sweet – this small batch Pear and Pineapple Jam is so much easier than you would think! Made from only a few ingredients, this jam is a perfect accompaniment to your breakfast or brunch.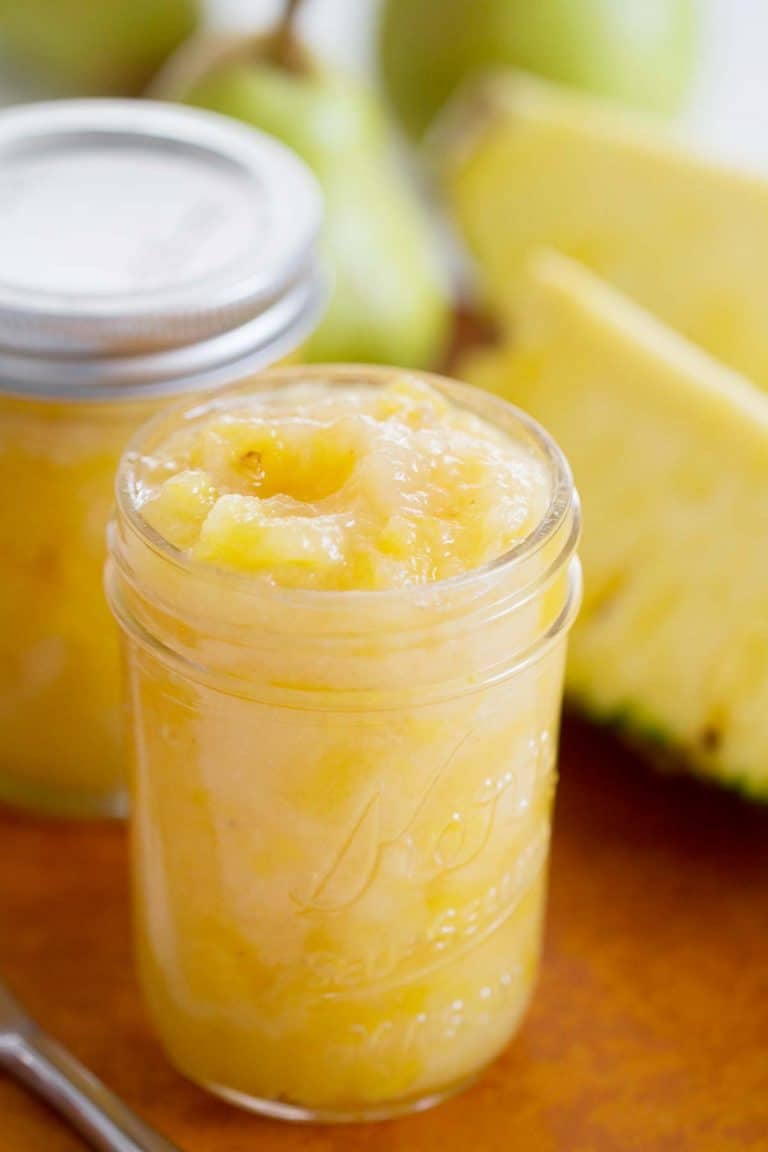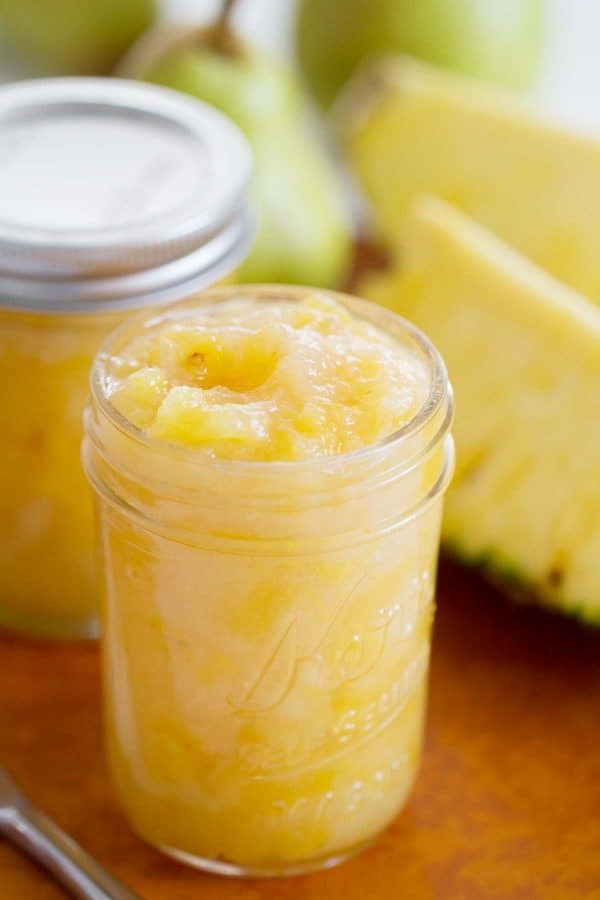 A long time ago, I decided that I wanted to get into canning. I love jam, so I thought that would be a great place to start. I bought my fruits, my jars, all the sugar… And then I ended up with a bajillion jars of jam. And even as a family of 5, (which back then, I think we were just a family of 3), we really only ever go through about a jar of jam a month. So needless to say, there was no way we needed that much jam. So I gave up.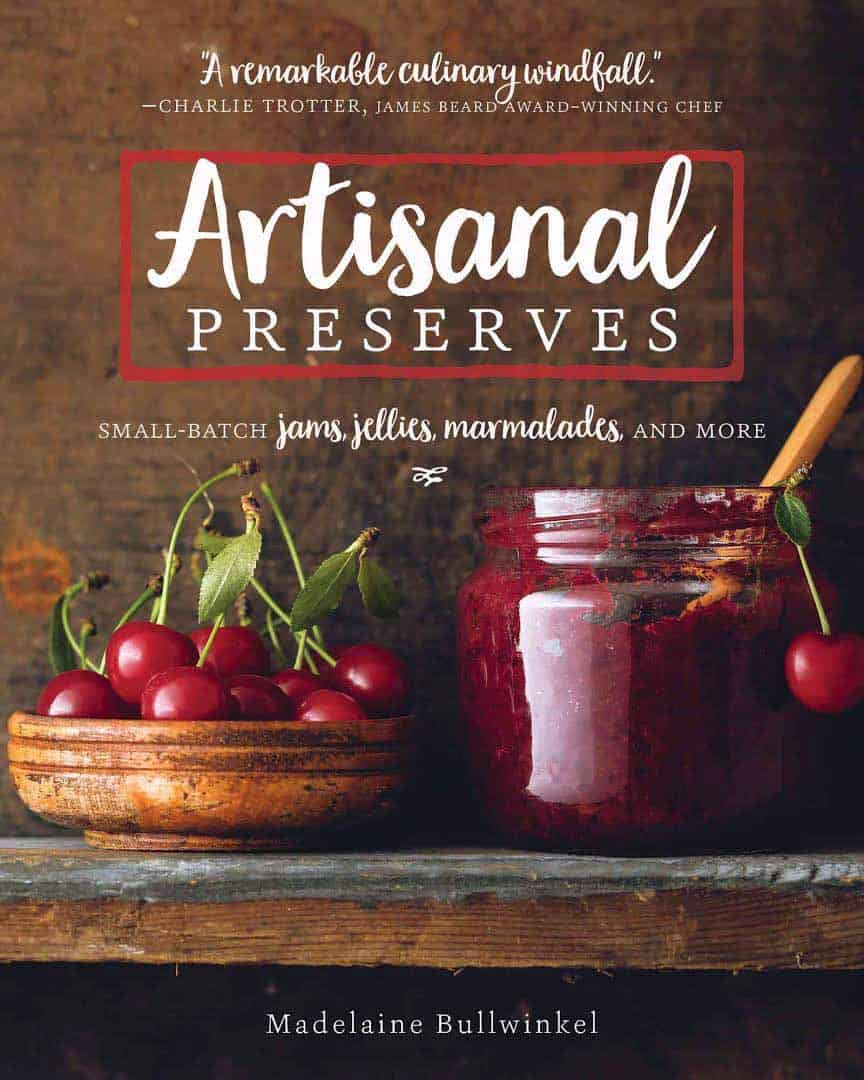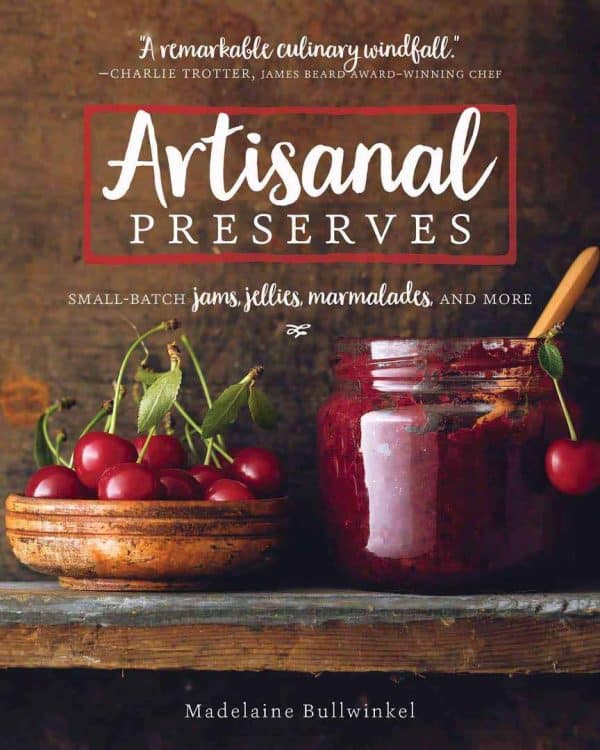 Fast forward to 2017, and now – thank goodness – small batch recipes are popular. Meaning you make a recipe, but only end up with a smaller, more manageable batch. I feel like it used to be that all recipes made you make these huge batches, so I welcome the small batch trend with open arms.
When I first heard about this cookbook – Artisanal Preserves – I was ready for it. I wanted to try a new jam recipe, but I didn't want to commit to tons of jars of it, or a freezer full of the same recipe. I love this idea that you can make something homemade, yet manageable. This small batch canning is something I can definitely get behind.
Here are the details:
Number of Photos: none. I know how much you all love photos in a cookbook. And I get it. And I'm bummed that this one doesn't have any. But at the same time, I really don't think it's the end of the world for this cookbook. Simply because it's jam, and we all pretty much know what jam looks like. I would have loved to have some photos in this book, but I can get over the fact that there aren't any.

Difficulty Level of Recipes: easy to medium. This one is actually kind of hard for me to decide on a difficulty level, because it's jam, and therefore is going to be intimidating for some people. But when you actually go and try one of the recipes, you'll discover just how easy it actually is.
Availability of Ingredients: easy. The majority of the recipes in this book have just fruits and vegetables and sugar. There are a few with some other ingredients, but overall, I think as long as it's in season, you should be able to find everything easily.
Other recipes I want to try:
Peach Preserves with Raspberries
Red Bell Pepper Marmalade
Cinnamon Cranberry Apple Jelly
No-Sugar Pear and Grape Jam
Plum Jam with Cardamom
Strawberry Kiwifruit Jam
Buy Artisanal Preserves on Amazon.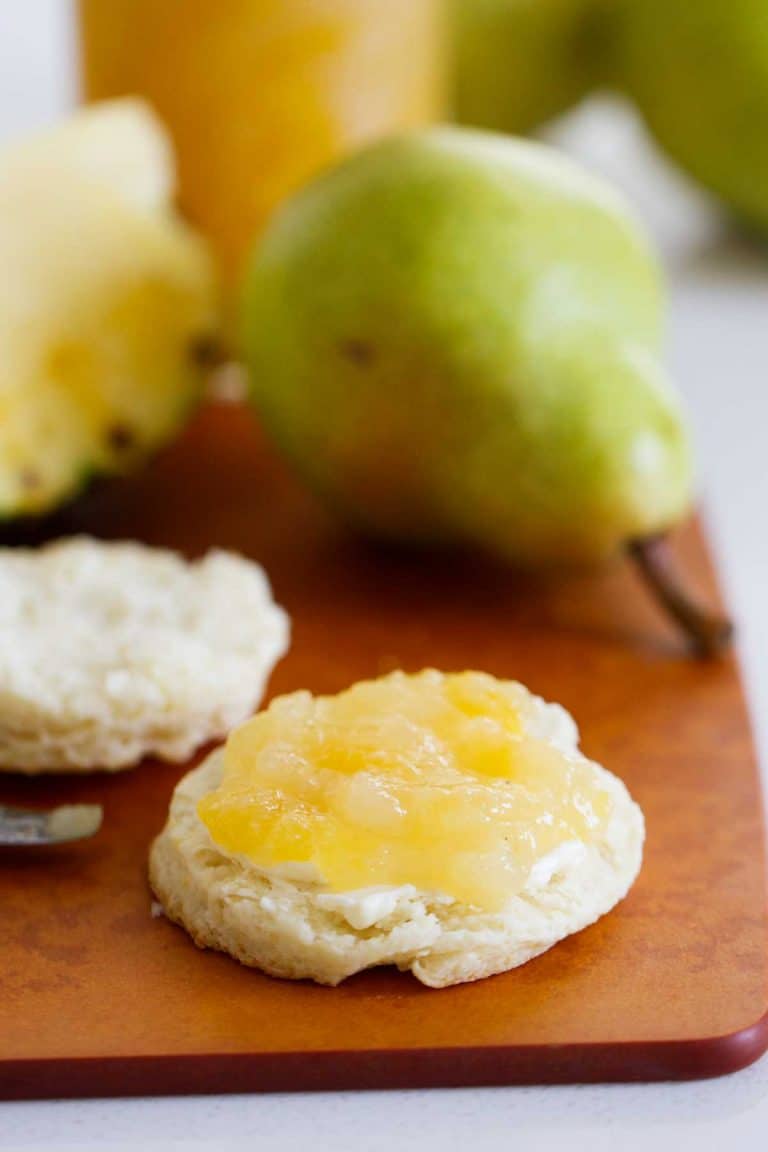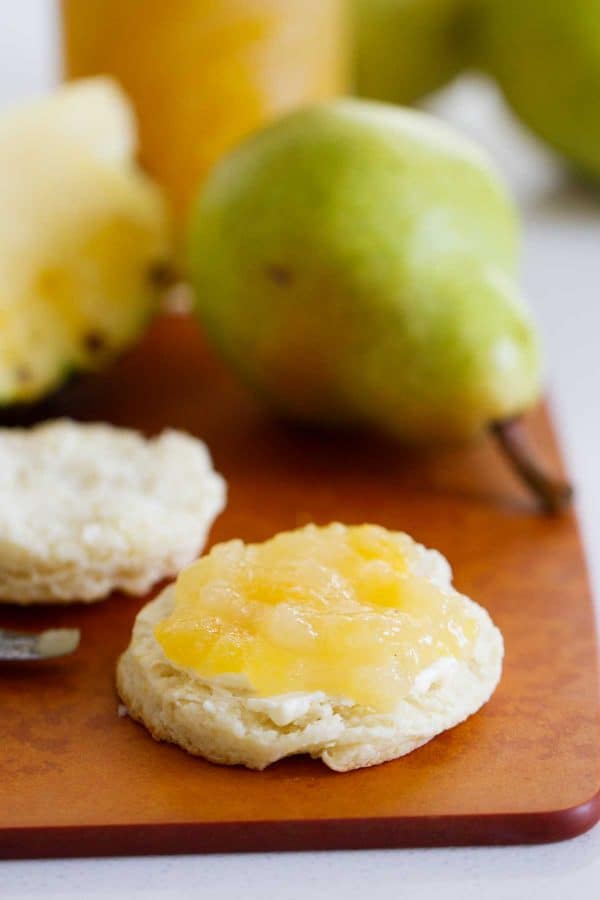 The Pear and Pineapple Jam
I've actually had this cookbook for awhile, and went back and forth with what recipe I wanted to try. My intentions were to try one of the peach recipes when it was peach season, but I kept putting it off, thinking that I'd need a few hours to dedicate to trying the recipe. And life was busy, so it took me awhile to commit. I don't know what I was thinking, because by the time I committed to this Pear and Pineapple Jam and actually went into the kitchen, I quickly discovered just how fast and easy this was. I didn't spend hours peeling pounds and pounds of fruit. I didn't have to get out lots of canning equipment. It was super fast, and super easy. I'm totally sold!
This Pear and Pineapple Jam recipe is the first jam recipe I've ever made without adding store-bought pectin. The end result isn't a really gel-like jam, but more of a compote, but I actually really liked it. It's still very thick, and you get chunks of fruit. The combination of pear and pineapple is a unique one that I have really fallen in love with. The two fruits compliment each other very well, and I'm sure it's a flavor combination I'll go back to again and again.
This recipe makes a total of about 3 1/2 cups, so I got 2 small jars, plus a partial jar that I put in the refrigerator to start with. I know that I'll get through those two jars easily, and I love that this means I can try many different kinds of jam without feeling overwhelmed. I'll definitely be making more jams from this book!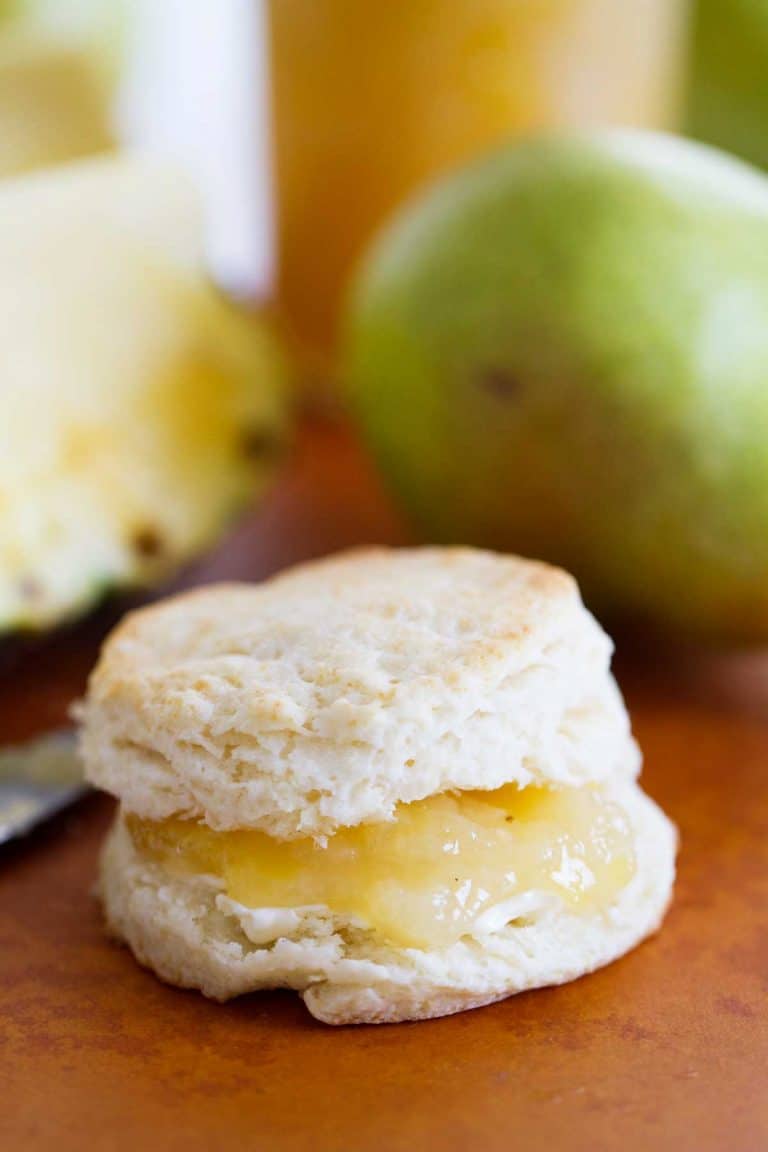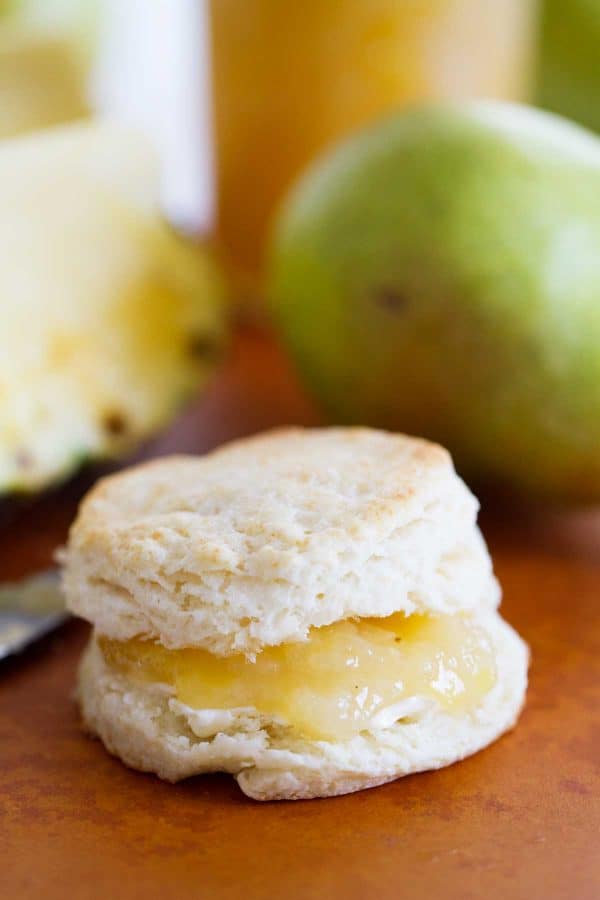 Like what you see here? Make sure you are following Taste and Tell for more recipes and ideas!
Facebook | Pinterest | Instagram | Twitter | Google+ | Weekly Newsletter | Feedly | Bloglovin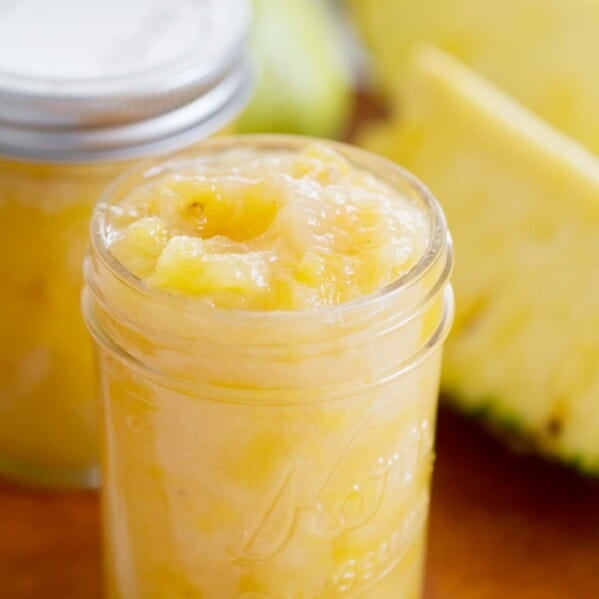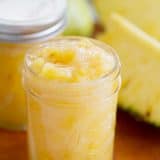 Pear and Pineapple Jam
---
Author:
Prep Time: 15 mins
Cook Time: 30 mins
Total Time: 45 minutes
Yield: 3 1/2 cups 1x
Category: Jams
Description
Perfectly sweet – this small batch Pear and Pineapple Jam is so much easier than you would think! Made from only a few ingredients, this jam is a perfect accompaniment to your breakfast or brunch.
---
Scale
Ingredients
2 pounds Bartlett pears
1 pound peeled and cored pineapple
1/2 cup water
1 tablespoon fresh lemon juice
1 cup sugar
zest from 1 lemon
---
Instructions
Peel, quarter and core the pears. Cut the pears and the pineapple into pieces about the size of a lima bean.
Combine the fruit, water and lemon juice in a heavy, non-reactive 5-quart pan. Cover the pan and bring it to a boil. Uncover and simmer for 15 minutes, stirring occasionally.
Add 1/2 cup of the sugar, then allow the liquid to return to a boil before adding the last 1/2 cup of sugar. Continue cooking the mixture for 10 minutes, stirring frequently. Reduce the jam to 3 1/2 cups  and until the mixture reaches 212º-214º on an instant read thermometer.  Remove from the heat and stir in the lemon zest.
Fill hot, sterilized jars to within 1/4" of the lips. Wipe the rims clean, place new lids on the jars, and screw the caps on tightly. Invert quickly for a quick vacuum seal, or process in a boiling water bath, submerged by 1 inch, for 10 minutes.
Recipe Notes:
recipe source: Artisanal Preserves by Madelaine Bullwinkel
Nutrition information provided as an estimate only. Various brands and products can change the counts.
Nutrition
Serving Size: 2 tablespoons
Calories: 55
Sugar: 12 g
Sodium: 1 mg
Fat: 0 g
Saturated Fat: 0 g
Unsaturated Fat: 0 g
Trans Fat: 0 g
Carbohydrates: 15 g
Fiber: 1 g
Protein: 0 g
Cholesterol: 0 mg
Don't miss a thing! Follow me on Pinterest to see what I'm pinning!
Visit Taste and Tell's profile on Pinterest.


A review copy of this book was sent to me, but no review was required. All opinions are my own.