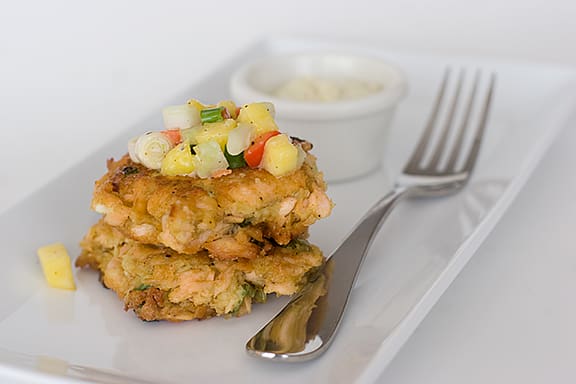 I don't know why, but sometimes, I have the hardest time following directions. Maybe it's because I feel like I'm constantly distracted now that I have a toddler always at my feet. Maybe it's because I feel like I have a million things going on in my life right now, and my mind is constantly going. Or maybe I just have a hard time following directions!!
It seems like more and more, I'll be making a recipe, and I'll realize I've messed up one of the steps. Luckily, I can usually fix it and it rarely ruins a recipe. With this recipe, I was only making half. I usually half recipes since there are only 2 1/2 of us. I guess that was my first mistake, because with recipes like this one that call for 1 egg, it's easy to mess up the whole step of only using half an egg. I realized that the mixture was quite wet, and then noticed my mistake. Oops! Luckily, all it took was a little bit of extra crushed crackers and no one would have known. And we ended up with a delicious dinner on our hands! Even Abbi loved this one – I'm beginning to think she is a lover of seafood!
Curried Salmon Cakes
from Food Network Magazine May 2010
serves 4
total time: 40 minutes
1 pound skinless salmon fillet, halved crosswise
2 teaspoons curry powder
salt and pepper
8 tablespoons tartar sauce
1/4 cup cracker meal or crushed saltines, plus more for sprinkling
2 tablespoons grated peeled ginger
1 bunch scallions, finely chopped
1 large egg, finely beaten
1/2 red bell pepper, seeded and diced
2 stalks celery, thinly sliced
1 mango, peeled, pitted and diced
juice of 1 lime
vegetable oil, for frying
Put the salmon, 1 tablespoon water, 1 1/2 teaspoons curry powder, 1/2 teaspoon salt, and pepper to taste in a microwave-safe bowl.
Cover with plastic wrap and microwave until the fish is opaque, 2 to 3 minutes. Flake with a fork and cool slightly. Stir in 1 tablespoon tartar sauce, the cracker meal, ginger, half of the scallions and the egg. Form into 4 patties and freeze until firm, about 10 minutes.
Meanwhile, whisk the remaining 7 tablespoons tartar sauce and 1/2 teaspoon curry powder in a bowl. In a separate bowl, mix 1 tablespoon of the curried tartar sauce with the bell pepper, celery, mango, remaining scallions, lime juice, 1/4 teaspoon salt, and pepper to taste.
Heat 1/4 inch of vegetable oil in a nonstick skillet over medium heat. Sprinkle the patties with cracker meal on both sides and fry until golden, 2 to 3 minutes per side. Drain on paper towels. Serve with the mango salad and curried tartar sauce.
*I made my cakes half the size so each portion was 2 salmon cakes.