A few simple ingredients come together to make this Cinnamon Apple Fritter Recipe – filled with lots of fresh apples and the perfect amount of spice.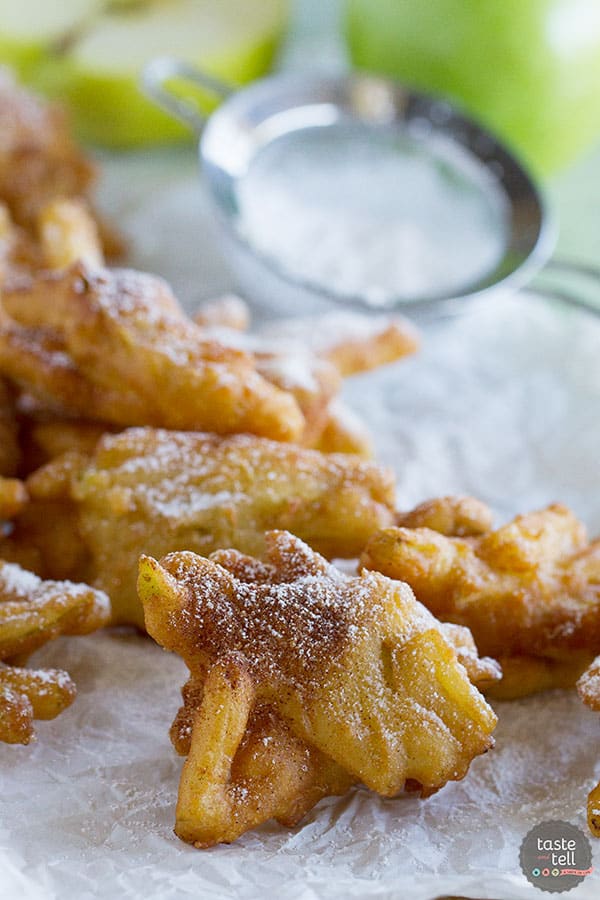 When it comes to food philosophies, I think mine is pretty simple. Try to keep it fresh. Try to keep it simple. (Of course with a great splurge every once in awhile 😉 )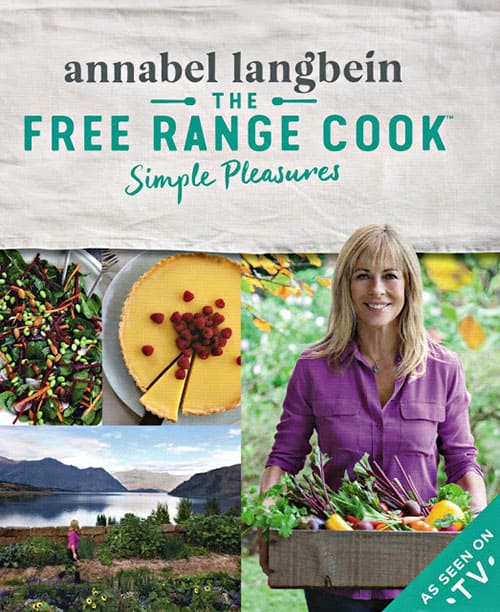 So when I received a copy of The Free Range Cook Simple Pleasures and started to read through it, I knew it would be a book that I would connect with.
The book's author, Annabel Langbein, is actually a celebrity cook in New Zealand, and an author of 21 cookbooks. Her influence is being brought over to the states, as well, as her show is now being shown on PBS (I must DVR it!) This book accompanies her tv show.
Annabel Langbein is all about keeping things simple, fresh and seasonal. That is probably the first thing I noticed when I started looking through this cookbook – there are a lot of fresh ingredients in the book. The book is divided into different "menus" and from those menus, you can tell what season those recipes are intended for. There are a lot of fresh veggies throughout all of the recipes, and almost all of the recipes can be made fairly quickly.
Here are the details:
Number of Photos: Lots. There is definitely not a lack of photos in this book. Not only is there a photo of every recipe, but there are also a lot of lifestyle photos as well. This one is pretty enough to be a coffee table book!
Difficulty Level of Recipes: Easy to Medium. I think the majority of the recipes would fall into the easy category, but there are some that may be a little bit more intimidating.
Availability of Ingredients: Medium. Because the book focuses so heavily on seasonal produce, some of the ingredients may be hard to find if that produce is not in season. There are a few more ingredients throughout the book that may be a little more difficult to find, like duck fat.
Other recipes I want to make:
Spicy Chicken Patties
Mexican Pulled Pork
Chicken Noodle Bowl
Moroccan Eggs
Sesame Beef Patties
Love-Me-Tender Sponge
Coconut Slice
Buy The Free Range Cook Simple Pleasures on Amazon.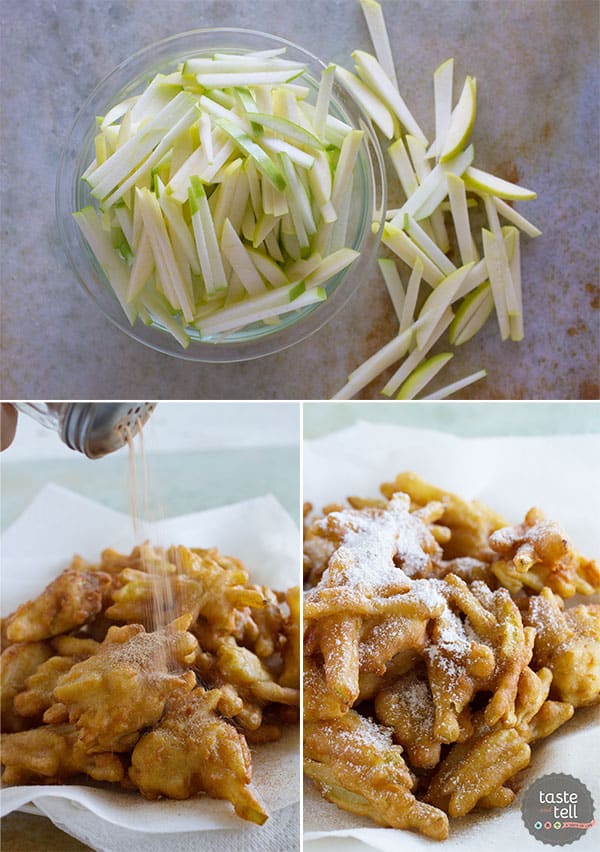 Since the book is so focused on fresh from the garden ingredients, I think this book will be especially useful in the summer months. I went to the chapter all about harvest and the orchard, and immediately knew that I needed to make this Cinnamon Apple Fritter Recipe. You all know how obsessed I am with donuts, and this fritter is pretty much a donut, right??
This recipe is super simple to put together. The only thing that takes up any time is cutting the apples into matchsticks. I did run into one small problem – my apples must have been giant sized. The recipe just calls for 3 apples, but when I added my 3 apples into the batter, there wasn't nearly enough batter to coat all of the apples. So I made another batch of the batter and ended up using about half of that. So in the instructions, I put to use small apples.
This Cinnamon Apple Fritter Recipe is not too sweet or over the top at all. In fact, before the fritters get a dusting of cinnamon sugar and powdered sugar, the sweetness really only comes from the apples. I used a combination of golden delicious and granny smith. Since I like a bit of sweetness, I sprinkled the tops with both cinnamon sugar and powdered sugar. Feel free to just use one or the other if you want, though.
These fritters were so light and delicious and fresh – definitely not like the super sweet, greasy version you find at the donut shop. I loved how delicate these were, and how easy they were to make at home. The kids all loved them, too, so they were a hit all around!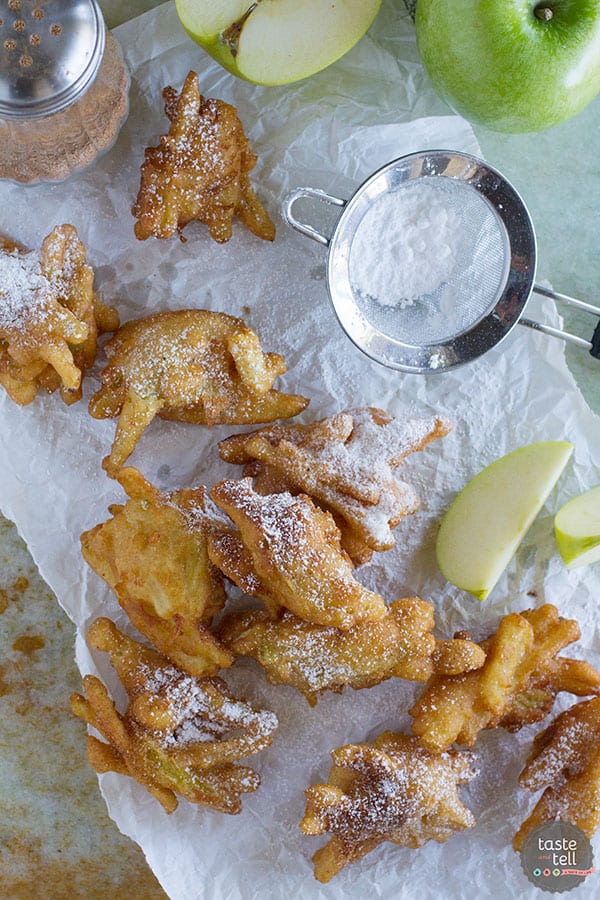 Like what you see here? Make sure you are following Taste and Tell for more recipes and ideas!
Facebook | Pinterest | Instagram | Twitter | Google+ | Weekly Newsletter | Feedly | Bloglovin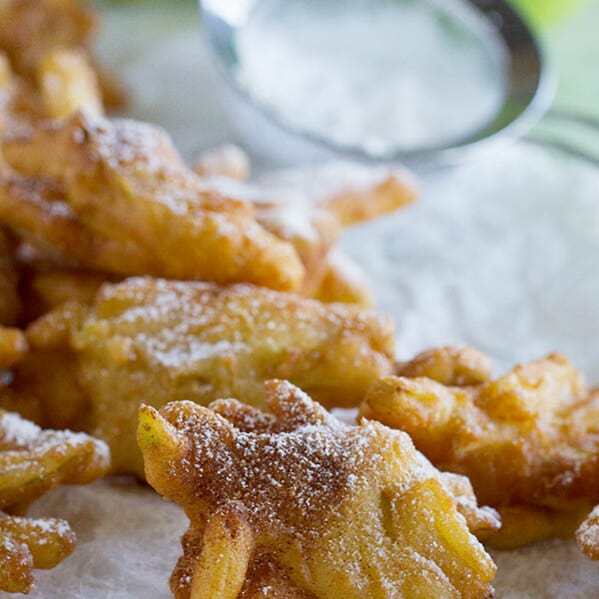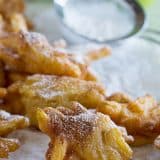 Cinnamon Apple Fritter Recipe
---
Prep Time: 20 mins
Cook Time: 20 mins
Total Time: 40 mins
Yield: 6-8 servings 1x
Description
A few simple ingredients come together to make this Cinnamon Apple Fritter Recipe – filled with lots of fresh apples and the perfect amount of spice.
---
Scale
Ingredients
1 cup flour
2 tablespoons sugar
2 teaspoons baking powder
1/4 teaspoon cinnamon
grated zest of 1 orange
pinch of salt
1 egg
1/2 cup milk
1 teaspoon vanilla extract
3 small apples, unpeeled and cut into matchsticks
neutral oil, for deep frying
cinnamon sugar and/or powdered sugar, for dusting
---
Instructions
In a large bowl, combine the flour, sugar, baking powder, cinnamon, orange zest and salt.
In a small bowl, lightly whisk the egg, then stir in the milk and vanilla. Add the wet ingredients to the dry ingredients until combined. The mixture should be fairly thick, but should drop easily from a spoon. If needed, add a little bit of milk to get the right consistency.
Heat about 1 1/4-inches of oil in a pot. Stir the apples into the batter. Using 2 forks, lift 5-6 apple matchsticks from the batter, allowing any excess batter to drip back into the bowl. Drop into the hot oil and fry until golden brown, 2-3 minutes, then flip to cook the second side. Transfer to a paper towel lined plate. Sprinkle with cinnamon sugar.
If desired, sprinkle with powdered sugar before serving.
Don't miss a thing! Follow me on Pinterest to see what I'm pinning!
Visit Taste and Tell's profile on Pinterest.


I received a copy of this cookbook from the publisher for review purposes. All opinions are my own. This post contains affiliate links. If you purchase an item from Amazon from the link Taste and Tell receives a small commission. Thank you for supporting Taste and Tell through your purchases!**