Sweet and refreshing, this Cherry Coconut Smoothie is only 115 calories and 3 ingredients!
For someone who doesn't really do the "diet" thing, I sure have amassed a collection of healthy eating cookbooks over the past couple months!!
Ok – that's not to say that I don't eat healthy. Because for the most part, I try to keep things pretty balanced. I know that I cannot survive on brownies and doughnuts (darnit). But to try to live without them would be just as bad.
So…
In between the splurges are the every day, normal meals that I try to keep on the healthier side. So "diet" cookbooks are great to have on hand to pick and choose recipes from.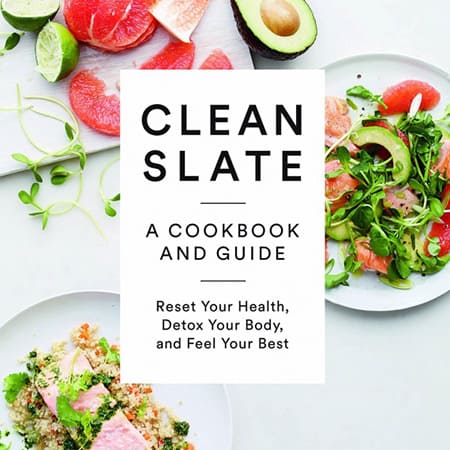 Today's cookbook review – Clean Slate by the editors of Martha Stewart Living – is one that I wasn't quite so sure about before I looked through the book. When I start hearing things like "cleansing" and "detoxifying", I immediately get scared. I'm not so great when it comes to these month long let's reset your system programs. So I wasn't sure if this book would be one that I would enjoy.
Luckily, this book is more than just a meal plan. Really, it's a book full of recipes made from whole, clean, unprocessed foods. And I can totally get behind that.
The book does have a 3 day and a 21 day cleansing diet plan, if that is what you are interested for. Both plans are made up of recipes that are found in the book.
But beyond the cleanse, this book really is full of lots of great recipes. Lots of breakfasts, vegetable recipes, lunches and dinners, plus even a small chapter on desserts. So for me, this book is all about the recipes, and not the meal plans.
Here are the details:
Number of Photos: lots! One of the things I love the most about the Martha Stewart line of cookbooks are that they are all full of gorgeous, clean photos. Every recipe in the book has a photo. Yay!
Difficulty Level of Recipes: easy Most of the recipes seem pretty basic to me, with few ingredients. I think even a beginner should be able to follow the directions and have success.
Availability of Ingredients: easy to medium I really think you should be able to find most of these ingredients pretty easily. But since the book is so focused on whole, fresh ingredients, you might have to hit up the local health food or whole food grocery store for some of the ingredients.
Other recipes I want to try:
Poached Eggs with Roasted Tomatoes
Seared Halibut Tacos with Grapefruit Avocado Salsa
Roasted Cauliflower Yogurt Dip
Farro and Roasted Sweet Potato Salad
Grilled Chicken with Cherry and Arugula Salad
No-Bake Oat Bars with Strawberries
Buy Clean Slate on Amazon.
Read more here.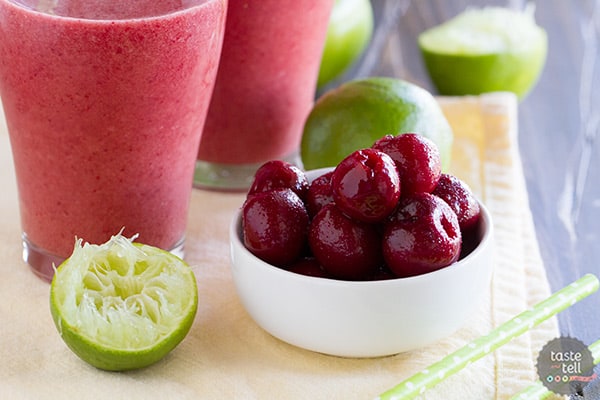 Ok, so I have to say that I almost feel like it's a cop-out to do a smoothie as the chosen recipe for a cookbook review. BUT – as I was looking through the book and came across the smoothie and juice section, I realized that even though we have smoothies very often at our house (almost daily), I don't really have any here on Taste and Tell. Unless you count the one I have from 2007 with a really bad photograph. (Note to self – update that photo asap!) So I decided that I needed to change that and get a smoothie recipe here.
For the longest time, I had some issues with smoothies. I was thinking I was being all healthy, throwing all kinds of things into a blender and serving up this ginormous cup full of goodness. Or stopping at the local smoothie joint for a "healthy" pick me up. Until I actually sat down and realized what I was drinking. Most of the time, even though the smoothies were full of fruit and sometimes vegetables, they were filled with tons of calories. Like half of the calories you should have all day, or more! Many times, especially with smoothies that you get at a smoothie place, these smoothies are filled with ingredients that make them more of a dessert than a healthy drink.
But then I started writing my own formulas, staying careful to keep the calories down and filling them with nutritious ingredients. So now, I am a believer that you really can have a smoothie for breakfast, or lunch, or for an afternoon snack – and still keep it healthy and good for you.
This Cherry Coconut Smoothie probably isn't filling enough for breakfast, but it makes a great snack when you need that 2:00 pick me up. Only 115 calories a serving, this Cherry Coconut Smoothie will help to curb your sweet cravings and will get you through until your next meal.
I love using coconut water in smoothies, and love the hint of coconut it brings. It's definitely worth keeping on hand to whip up one of these delicious Cherry Coconut Smoothies!!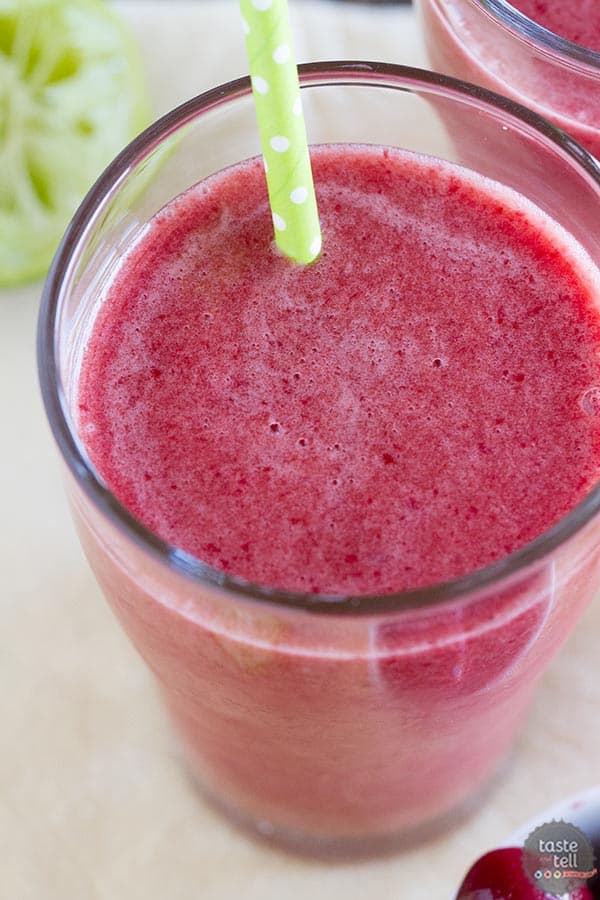 Like what you see here? Make sure you are following Taste and Tell for more great recipes and ideas!!

Facebook ** Pinterest ** Twitter ** Instagram ** Google+
or you can subscribe to my newsletter or Feedly or Bloglovin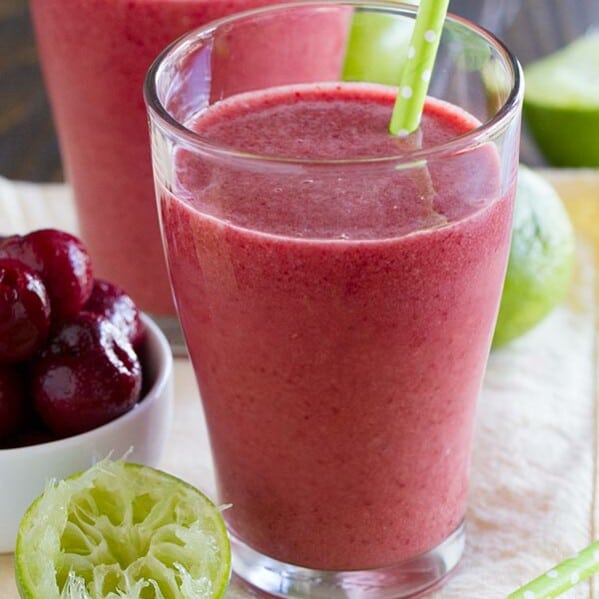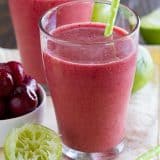 Cherry Coconut Smoothie
---
Prep Time: 3 mins
Total Time: 3 mins
Yield: 2 servings 1x
Description
Sweet and refreshing, this Cherry Coconut Smoothie is only 115 calories and 3 ingredients!
---
Scale
Ingredients
2 cups frozen, pitted cherries
1 cup coconut water
1 tablespoon fresh lime juice
---
Instructions
Combine all ingredients in a blender and blend until smooth.
I received this book from Blogging for Books for this review, but all opinions are my own. This post contains affiliate links. If you purchase an item from Amazon from the link Taste and Tell receives a small commission. Thank you for supporting Taste and Tell through your purchases!