These BBQ Pork Lettuce Cups have pork that is slowly braised in an Asian-inspired bbq sauce, then served on lettuce leaves for a low-carb dinner packed with flavor.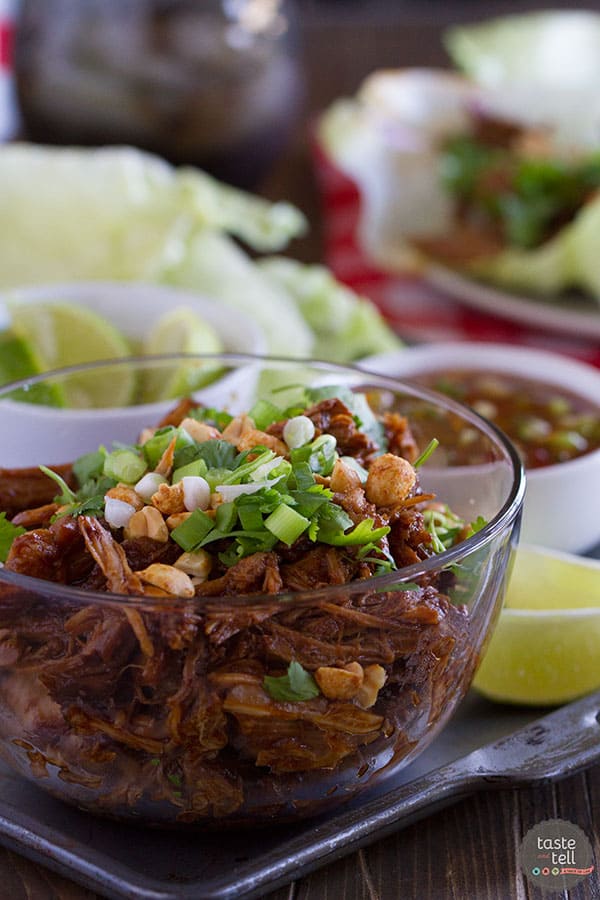 It's no secret that I love to collect cookbooks. I'm slowly de-junking my house, getting rid of everything that I can, but I always say my cookbook collection is the one thing that stays. It's my one thing I get to hoard.
But since I've run out of room on the bookshelves (and yes – new shelves are being purchased this week, but that's beside the point, right??) I've been trying to be a little bit pickier when it comes to what cookbooks I buy and which I pass on.
But sometimes, I see a book and know that I was meant to have it.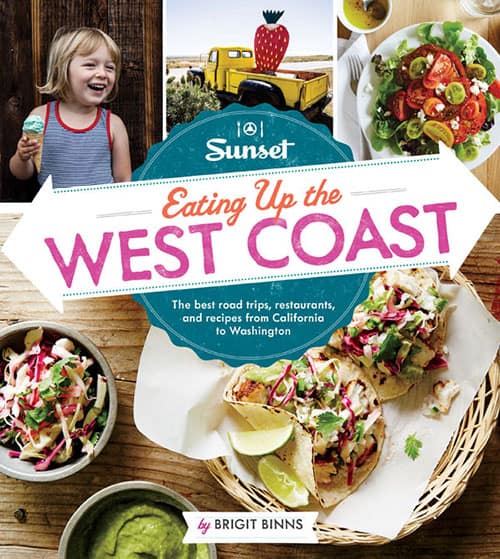 That is the case with today's cookbook- Eating Up the West Coast by Brigit Binns. I was casually browsing through the cookbooks at Costco when I came across this gem. After looking at it for 10 seconds, I knew I had to have it.
You see – this book combines my 2 loves – travel and food – and packages them up into this beautiful book, filled with delicious recipes. They call it "part cookbook, part travelogue" – that's all I needed to hear to know that I would fall head over heels for this book.
Brigit Binns and her dog spent 42 days driving along the west coastline – from California up to Washington, discovering some of the hidden restaurants along the way. In this book, she takes us along for that ride, talking about the people she met and the places she ate, with 75 inspired recipes throughout the book. Not only does it make you want to get into the kitchen and cook, but it makes you want to hop in your car and head out on a road trip adventure.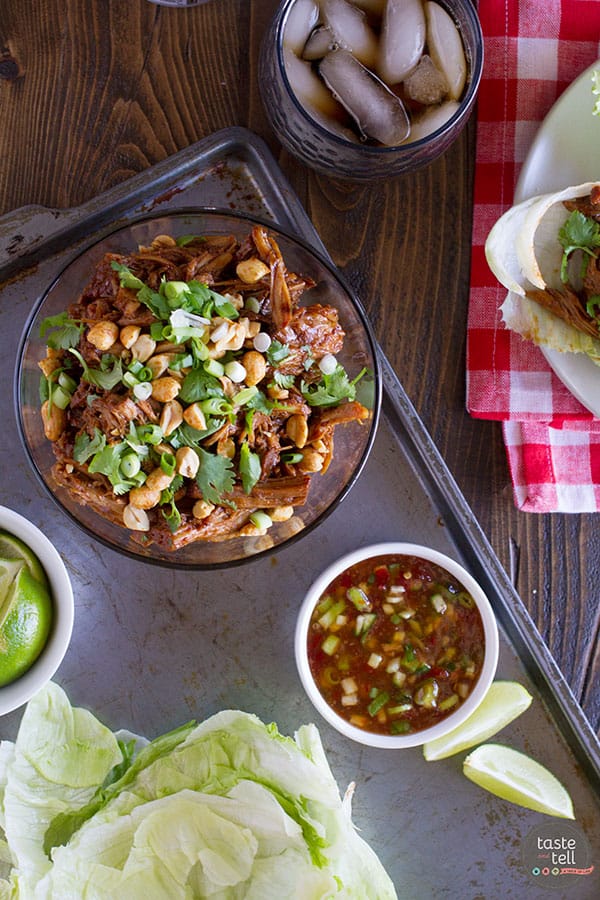 Here are the details:
Number of Photos: lots This book is unique in that not only are there photos of the finished recipes, but there are also lots of photos of the restaurants the author is talking about, or different sights along the way. Every page pretty much has some sort of a photo.
Difficulty Level of Recipes: Medium Because these are restaurant recipes, I'm going to say that they are not for beginners, but someone that is comfortable in the kitchen shouldn't have any problems. There is not anything terribly difficult in the book, but maybe some ingredients that you don't use often at home, like lamb or quail.
Availability of Ingredients: Medium The book focuses on in season, local ingredients. So if you live along highway 1 and have easy access to the markets there, you might have an easier time finding some of the ingredients than someone who lives in the midwest. The majority of the recipes have easy to find ingredients, though, so there is definitely plenty for everyone to make from this book.
Overall thoughts: My only complaint is that I didn't pull this book out when we made our drive along the California coast, as we went through a few towns listed in this book. 🙂 But really, if you love fresh, coastal food, this cookbook will definitely be one that you'll love. And if you love to travel, this book is fun just to read through like a novel. It definitely makes me excited to plan another vacation!
Other Recipes I Want to Try:
Sweet Potato Fries with Honey-Maple Drizzle
Grilled Toma Cheese with Caramelized Onions
Garden Goddess Breakfast Burritos
Chicken Tortilla Soup with Lime Crema
Lemon Tart with Creme Fraiche and Honey
Braised Beef Short Ribs
German Potatoes with Cheddar and Green Onions
Oregon Sweet Corn Bisque
Seabrook Benedict
Buy Eating Up the West Coast on Amazon.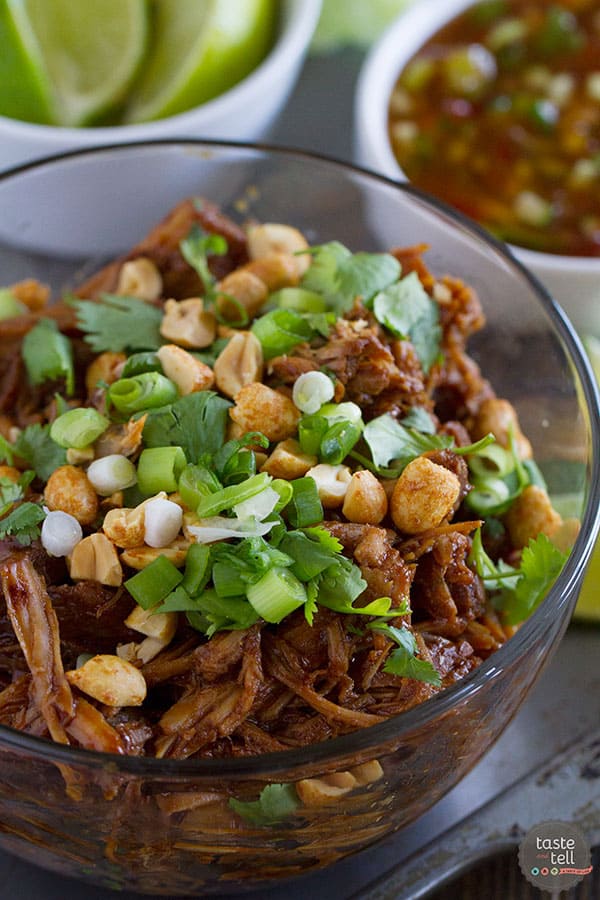 I went back and forth on a few recipes from this book, unable to decide what to make, when I came across this Lettuce Cup recipe that I had somehow missed my first time through. Now, I'm always up for a good lettuce cup or lettuce wrap, so I knew I had to make these.
This recipe does take a bit of time – you are slow cooking the pork to perfection, and let's face it – that can't be rushed. I actually love that the pork is slow cooked in the oven versus a slow cooker, because while I do love my slow cooker, you just don't get the same texture to the meat as you do when it is braised in the oven.
This recipe has you cook the pork with bbq sauce and a mixture of Asian inspired ingredients. Once the meat is cooked and shredded, it's served in lettuce cups and topped with an Asian sauce, peanuts and cilantro. Now let me tell you – I could seriously probably eat like this every day and I'd be a happy girl. The meat and sauce are a little salty (as is the case with a lot of Asian inspired recipes) but since I'm a salty girl, I loved the flavor. And I loved the tip to submerge the lettuce in ice water. I always have a hard time with making lettuce cups from iceberg lettuce, and this truly did help. I'd probably still use romaine hearts next time, since they are just so much easier, but I did love the crunch and size of the iceberg lettuce.
Overall, this was a home run. And the pork made amazing leftovers. I ate every last bit of those leftovers. This is definitely one we'd make again!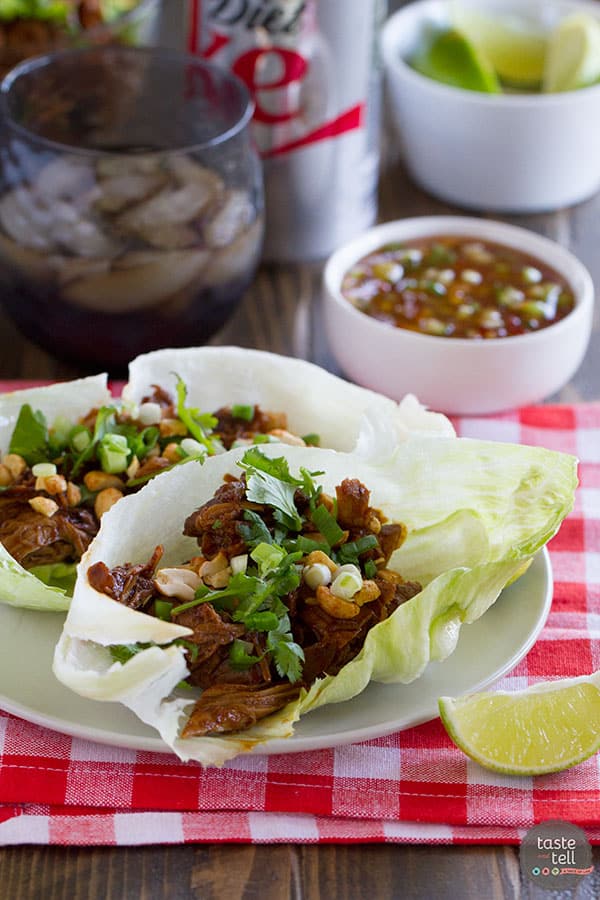 Like what you see here? Make sure you are following Taste and Tell for more recipes and ideas!
Facebook | Pinterest | Instagram | Twitter | Google+ | Weekly Newsletter | Feedly | Bloglovin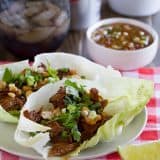 BBQ Pork Lettuce Cups
---
Author:
Prep Time: 20 mins
Cook Time: 3 hours 30 mins
Total Time: 3 hours 50 mins
Yield: 6-8 servings 1x
Description
These BBQ Pork Lettuce Cups have pork that is slowly braised in an Asian-inspired bbq sauce, then served on lettuce leaves for a low-carb dinner packed with flavor.
---
Scale
Ingredients
4 cloves garlic, skins removed and smashed
1/4 cup bbq sauce
1/4 cup hoisin sauce
1/4 cup rice vinegar
3 tablespoons low-sodium soy sauce
3 tablespoons low-sodium beef or chicken broth
3/4 teaspoon fine sea salt
2 lbs. pork shoulder, trimmed and cut into 3 equal-sized pieces*
4 thick slices ginger, unpeeled
2 small heads of lettuce, cored and cut in half
1 cup Thai sweet chili sauce
1/4 cup minced English cucumber
6 green onions, thinly sliced
1/4 cup salted peanuts, roughly chopped
1/4 cup cilantro, roughly chopped
2 limes, quartered
---
Instructions
Preheat the oven to 300ºF.
In a heavy pan or Dutch oven with a lid, just large enough to hold the pork in a single layer, combine the garlic, bbq sauce, hoisin sauce, rice vinegar, soy sauce, broth and salt. Add the pork and turn to coat in the sauce. Cover the pan and cook in the oven for 1 hour.
Remove from the oven and turn the pork. Baste with the pan juices. Return to the oven to cook for another hour.
Turn the pork again and baste with the sauces. Add the ginger. Cover and cook another 1 to 1 1/2 hours, until the pork is falling-apart tender. Baste the meat every 30 minutes.
Remove from the oven and allow to cool enough to handle. Remove the garlic and ginger from the pan and discard. Cut off any visible fat. Use 2 forks to shred the pork in the pan, then mix in with the pan juices.
Fill a large bowl with ice water. Place the lettuce in the ice water to crisp up, making sure the water goes in between each layer.
In a bowl, combine the chili sauce, cucumber, and half of the green onions. Stir to mix. (This will be the dipping sauce.)
To serve, squeeze some lime juice over the pork, then top with the cilantro, peanuts, and remaining green onions. Allow each person to build their own cup with the pork, more lime juice if desired, and the dipping sauce.
Recipe Notes:
*I used a center cut pork roast, but would suggest using the pork shoulder as written, because I think they needed the added fat from the pork shoulder.
slightly adapted from Eating Up the West Coast
Don't miss a thing! Follow me on Pinterest to see what I'm pinning!
Visit Taste and Tell's profile on Pinterest.