These mini pumpkin pies are the perfect holiday recipe – serve them as a sweet appetizer or as a sweet ending to a holiday meal.
This post is sponsored by Pillsbury.
When it comes to Thanksgiving, I love the turkey. The stuffing, the cranberry salad, the festive green beans. I almost always eat too much.
But let's face it – the dessert is the most fun.
When it comes to food, my family definitely is never lacking. If you ask everyone to bring a pie for Thanksgiving, you can bet that they will each show up with at least 2. I'm not even kidding you. Sometimes I think we have enough for each man, woman and child to consume one whole pie, all on their own. But I am not complaining. Because if you know me, you'll know that I love pie. (I think I get this from my dad. Pie is his favorite!)
The thing about having sixty-two different pies, though, (ok, I'm exaggerating on the number just a little bit), is that it's hard to sample every single one of them. What we all usually end up doing is taking a little tiny sliver of each dessert so that we can make it through, trying as many as we can before we are so stuffed that we can't move. It works, but it's not pretty.
Do you know what is pretty?
Mini pies.
Two bites, no mess. It really doesn't get any better, does it? I'm always a sucker for things in individual servings, and these pies are no exception. Filled with that familiar pumpkin pie flavor, these are made even easier by making the crust from Pillsbury crescent rolls. I know I just talked about my favorite pie crust recipe. But if you are still intimidated, this is a great shortcut to take. They bake up buttery and flaky, and they completely compliment the sweet pumpkin filling. Top it all off with a dollop of whipped cream, and I think I have myself a new holiday tradition!
Wanna see how easy they are to make?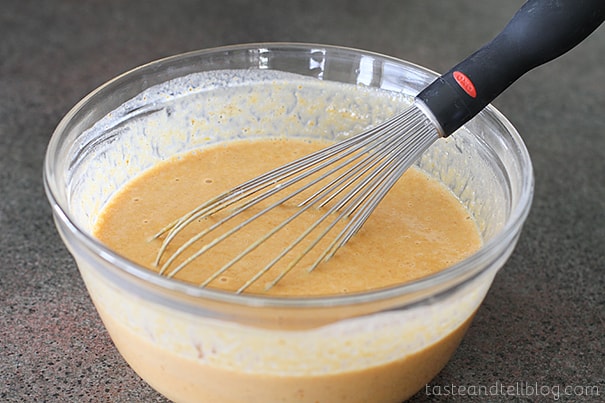 You start off by making your pie filling. This is pretty basic – pumpkin puree, evaporated milk, sugar, an egg, and pumpkin pie spice.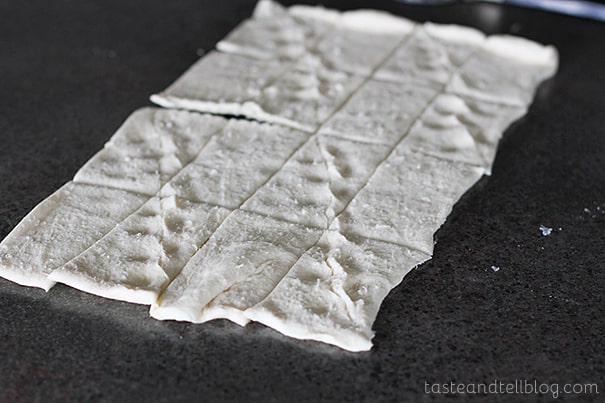 Open one can of crescent rolls at a time, and lay them out on a work surface. Pinch together all of the diagonal seams. Use a pizza cutter to cut the dough into 16 squares.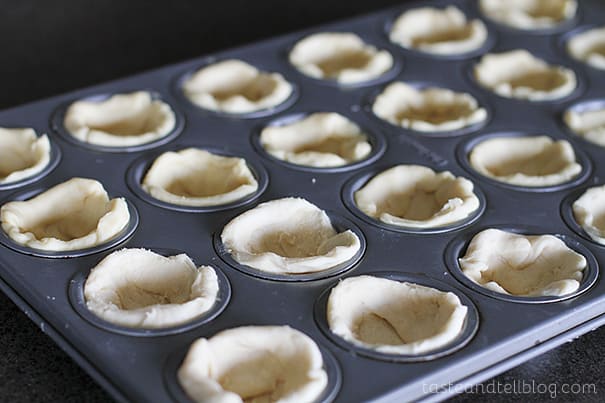 Take each square and form a cup in a mini muffin pan. These are pretty forgiving – if the edges are too long, just tuck them in and press.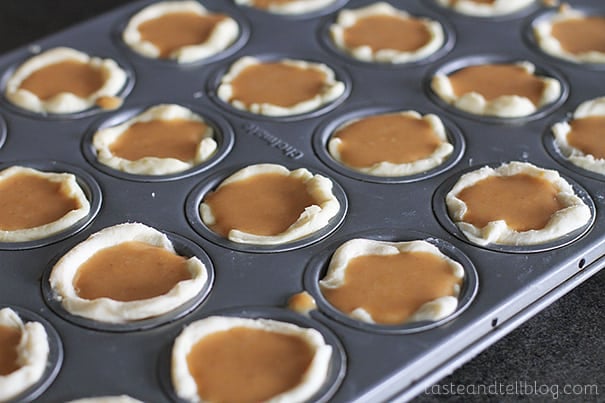 Fill the cups with the pie filling.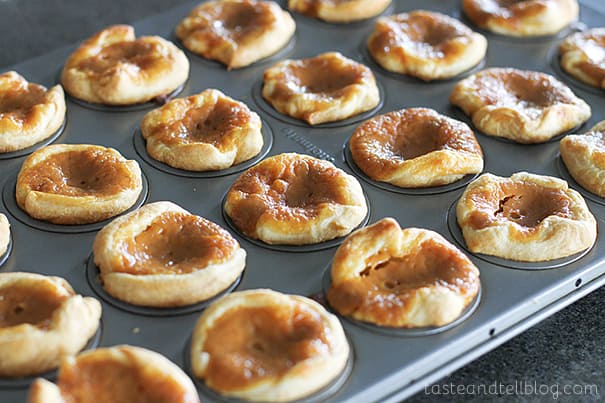 Bake them up until the crescents are golden brown and the filling has just set. Let them cool and then serve them with whipped cream.
And try not to pop 8 of them directly into your mouth. Because you are going to want to!!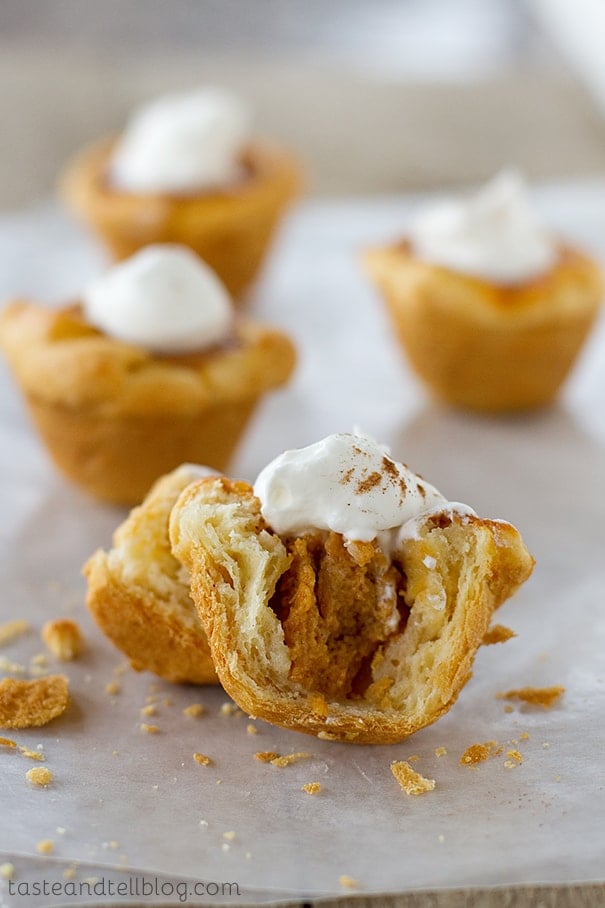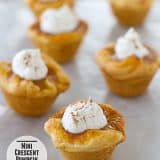 Mini Crescent Pumpkin Pies
---
Prep Time: 15 minutes
Cook Time: 20 minutes
Total Time: 40 minutes
Yield: 48 mini pies 1x
Description
These mini pumpkin pies are the perfect holiday recipe – serve them as a sweet appetizer or as a sweet ending to a holiday meal.
---
Scale
Ingredients
3/4 cup plus 2 tablespoons pumpkin puree (not pumpkin pie mix)
6 oz evaporated milk
6 tablespoons sugar
1 egg
1/2 teaspoon pumpkin pie spice
3 cans (8 oz each) Pillsbury Crescent Rolls
Whipped cream, for serving
---
Instructions
Preheat the oven to 350°F.
Combine the pumpkin puree, evaporated milk, sugar, egg and pumpkin pie spice in a medium bowl. Mix well.
Unroll one can of the crescent rolls into a rectangle. Pinch the diagonal seams together. Using a pizza cutter, cut the rectangle into 16 squares. Press each of the squares into an ungreased mini muffin tin, folding the edges over as needed to make a cup.
Fill each of the cups with the pumpkin mixture. Transfer to the oven and bake until the cups are golden brown and the filling is set, about 20 minutes. Let cool for 10 minutes.
Serve topped with whipped cream.
**Thank you to Pillsbury for sponsoring this post. Because of sponsors like Pillsbury, I am able to bring you all of the recipes I feature here.**