A look at Housekeeping Camp at Yosemite National Park – the good and the bad. Plus what to see and do at Yosemite National Park (even with kids!)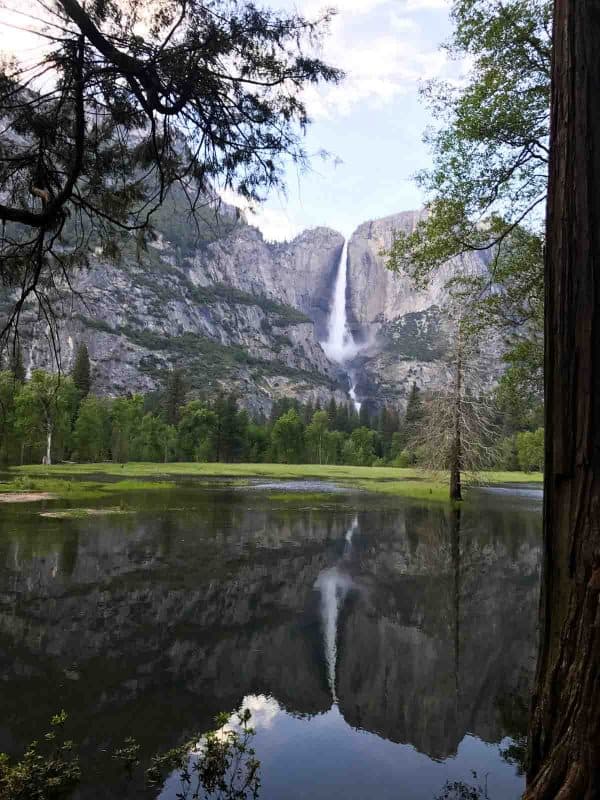 There is something about the great outdoors that just gets to me.  In a good way. I feel alive standing out and looking around at all that God has created – it's all pretty amazing! I would love to start checking all of the national parks off of my bucket list. One by one, right?
My life is all over the place right now. I feel like I'm in that place where I'm constantly trying to catch up. Which explains why I am finally just now posting about our trip to Yosemite National Park almost a year ago. We visited Yosemite the end of May/beginning of June 2017. I feel like I need to specify the date because I know there were some pretty bad wildfires late last summer and through the fall, so some of these views may have changed. But I still wanted to share some loose details from the trip, because any outdoor lover will fall right in love with Yosemite. It would be very hard not to – it is incredibly beautiful and amazing!
Below, I want to share our experience staying at Housekeeping Camp, one of the few places to stay that is in the heart of the park. I'm also sharing lots of pictures, as well as a rough idea of what we did and what we saw.
——————–
Housekeeping Camp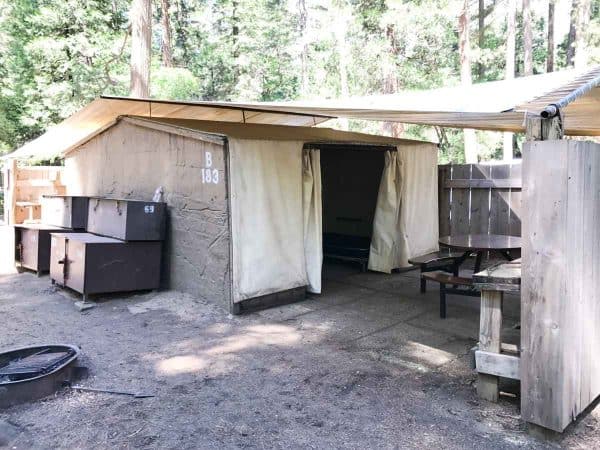 Housekeeping camp is a great way to stay in Yosemite if you want to feel like you are camping, but don't want to have to bring in all of your camping gear. It is located right in the center of the valley, right along the Merced river. In fact, many of the sites are located right on the river. When we were there, it was a very wet spring and the river had flooded, making it so many of the sites on the river weren't even available because there was some flooding.
Housekeeping Camp is made up of units that are kind of a structure/tent hybrid. Each unit has 3 concrete block walls, with a canvas over the top and another canvas on the fourth side of the unit. Each unit has a bunk bed and a double bed, a shelf for storing items, a mirror and one light. There is power in each unit, but you cannot bring space heaters. Bedding is not provided, but you can rent blankets and pillows there. Since we all drove in, we brought our sleeping bags, which I would highly recommend. Nights were pretty cold, and I can't imagine being comfortable with just blankets.   Each unit also has a covered porch area with a table, as well as a bear locker. (More on that in a minute.)  There is also a fire pit for each unit.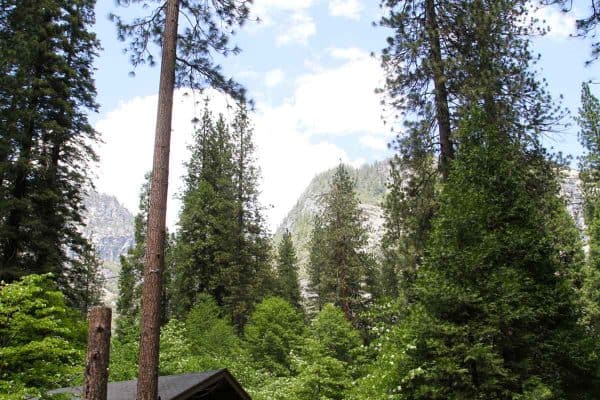 The good:
This is way easier than camping. Not having to bring tents and tarps and mattresses saved us a ton of space, and a lot of hassle. But like I mentioned above, I would still recommend bringing a sleeping bag or extra blankets, or finding somewhere where you can rent them beforehand. The way the units are set up was perfect for our group, because they are set up in small clusters. So all of our units faced in towards each other, so we could have communal fires and meals together. There are bathrooms with indoor plumbing that are very close (or at least they were to our units). There are also showers, although those can be a little further away, depending on where you are in the camp. I don't know if it was just where our units were situated, but we were able to drive right up and park next to our units. Many people brought lights to string up around the outsides of the units, which I loved and would definitely be bringing some along if we stayed there again. The views were amazing, and the convenience of staying right in the heart of the valley was completely worth it to me.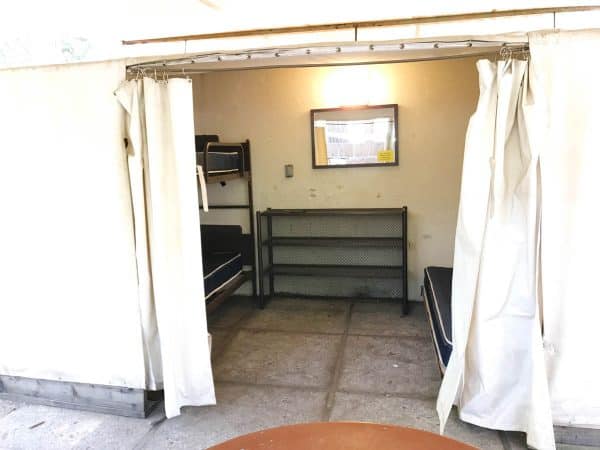 The bad:
I guess this just depends on your expectations going in, but it is a bit pricey for very basic accommodations. The units were not clean when we were there, the bathrooms were not clean, and the showers (while I was grateful for plenty of warm water) were not very clean, either. So you have to just embrace the dirt. There isn't a lot of privacy because all you have is a sliding canvas on each unit, so you'll want to make sure you lock any valuables in your vehicle. A few of the units we had had missing hooks on the canvas. My parents brought an extra tarp to put up over the canvas (which was great for extra privacy and a great way to keep the cold out) but I know not everyone would have room to bring something like that along.  A lot of the things were just not well maintained. They had bars you could get to put up on the bunk beds to keep the kids from rolling out but one of bars we received was broken, and when we went to exchange it, they were all out. The same thing for ladders – by the time we went to ask for one, they were already out, so my daughter had to find other ways to climb up on the top bunk.  We also rented a camp stove there and it was missing a knob. The showers can get very busy (especially in the evenings) and you may have to wait awhile in line. They do have towels that you can use, though, which was great.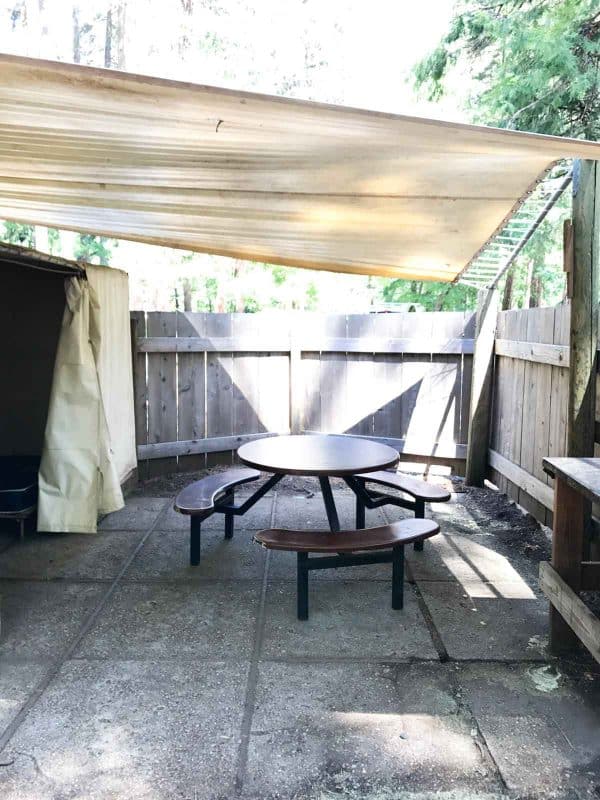 Other things to know:
Each unit has a bear locker where you lock up all of your food and anything else that may have smells to attract bears and other animals. I will be honest and say that I didn't really take the bear threat seriously at first. Of course we locked up our food and all of our toiletries, but I just didn't see how they would let a bear into a camp filled with that many people.  Well, one night, my son woke me up needing to go to the bathroom. I thought I heard some banging outside, so we laid there for a minute, listening to a big bang every minute or so. He finally said he couldn't wait any longer, so we got up and headed for the bathroom. About halfway there, I froze when I heard a breathy, throaty grunting. And it wasn't very far away. And I was standing there with my 6 year old son. We took off running back to our bed, and he even lost a shoe off his foot in the process. I was terrified, but we climbed into my sleeping bag and just laid there. Shortly after, a truck drove by very slowly, and as we listened, the banging noise went further and further away. I am convinced that it was a bear, and the banging was the bear banging on the bear lockers, hoping to find one that wasn't locked. And I'm sure the truck was keeping an eye on the bear, making sure it didn't get into any trouble. I don't know if I've ever been that scared before. That whole long story was just to say – use the bear lockers. With a lock. (You must bring one or buy one in the general store.) It's not worth taking a chance. Plus, I'm pretty sure there's a pretty big fine if they find you aren't locking up your food.
If you are going during the summer months, you must book way in advance. If you want just one night and are more open with dates, it might be easier, but we booked a year in advance to get 2 nights for our group. (I think we had 6 units total.) We were not on the river, but I think those sell out a lot faster, too.
There a plenty of hikes that start within walking distance since the camp is so centrally located. There is also a bus stop that is easily accessible, so no need to even drive everywhere.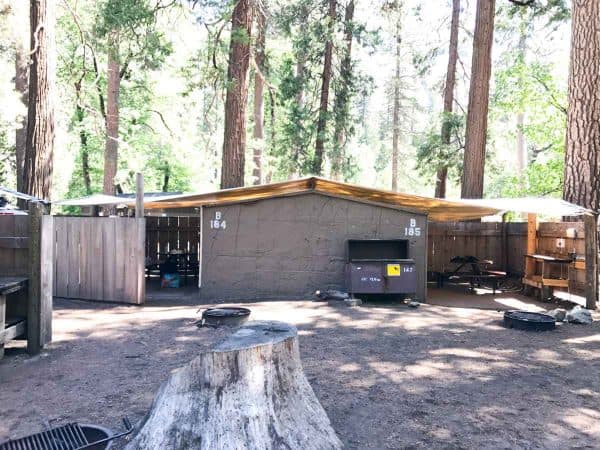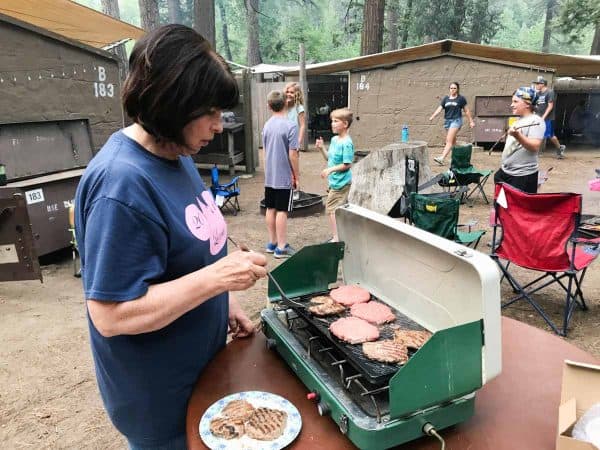 Overall, I would definitely recommend Housekeeping Camp, and hope to go back one day when my kids are older and we can do more of the hikes at Yosemite.  It is definitely not glamping, but I thought it was a lot more convenient than worrying about a tent!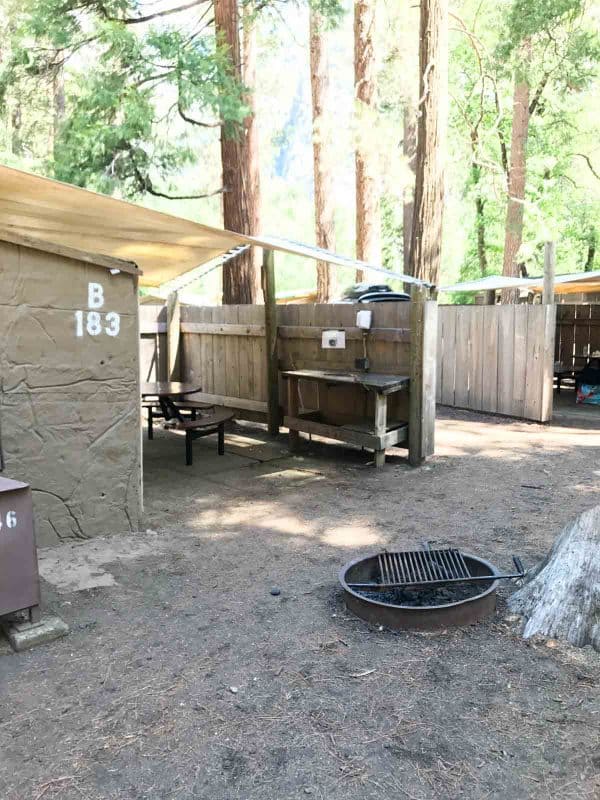 ——————–
What to do at Yosemite National Park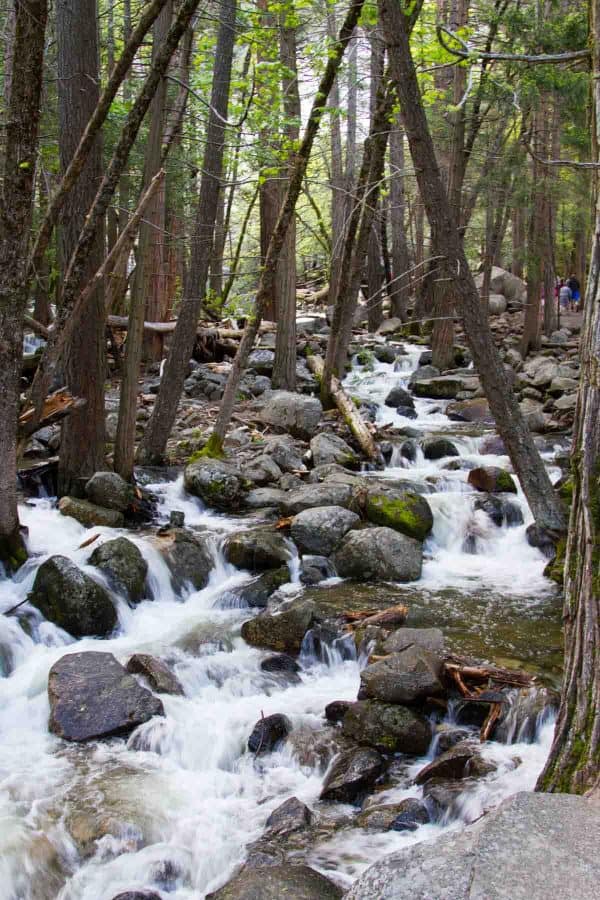 One thing I have learned is that I really need to start keeping a travel journal – especially when it takes me a year to go back and actually write everything down. Thank goodness for family members who keep copies of our plans! But here's the thing – I know we didn't end up sticking to our plan completely, so I hope I don't mess up any details here!!
We were only in the park for 3 days and I feel like we could have spent a lot more time there. Especially if we would have been doing more hiking. We had a large group (I love my family!) which included quite a few younger children. Yosemite has over 750 miles of trails alone, so it's easy to see how this could be a hiker's dream. We did a few shorter hikes, and some of the older kids an adults branched off to do some longer hikes. But I really do hope to come back one day to hike through this park with my kids!
Some of the highlights for me: (Please note – the photos are in no particular order and don't necessarily coordinate with the locations.)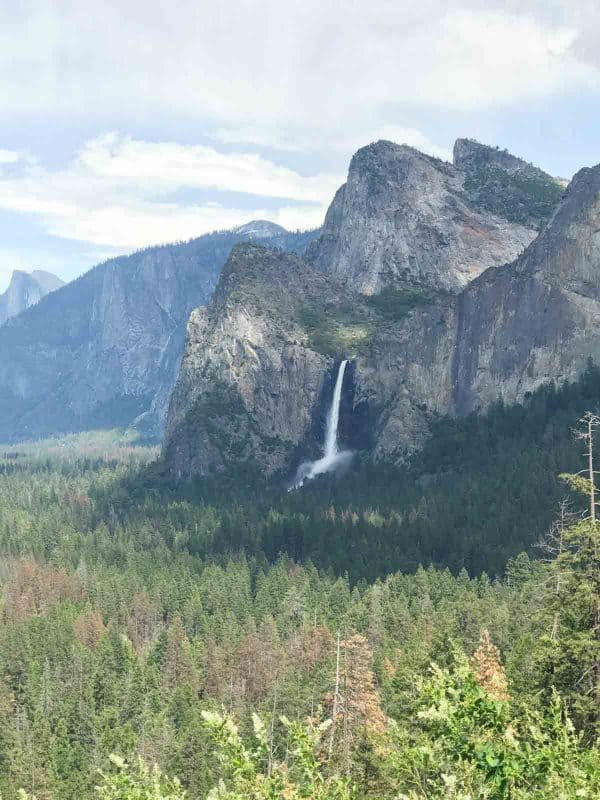 Tunnel View
: This is one of the more popular view points – for a reason! What a view! I think we ended up stopping here 3 times – once on our way in, once when we went on the valley tour, and again on our way out. There is no hiking required for this one – just step out of your vehicle and take in the view! Note: this can get really crowded, so be aware that there might be lots of people and parking can get difficult at times.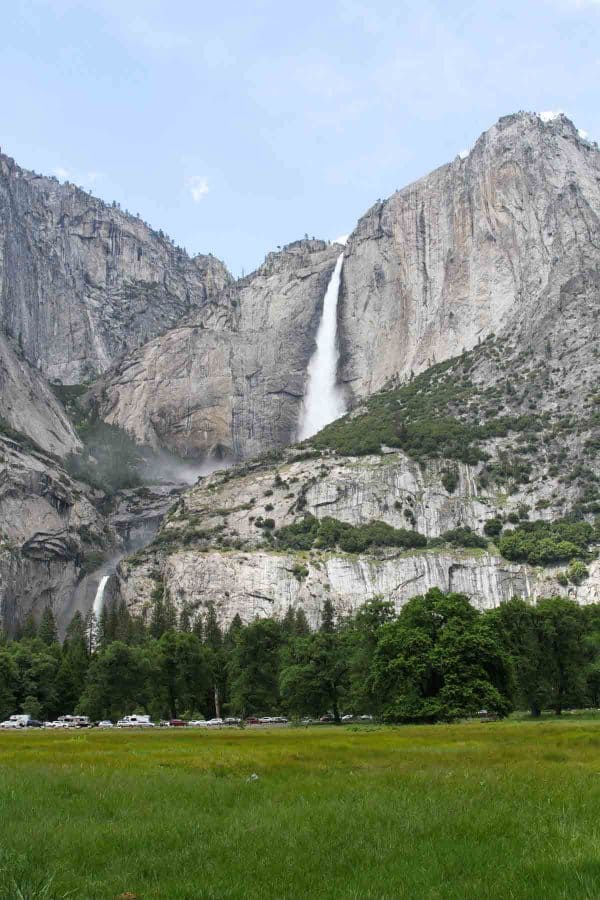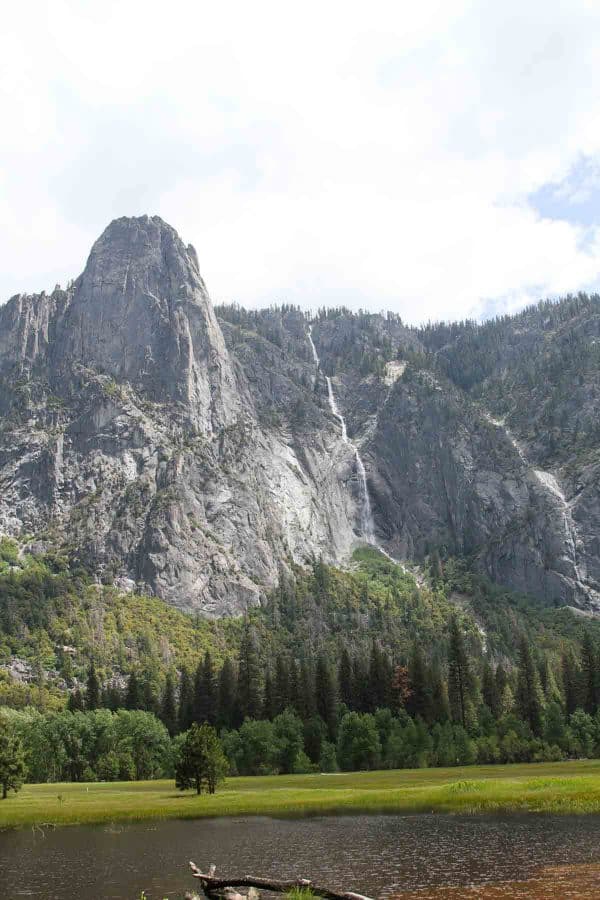 The Valley Floor Tour
: I know this may be a bit touristy for some, but I actually really love tours. I feel like you get so much more information than you would just exploring on your own. You get to hear a lot of history, have things pointed out to you that you may have not seen otherwise, and it's a great way to see a lot in a shorter length of time. This tour is 2 hours long in an open-air truck/bus. We got to see lots of things, including Yosemite Falls, Half Dome, El Capitan, Tunnel View and much more. I loved that instead of driving and trying to get through traffic to find my way, I could just sit back and take it all in. Plus take some photos. 🙂 It does cost from $28-$40 per person, depending on age and what time of year you go, but I thought it was worth it.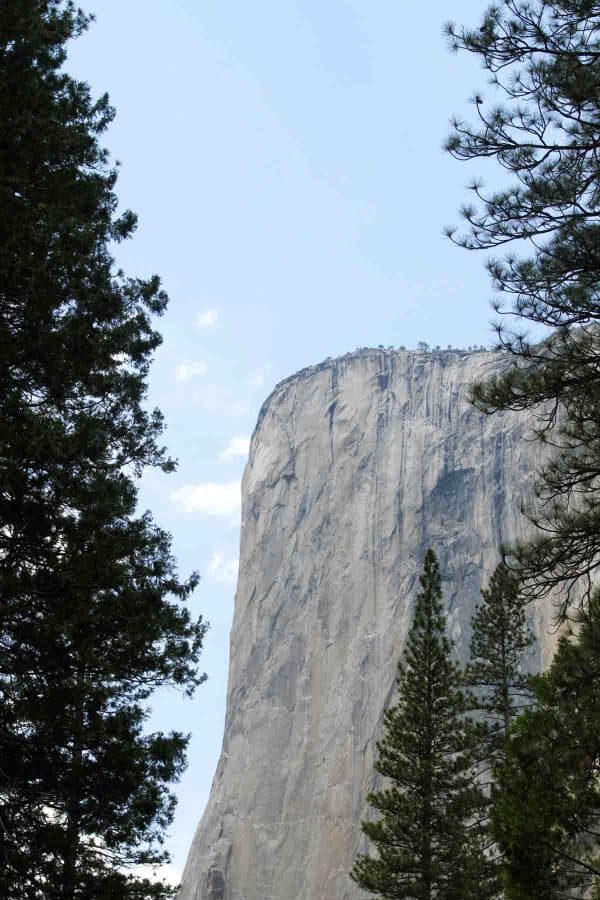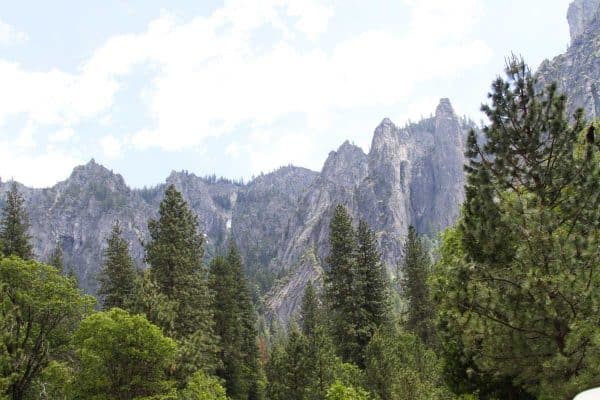 Yosemite Falls:
This is a must! We just hiked to the lower falls, and it was breathtaking. We were also there when there was a record amount of rain – aka amazing waterfalls – but I think even without the extra rain this one would be amazing.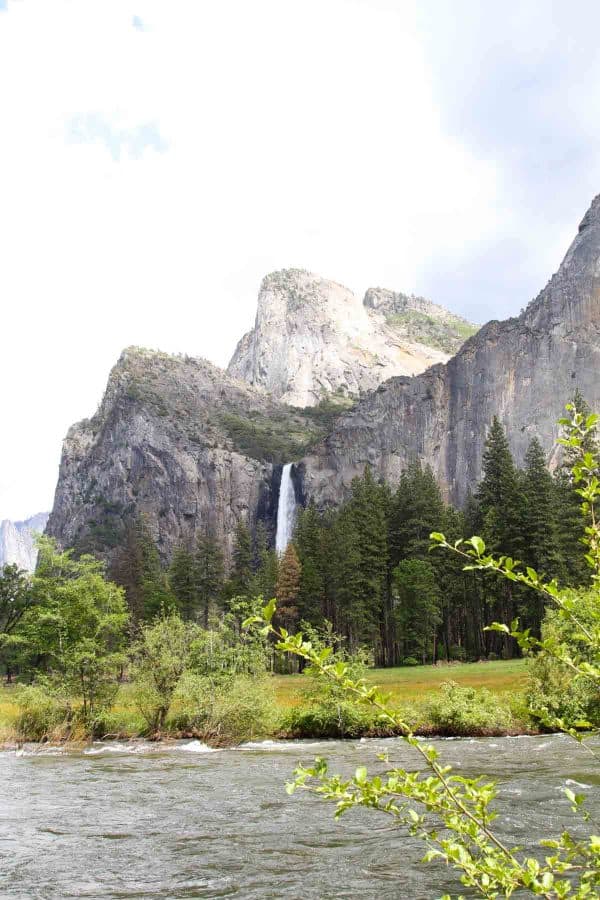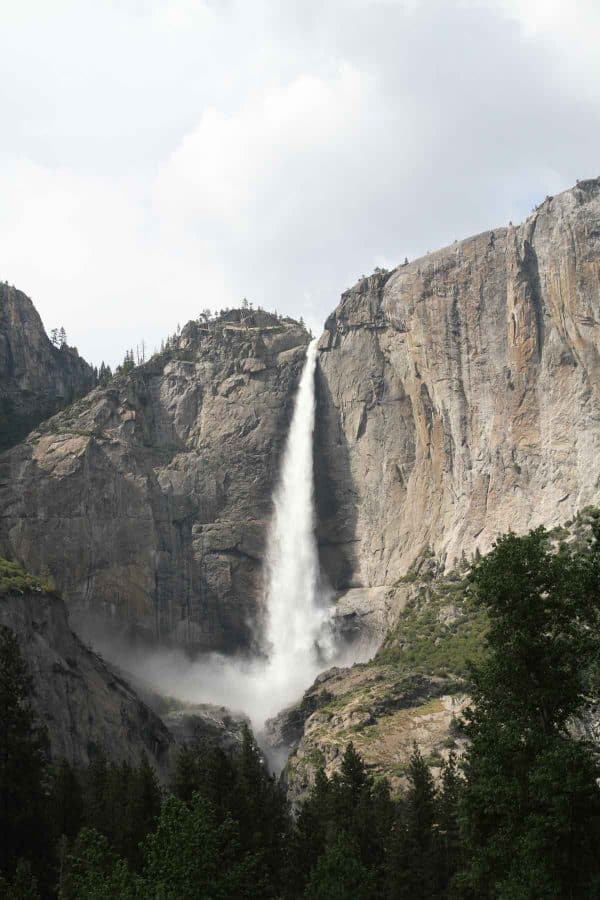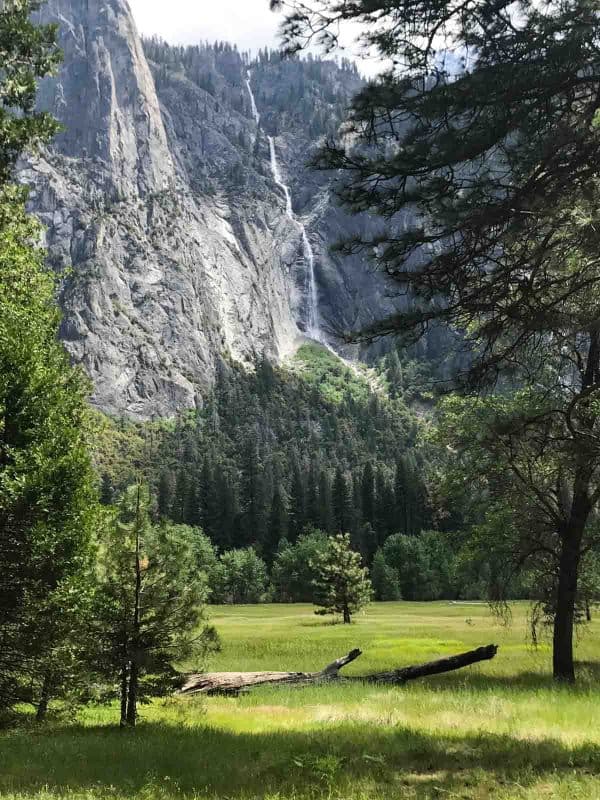 Bridal Veil Falls
: This is a super easy and short hike that even the kids can go on, and we could get close enough to feel the water from the fall. It was a bit slippery, so you need to be careful, but a fun and beautiful hike.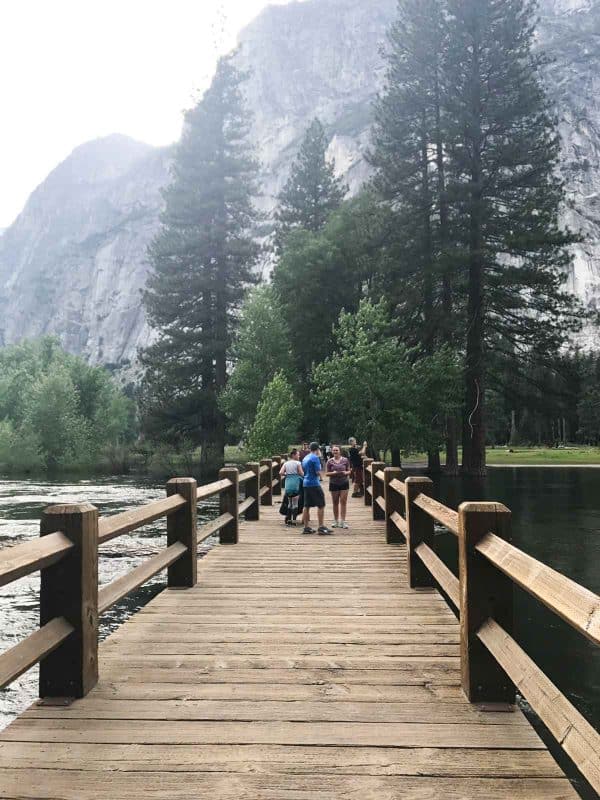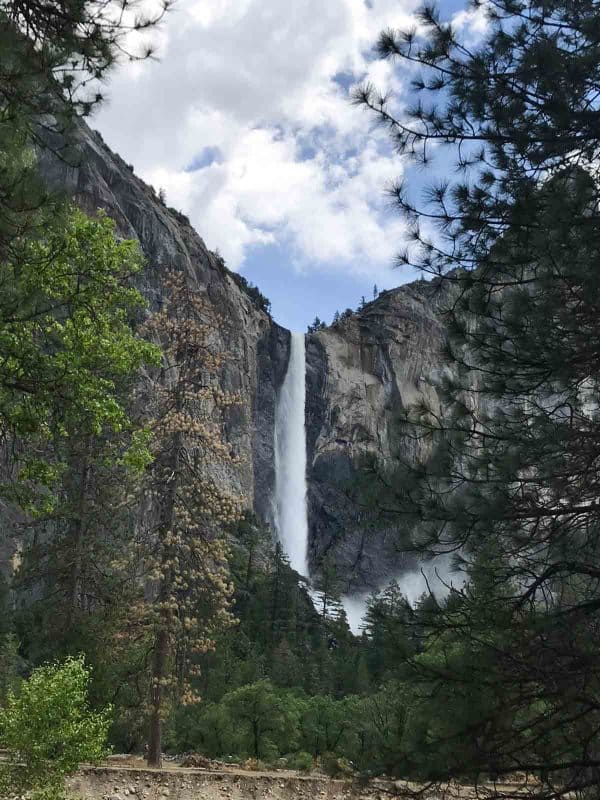 Vernal Fall and Mist Trail:
  So – I first have to explain that during this trip, Easton was on steroids as part of his treatment, which is kind of hard on it's own. But they make him tired, and he doesn't have the stamina of everyone else as it is.  So I ended up giving him a piggy back ride for many of these hikes. So even a short hike was pretty hard for me. 🙂  The hike to the footbridge of Vernal Fall was only a mile, but it was a pretty rough mile – most of it uphill. Uphill with a 6 year old on your back is not easy. But even through all of that – that was one amazing waterfall, and totally worth it. I believe it's one of the most powerful waterfall in Yosemite, and it was pretty amazing to see. And luckily, the hike down was much easier.
From Vernal Fall, you continue on up what is called Mist Trail. I did not continue up, but some of the older kids and adults went up. Abbi ended up going with my parents and a cousin and still talks about how incredible it was, even though she didn't even make it all the way to the top. It is called Mist Trail because you are basically hiking/climbing up the side of the river, where the water mists you the whole way. That is one I want to go back to do one day!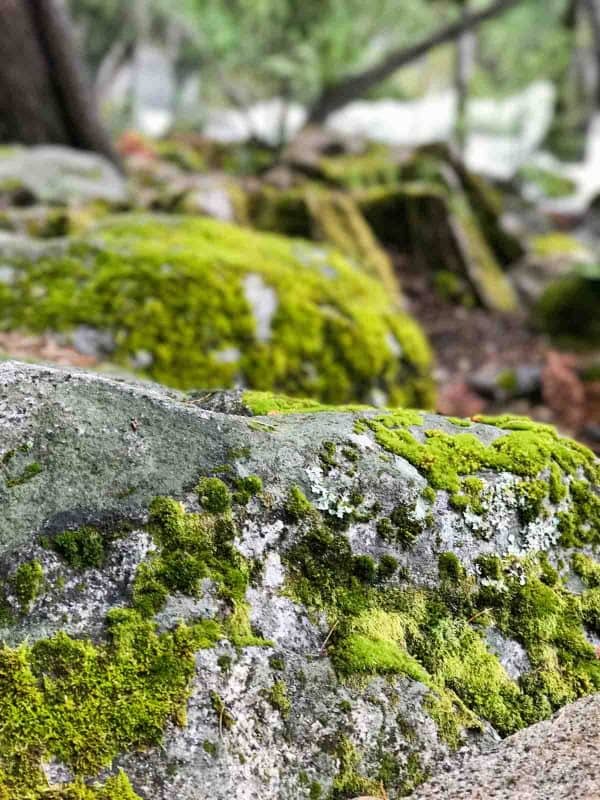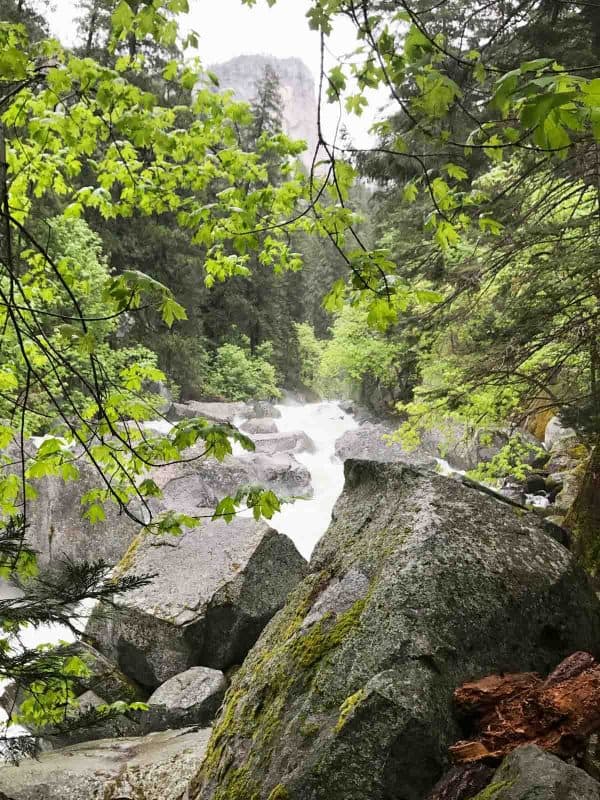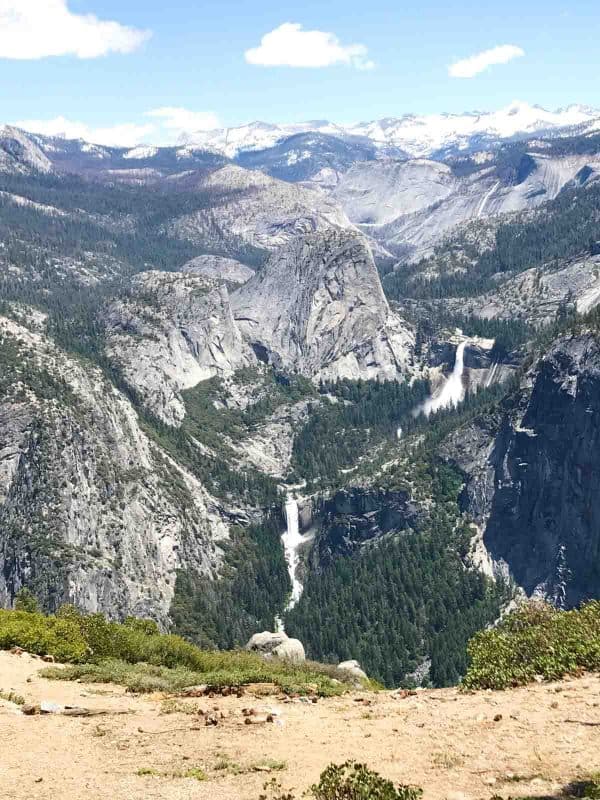 Glacier Point
: If you want another spectacular view, Glacier Point needs to be on your list. We actually went on our second day in Yosemite, but the weather was cloudy and rainy and you couldn't see the view much at all. So we changed our plans and decided to stop again on our way out the next day. I am so glad we went back, because this view is everything. It takes some time to get there (about an hour from the valley, if I remember correctly), but the view is worth it. You can see el Capitan, Half Dome, Yosemite Falls, the Yosemite valley, and much more. Make sure you stop at Washburn Point on the way up. Those views are pretty spectacular, as well.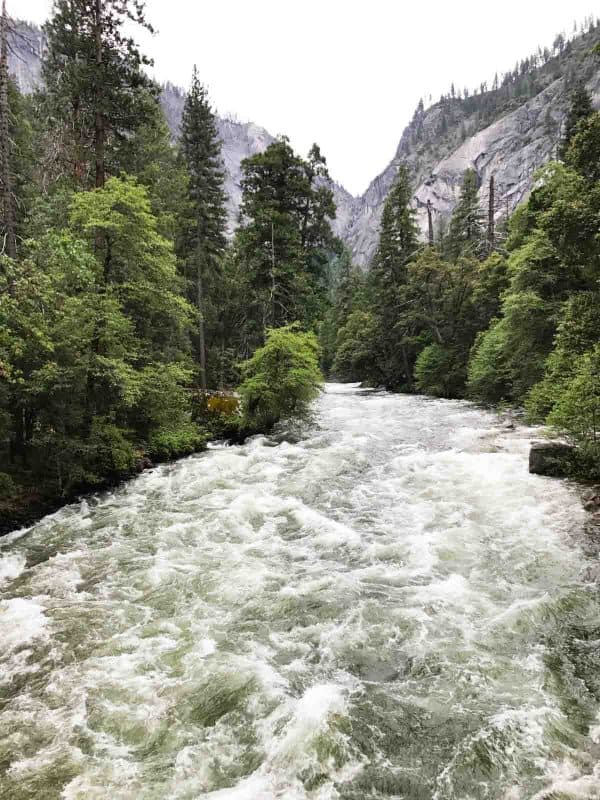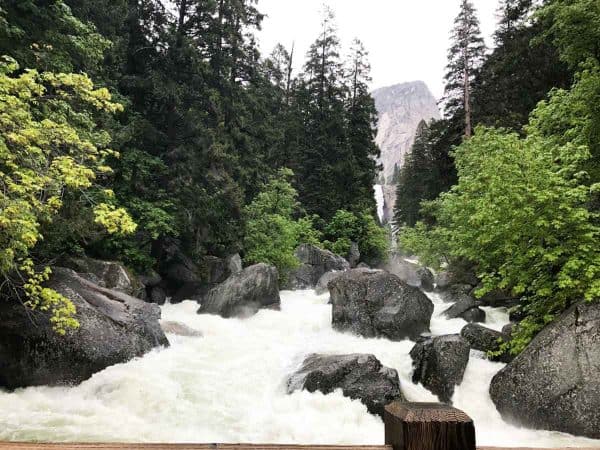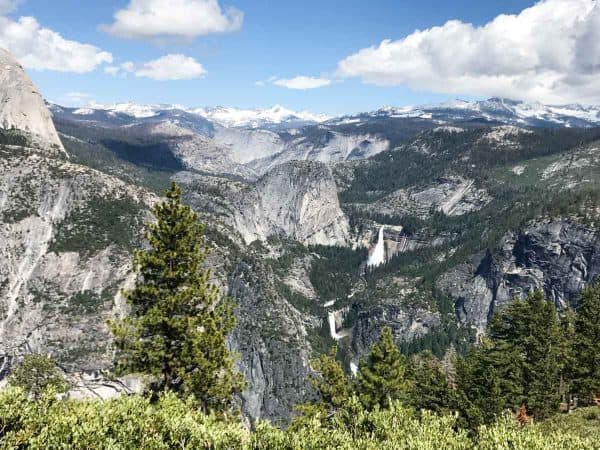 If you are an outdoor lover, Yosemite definitely needs to be on your list of places to go. I'm so glad we got to experience it when the waterfalls were so full, but I really don't think there could be a time when this national park wouldn't take your breath away. We just skimmed the surface, and I can't wait to go back to see more one day!
Like what you see here? Make sure you are following Taste and Tell for more great recipes and ideas!!

Facebook ** Pinterest ** Twitter ** Instagram ** Google+
or you can subscribe to my newsletter
Looking for more outdoor adventure?
Hood River Tour – Oregon
Yellowstone National Park – Wyoming
Mesa Falls – Idaho
Molas Pass and Silverton – Colorado
Mesa Verde National Park – Colorado
Grotto Falls – Utah