A look at the Chef's Table Lumiere dining experience on the Royal Princess Cruise Ship.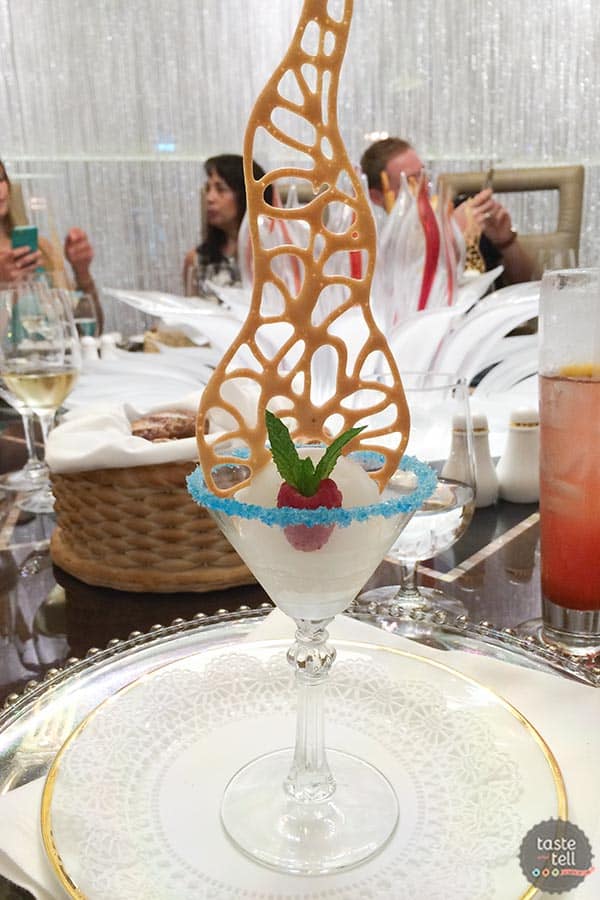 One of my favorite experiences on the Regal Princess would have had to been the Chef's Table Lumiere.
Now, when you go on a cruise, you know you are going to eat. A lot. There is food everywhere, all the time. But if you are on the Regal Princess (or the Royal Princess), I highly recommend taking your dining experience up an extra level with the Chef's Table Lumiere.

What is the Chef's Table Lumiere, you ask? It is a private dining experience that is a definite must experience. It starts with a tour of the galley where you get to see the kitchen at work. A cruise ship kitchen is definitely a well oiled machine. I can't even imagine putting out the amounts of food that they do, and the kitchen was not crazy of chaotic at all. Just everyone doing their jobs, and doing them well, I might add. After the tour, you get to meet the executive chef over hors d'oeuvres. Then you are taken to one of the main dining rooms, where you sit at a gorgeous large table in the middle of the dining room. Then the magic starts when they close a curtain made of small lights around the table. So you are in the middle of the dining room, but you are quite secluded.
Then the food just continues. You get a menu that has been specially created for this dining experience, so it's nothing that you'll be able to get anywhere else on the ship. And not only is the food amazing, but it's beautiful as well – almost a work of art.
Here is what we got to experience that night:
Hors d'Oeuvres in the Galley:
Roast Scallop on Pea Puree (probably my very favorite bite of the entire cruise)
Smoked Salmon and Caviar Parcels on Pumpernickel
Warm Buttery Provençal Mini Tartlets, Black Truffle Infusion
Pizzette with Wild Mushrooms
Menu:
Crispy Sweetbread Stack
Frozen Margarita Sorbet
Roast Lobster Tail & Pancetta Wrapped Noisettes of Lamb
Mille-Feuille of Brie de Meaux (my second favorite bite of the entire cruise)
Chocolate Praline Timbale
It was seriously amazing, and I'll let the photos do the talking.
The Chef's Table Lumiere does have a $115 per person price tag, but I definitely think that it is worth it. I don't drink, and even without the addition of the wine, I still would pay that to have this experience again. They only do the Chef's Table Lumiere twice on a 7 night cruise, and I believe it's only 12 people that can participate each time, so this is something that sells out quickly. If you are interested, book as soon as possible so that you don't miss out!!
This post has been sponsored by Princess Cruises. I'm so glad to be able to work with companies and organizations that I truly believe in. Thank you for supporting them, too.