It's me again!! 3 days in a row – I think this is a record for me!!
I love zucchini. I don't know where my love for this vegetable came from, but I could eat it every day during the summer months. My favorite is to just sauté it in a bit of olive oil and a good amount of minced garlic. Yummy!!
I also love zucchini bread. I couldn't decide what kind to make, so instead of making just one type of zucchini bread, I made 2 kinds!! (Don't worry, they were a couple of weeks apart, so we weren't eating zucchini bread for breakfast, lunch and dinner!)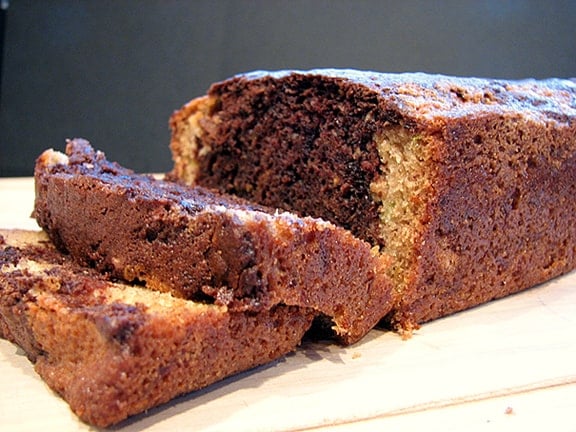 The first is called Chocolate Wave Zucchini Bread. I can't remember who tried it first, but my sister and I have been making and enjoying this recipe for the last few years. It's a nice change up from the normal zucchini bread. You basically make a zucchini bread batter, and pour half into you bread pan. You then mix some cocoa powder and mini chocolate chips in the remaining half and pour that on the regular batter. What you get is a layered "wave" sort of design with a wonderfully chocolate flavored bread in the middle and the traditional zucchini bread flavor on the outside. I don't think I estimated my half of the batter very well this time, though. I ended up with mainly chocolate zucchini bread, but we still loved it!! If you really want 2 distinct layers/flavors, I would probably cut the chocolate portion down to 1/3 of the batter instead of half.
Chocolate Wave Zucchini Bread
from Allrecipes.com

INGREDIENTS
1/3 cup shortening

1 1/3 cups white sugar

2 eggs

1 1/2 cups grated zucchini

1/3 cup water

1 teaspoon vanilla extract

1 2/3 cups all-purpose flour

1 teaspoon baking soda

1/2 teaspoon salt

1/4 teaspoon baking powder

1 teaspoon pumpkin pie spice

1/3 cup chopped walnuts


3 tablespoons unsweetened cocoa powder

1/3 cup mini semi-sweet chocolate chips
DIRECTIONS
Preheat oven to 350 degrees F (175 degrees C). Gr

ease one 9 x 5 inch loaf pan.

In a large bowl, cream shortening and sugar together. Mix in eggs. Add zucchini, water, and vanilla; stir. Blend in flour, baking soda, salt , baking powder, and pumpkin pie spice. Stir in nuts.

Divide batter in half, and add cocoa powder and chocolate chips to one of the halves. Pour plain batter into bottom of the loaf pan. Pour chocolate batter on top of plain batter.

Bake until wooden pick inserted into center comes out clean, about 1 hour. Cool 10 minutes, and remove from pan. Store in refrigerator.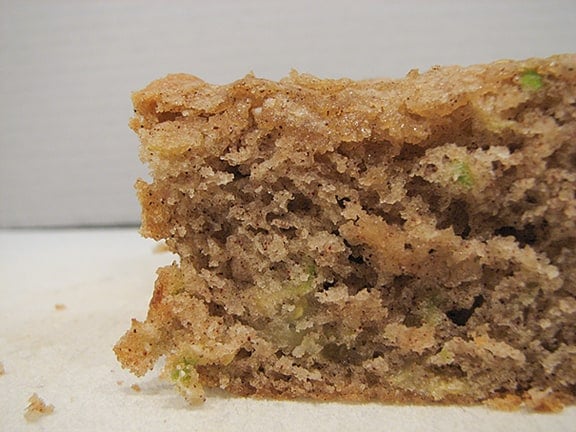 Then I went for a traditional zucchini bread. This should have been easy, but I had a bit of drama along the way. The recipe says that it makes one large 8×4-inch loaf. I wanted to make an extra loaf to take to work the next day, so I decided to double the recipe. I only have 5×9 inch pans, so I thought doubling the recipe would be sufficient. After I started mixing the ingredients, I soon realized that this was making A LOT of batter. In fact, I was afraid it was not going to all fit in my Kitchenaid!! I very carefully mixed and was able to keep everything in the bowl. I filled up both pans along with my mini-loaf pan, which makes 8 mini loaves. That's a lot of zucchini bread!! Then another problem presented itself. About halfway through the baking, I realized I was out of tin foil. I usually put foil over the top of my sweet breads when the top starts to get dark so that it doesn't darken too much. I didn't want the top to darken too much, and since I didn't have any foil, I decided to take the bread out a little early. Well, the mini loaves, which were already out of the oven turned out wonderful. But the big loaves…….um, I took them out WAY too early!! I didn't try any that night, but by the next morning, the middle had totally fallen in the middle and it was a goopy, raw mess. I ended up just cutting the edges off (which were done) and throwing out the whole middle for both loaves. What a waste!! Lesson I learned – either make sure you have foil in the kitchen or sacrifice just the top of the bread!!
Zucchini Bread
from Lion House Desserts
3 cups all-purpose flour
1 teaspoon soda
1/2 teaspoon baking powder
2 teaspoons cinnamon
3 eggs
1 cup oil
2 cups sugar
1 tablespoon vanilla
2 cups zucchini, grated
1 cup walnuts, chopped
Preheat oven to 325F. Grease well 1 large 8×4 inch loaf pan or 2 small 7×3 inch loaf pans. Set aside. In a large bowl mix together flour, soda, baking powder, and cinnamon. Set aside. In a separate mixing bolw beat eggs until light and foamy. Add oil, sugar, vanilla and zucchini; mix well. Add the flour mixture and mix just until moist. (Overmixing causes tunnels and coarse texture.) Fold in nuts.
Pour into prepared pan or pans. Pans should be about two thirds full. Bake for 45 to 50 minutes for large loaf or 35 minutes for small loaves or until a toothpick inserted in the middle comes out clean. Do not overbake. Serves 10 to 12.
I have also been tagged for another meme by Hilda at Saffron and Blueberry, so here goes!!
INSTRUCTIONS:
Remove the blog in the top spot from the following list and bump everyone up one place. Then add your blog to the bottom slot, like so:
1. Vaguetarian Tea Room
2. BitterSweet
3. Tartelette
4. Saffron & Blueberry
5. Taste and Tell
Next, select five people to tag
Umm, I know this has been going around, so if you haven't been tagged and want to participate, consider yourself tagged!!
What were you doing 10 years ago?
Wow, I don't know if I remember. I believe I was preparing to move back home to New Mexico after a brief stint in Arizona. Word to the wise – if you plan on moving to Arizona, don't do it in the summer – move in the winter to give yourself time to fall in love with it before the heat of the summer hits!
What were you doing 1 year ago?
Preparing for my first trip to Seattle. I always said I wanted to live there before I had even been there, and after that trip, I know that's where I want to live!!
Five snacks you enjoy:
1. Chips and Salsa
2. Anything chocolate
3. Popcorn
4. Fruit, except for apples – I love them but they tend to give me a tummy ache
5. Fruit snacks – call me crazy, but my favorites are the generic brands – especially Wal-Mart's fruit smiles!!
Five songs that you know all the lyrics to:
I could probably list 5 albums – in the first years after I moved to Utah, I made frequent trips home to New Mexico. I had my favorite albums that I could sing along to to keep me awake!
1. Some Hearts – Carrie Underwood ALBUM
2. Breakaway – Kelly Clarkson (yes, I am an American Idol junkie!) ALBUM
3.Little Earthquakes – Tori Amos ALBUM
4. The Whole Shebang – SheDaisy (actually all of their albums – they are great to sing along with!) ALBUM
5. Stay – Lisa Loeb – just the song. My sister's and I had fun memorizing this song years ago and I still can sing the whole thing
Five things you would do if you were a millionaire:
Umm, I think you need to be a multi-millionaire these days to really dream…
1. Travel!! There are so many places worldwide that I would love to visit
2. Go to culinary school. For years I have said that I would love to go if I didn't have to worry about money or a job. I don't want to cook for a living, but I would love to have that education
3. Shop. A girl can never have too many clothes or shoes!
4. Make sure my family is taken care of. I would love to pay for my family and my husband's family to take an awesome vacation together as well.
5. Quit my job and enjoy the spare time I would have to read more, cook more, take better care of my house, etc….
Five bad habits:
1. Snacking when I'm not hungry
2. Reading blogs while I am on the phone
3. Eating too fast
4. Slouching
5. Procrastinating
Five things you like doing:
1. Cooking and Baking (duh)
2. Taking Pictures.
3. Scrapbooking
4. Travel
5. Exercising
Five things you would never wear again:


I'm having flashbacks of grade school…



1. Yellow. It
does not
look good on me (grade school flashback)
2. Side bangs (grade school flash back)
3. 2 (or more) pairs of socks at the same time (grade school flashback)
4. Shorts that are above finger tip level (in grade school, that is how they judged if your shorts were long enough for school. You had to stand straight with your arms to your side. If your shorts were short enough that you touched skin, they would send you home to change!)
5. My old cheerleading uniforms. I don't think I could get away with that anymore!! 🙂
Five favorite toys:
1. My ipod
2. My cell phone (I don't know if this is considered a toy, but I don't know if I could get by without it!)
3. Computer
4. Camera
5. Can cookbooks be considered toys???