Where to eat in San Diego, California – a list of my favorite restaurants in San Diego. Everything from donuts to sweet potato fries, and lots of Mexican food!



Planning a trip to San Diego, California? I'm here sharing with you a list of great restaurants that I would recommend for you to put on your list. Lots of Mexican food, some killer donuts, and more!




If you are a donut fan, you must hit up The Donut Bar. You can read all about my visit to Donut Bar here.
Donut Bar
631 B Street (2 other locations as well)
San Diego, CA
donutbarsandiego.com




The Hopping Pig
After a walk around downtown and a sampling of donuts, I asked the receptionist at my hotel for a recommendation for lunch. She raved about the fish tacos from The Hopping Pig, just half a block away from the hotel. I can't turn down tacos, so I headed over!
It was a beautiful day, so I took advantage of the outdoor seating (which is a plus when you are dining alone. People watching outside is a lot more entertaining than people watching indoors.) I ordered off of the happy hour menu and got a sampler plate with the fried fish taco, carnitas taco, and BBQ pork slider. I also ordered the sweet potato fries, because they are a weakness of mine.
While the tacos were good, surprisingly, the BBQ pork slider was my favorite. And those fries were pretty legit as well – nice and crispy on the outside, which isn't always the case when it comes to sweet potato fries. It was a great stop for lunch!
The Hopping Pig
748 Fifth Avenue
San Diego, CA
www.thehoppingpig.com
El Agave
If you are looking for some authentic Mexican food – something a little more than your typical enchiladas, you need to check out el Agave.
We had so much food – I should have kept notes so I could remember everything! Since we were dining as a large group, they brought us out an assortment of appetizers that included tacos, quesadillas, empanadas, taquitos, and more. Every bite was just as good as the last, and I don't think I tried one thing on that plate that I didn't completely enjoy.
I decided to be a little bit daring and try the Nopalli salad – a salad made from cactus. This was my first time trying cactus, and it was definitely different. I really did like it, although I'm not sure it's something I would ever crave. For my entree, I ordered a sea bass dish that had an amazing sauce with peppers and olives. Others at the table also raved about the filet mignon that was stuffed with goat cheese.
el Agave
2304 San Diego Ave
Old Town, CA
elagave.com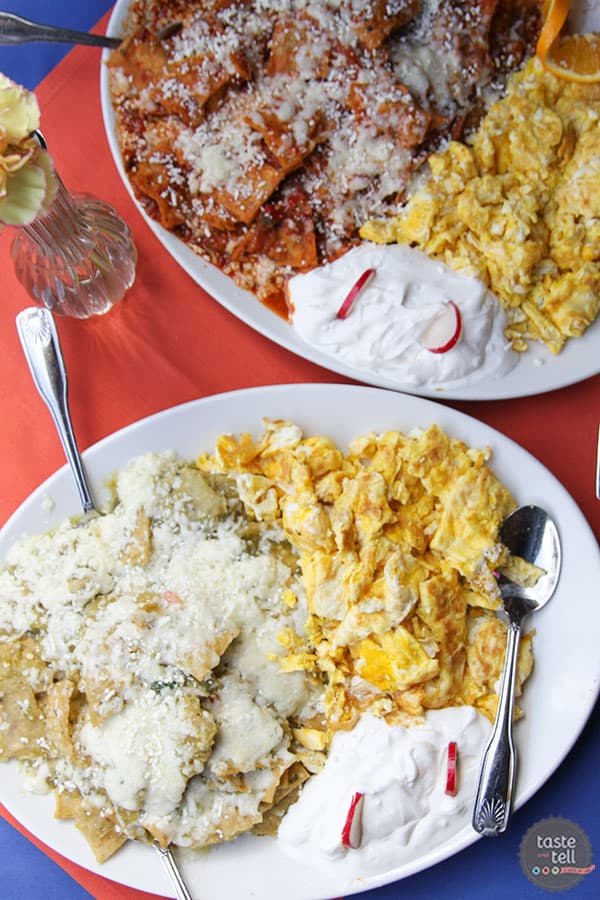 Get the chilaquiles. You won't be sorry. Read all about Los Panchos de Charly here.
Los Panchos de Charly
431 E Street
San Diego, CA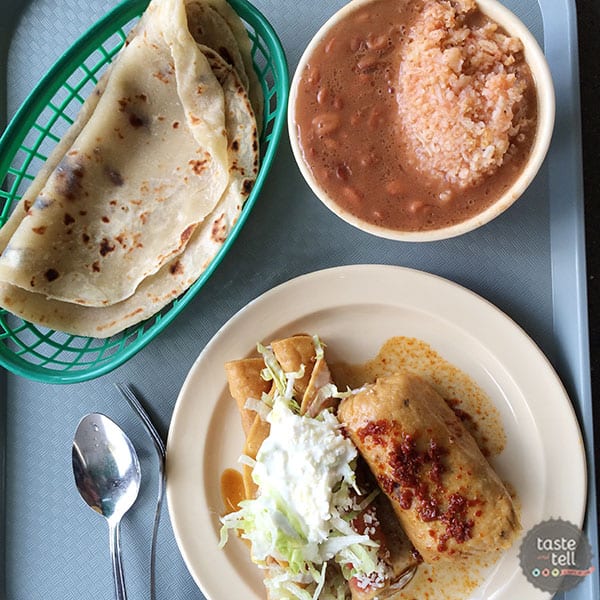 If I were to recommend one Mexican food restaurant in San Diego, Las Cuatro Milpas would be it. Read all about what I had to say about Las Cuatro Milpas here.
Las Cuatro Milpas
1857 Logan Avenue
San Diego, CA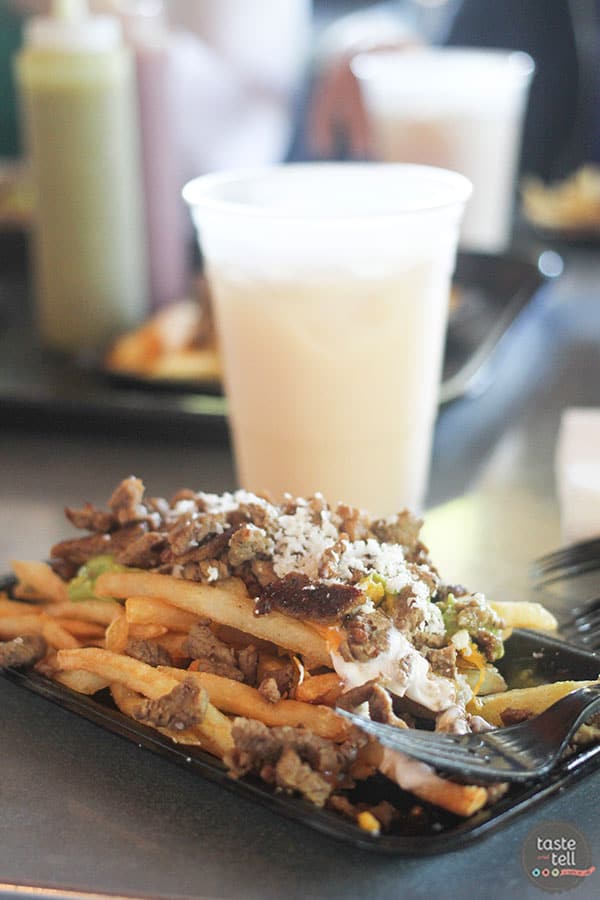 For a taste of San Diego Mexican – make sure you check out Lolita's Mexican Food. The Carne Asada Fries? The Horchata? Muy Bueno. Read my whole review of Lolita's Mexican Food here.
Lolita's Mexican Food
202 Park Blvd.
San Diego, CA
(Several other locations as well)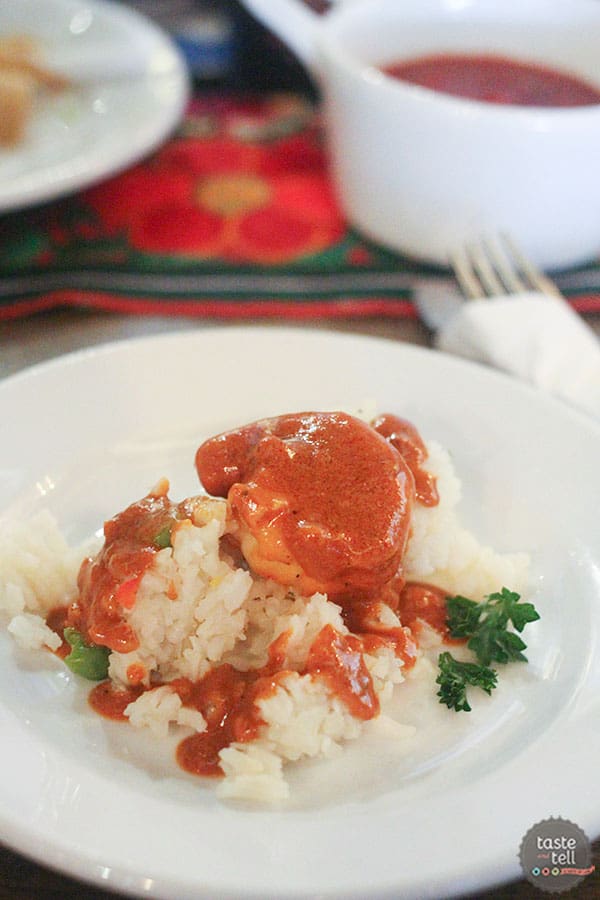 Karina's Mexican Seafood Cuisine
If you are looking for delicious seafood inspired by Mexico, check out Karina's Mexican Seafood Cuisine. Read my full review of Karina's Mexican Seafood here.
Karina's Mexican Seafood
925 B Street Ste 101
San Diego, CA
(Many other locations, as well)




Candelas
You would think that after spending a day eating my way through the Mexican food of San Diego that I wouldn't be able to even eat another bite. Well, when the food is good, you find a way to eat!! Candelas was my last stop on my short trip in San Diego, and it did not disappoint. The scenery can't be beat – it is right on the bay in Coronado with a stunning view of the San Diego skyline. The view alone is worth it.
While the whole meal was absolutely amazing, there were two standouts. First – the Creme Poblano. It is a creamy soup made from poblano peppers, and while it looks very plain and unassuming, it was simply amazing. Like I want to lick the bowl clean amazing. I would go back for that soup alone. The other standout was the tres leches cake. I was so full after eating all day long, yet we managed to order a second tres leches cake because it was that good.
Everything that we sampled that night was delicious. The tacos were probably my favorite – especially the ribeye tacos. A great meal with a view!
Candelas on the Bay
1201 1st Street
Coronado, CA
candelas-coronado.com
Follow my travel board and never miss any eats or adventures while I'm out and about!
Follow Taste and Tell's board Taste and Tell – Travel on Pinterest.