Today's blogger spotlight is Gaby from What's Gaby Cooking, and I'm so happy to have her here! Gaby is the avocado queen (she wrote a whole cookbook all about them!!), and anyone that loves avocados that much has got to be a great person. 🙂 Make sure you check out her Raspberry Fudge Brownies, Chicken Parmesan Panini and Parmesan Roasted Potatoes. And if you like travel and travel photography, she visits some amazing places!! Thanks for sharing with us today, Gaby!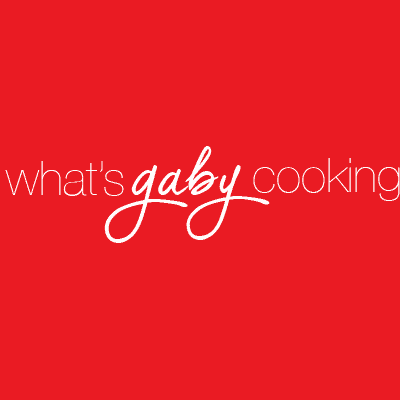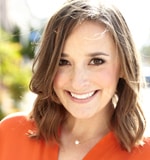 Gaby Dalkin is a trained chef, recipe developer and food/lifestyle writer based in Los Angeles. Her food and recipe blog, WhatsGabyCooking.com features original recipes and images from her California inspired kitchen. Her first cookbook, published in Spring 2013, celebrates her uncontrollable obsession with nature's most perfect food: the avocado.
Gaby is a regular food and lifestyle contributor to Better Homes and Gardens, and her recipes and writing have also been featured on HGTV, the Los Angeles Times, Vanity Fair, Saveur, Design*Sponge, Glamour, PBS, The Kitchn and Fitness Magazine. You can also find Gaby on her YouTube channel sharing some of her favorite recipes in video form! www.youtube.com/user/WhatsGabyCooking
Do you plan a weekly menu? If so, what inspires your menu?
I try to! But I often deviate from my plan. Living in Los Angeles means that I have access to farmers markets year round, and almost every day of the week. So I can often be found at the markets on Wednesday, Saturdays and Sundays – and whatever strikes my fancy dictates what we eat that week. If there is an abundance of awesome produce, we'll stick to a mostly vegetarian diet. If my favorite butchers are out at the market, I'll pick up some really fun cuts of meat and then add those in!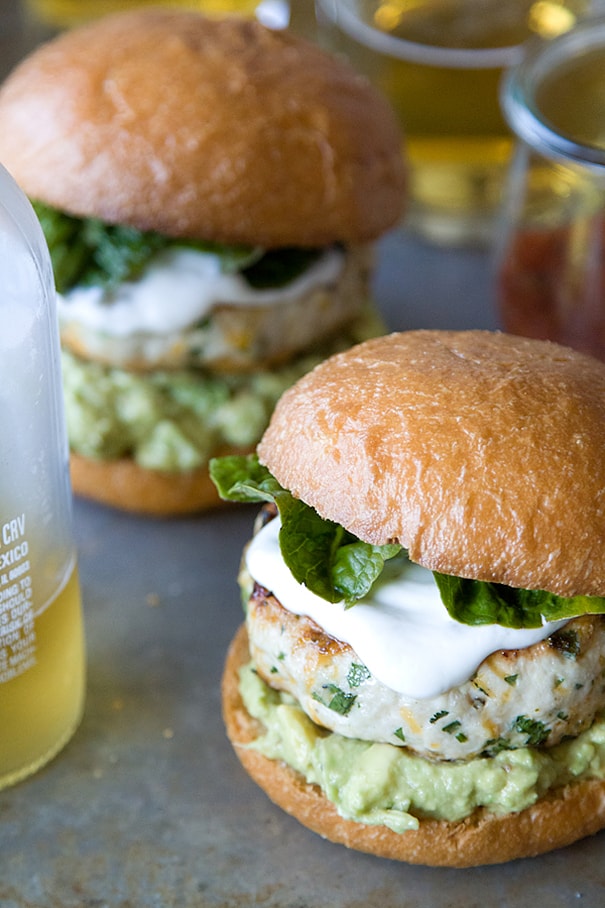 Cheddar Jalapeno Chicken Burgers with Guacamole
What is your favorite recipe posted on your blog?
Favorite recipe has got to be my Cheddar Jalapeno Chicken Burgers with Guacamole! I'm pretty known for my obsession with all things avocado, I mean I wrote a book on the food! So it's no wonder that my current favorite recipe is topped with guacamole!

What is your favorite kitchen tool/appliance?
I'm obsessed with my KitchenAid mixer. That thing is my work horse – it does everything from make fresh pasta, to mix up cookie dough, to grind meat to make homemade burgers. I seriously couldn't live without it.
What would you eat as your last supper?
Are you ready for this?!? I'd need some chips, salsa and guacamole to start. A cheese quesadilla for the next course followed by some carnitas (with more guacamole of course) homemade tortillas and then 72 hour chocolate chip cookies for dessert. Oh and I'd probably want some wood fired pizza too.
Any suggestions or hints to have great food photos?
Natural light and fun props!! Also, texture – always make sure your food has fun texture.
What kind of food did you eat growing up? Do you cook the same kinds of things today?
I ate a whole lot of pasta and grilled cheese as a kid. I was seriously the worlds pickiest eater, so carbs were most of my diet. Plus I was a swimmer, tennis player and ballerina, so I'd burn through those calories like it was my job and was always hungry! Yes, I totally still cook the same foods when I'm craving some comfort food. But I really love going home for the holidays and having my dad make me a grilled cheese – he just makes the best ones on the planet!
Is there a dish that you are known for?
I'd have to say my slutty brownies! I was a private chef for a number of years before becoming a full time food blogger, and my client, Jessica Simpson, was on a latenight show and told the world about my slutty brownies! They've been famous ever since. 🙂
If you could travel anywhere in the world – just for the food – where would you go?
Oh that is such a great question! For the food… I'd probably have to say Italy! I love the simplicity of the cooking style in Italy. There are so few ingredients in everything, but they are so high quality that it really makes all the dishes stand out!
What are your favorite blogs to read?
I love love love Shutterbean, Matt Bites and Heather Cristo! Those are my go to blogs for great recipes and even better story telling!
Take us through a typical day of eating in your house.
Breakfast is usually a piece of avocado toast and a cup of coconut greek yogurt! I can't get enough of that stuff!
Lunch is typically whatever I'm recipe testing! It varies from day to day, but I try to keep it light and colorful.
Mid afternoon snacks usually consist of almonds, cashews, hummus and veggies. Or cookies. If there are cookies in the house, the answer is always cookies.
Dinner is usually some form of grain, quinoa, farro, barley, etc with a sauce and some chicken and then a big loaded salad with tons of veggies! We keep it pretty healthy 80% of the time in our house, and then the other 20% of the time consists of decadent dishes like lasagna, giant carne asada burritos, mac and cheese and slutty brownies!
Dessert – I usually will just have a little square of dark chocolate to satisfy my sweet tooth and a cup of mint tea. If I have guests in town, or friends over for dinner, I'll step things up a notch and do some chocolate fondue with fruits and pound cake – or homemade ice cream!
———————
Thank you, Gaby! If you want to see more from What's Gaby Cooking, here is where you can find her: