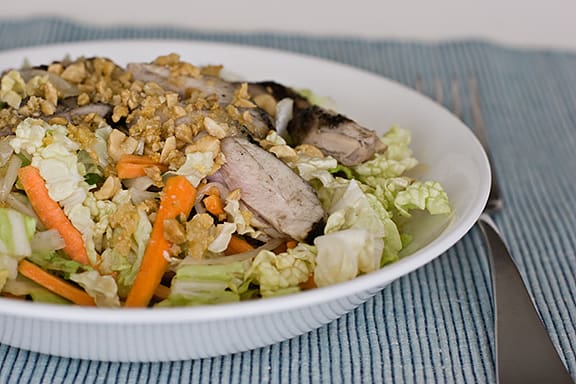 Aaahhh, summer. It feels like it's hit in full force here now. (But knowing the Utah weather, I wouldn't be surprised if I woke up to 40F weather tomorrow…) I admit that I'm all for eating soup and chili in the middle of the heat of summer, but summer really means lighter fare. Like a wonderful salad, with the chicken cooked on the grill. No heat in the house makes for a perfect summertime recipe! And it helps that this is incredibly delicious and full of flavor, too!
Vietnamese Chicken and Cabbage Salad
adapted from The Complete Chicken Cookbook
4 cooked chicken thighs
1 cup thinly sliced celery
2 carrots, cut into thin strips
1 cup finely shredded cabbage
1 small onion, sliced
1/4 cup fresh cilantro
DRESSING
1/4 cup sugar
1 tablespoon fish sauce
1 clove minced or grated garlic
2 tablespoons rice vinegar
2 tablespoons canola oil
TOPPING
2 tablespoons canola oil
1 1/2 teaspoons chopped garlic
1/3 cup roasted peanuts, finely chopped
1 tablespoon sugar
Cut the chicken into strips. Combine the chicken, celery, carrot, cabbage, onion and cilantro in a large bowl.
To make the dressing, put all the ingredients in a jar with a tight fitting lid and shake until completely combined. Pour the dressing over the chicken mixture and toss to combine.
To make the topping, heat the oil in a skillet over moderate heat. Add the garlic and cook, stirring, until pale golden. Stir in the peanuts and sugar. Cool slightly. Sprinkle the topping over the salad just before serving.