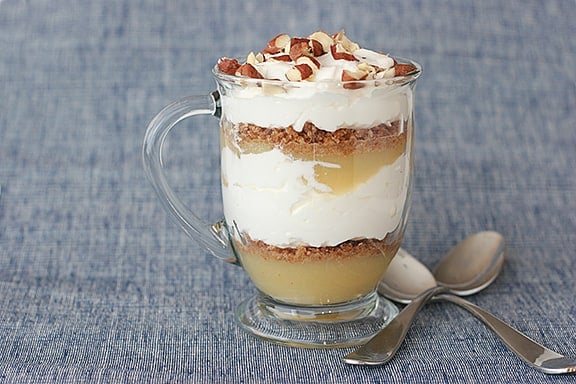 Last Friday, I didn't have my Cookbook of the Month post ready, so now you get an extra long post!
We'll start with this last recipe from this month's book, followed by the review of the whole month.
I don't know what it was that drew me to this dessert recipe in this cookbook. Maybe it was the simplicity, or maybe it was the name that seems like such a strange name for a dessert. But regardless, I'm glad that I made it!
This is a super simple dessert that takes no more than 15 minutes to throw together. I wasn't quite sure what to expect – just applesauce, some sweetened breadcrumbs and whipped cream – but I figured even if it was horrible, it wasn't going to be a huge loss because it was so simple to make. But I really enjoyed this. My husband didn't really care for it, but I thought it had all the flavors of apple pie, just put together a little differently. I do think that some sauteed apples would have been a fabulous substitution for the applesauce, but the applesauce sure is easy and convenient! (Especially since Abbi loves applesauce so we always have some.)
I'm still not quite sure how the name came about. The book says that "How it got it's name is easy to understand: It consists of layers of applesauce and sweet cinnamon-scented bread crumbs, veiled with whipped cream." Ok, so I understand the "Veiled" part, but I'm not sure about the Farm Girls. Maybe because of the apples???
Recipe Rating: 4 out of 5
Veiled Farm Girls
from Kitchen of Light
serves 4
1 1/2 cups bread crumbs (I used fresh)
3 tablespoons superfine sugar
2 teaspoons ground cinnamon
2 tablespoons unsalted butter
1 1/2 cups heavy whipping cream
1 1/2 cups applesauce, chilled
1/2 cup chopped hazelnuts
In a nonstick skilled, combine the bread crumbs, sugar, cinnamon, and butter. Stirring constantly with a heat proof spatula or wooden spoon, heat over medium heat until the crumbs are uniformly golden. Remove from the heat.
In a large bowl, whip the cream until stiff.
Layer the applesauce, bread crumbs, and cream in individual glass bowls. The top layer should always be whipped cream, "veiling" the dish. Sprinkle with the chopped nuts and serve.
And onto the review…
I admitted at the beginning of this month that I was a little nervous about choosing this book. I'm finding that I'm running out of library cookbooks from different countries! I'll have to see if I can make it through the year or if I'll be buying one or two new cookbooks. But I chose this book because it was a cuisine I didn't know at all, and because it is a pretty cookbook. But my fears from the beginning of the month were kind of valid fears, because this wasn't the easiest cookbook for me to cook from.
First of all, there are a lot of fish recipes. Normally, I like fish. But I haven't been into it very much lately – and I'm blaming the baby. And I'm sure my opinion of this cookbook would be much different if I wasn't pregnant and being a lot more picky than normal. But I stuck with the book, and I'm glad I did. Because at least now I have an idea of what Scandinaivan food is – where before I was completely clueless. I really would love to explore this cuisine more one day when I don't have a little person in me messing with my taste buds!
Cooking Times Listed in Recipes: no
You'll have to read through the recipes to figure this out!

Number of Photos: medium
There are a decent amount of photos in this book, but not necessarily of the finished dishes. Some scenery photos, some ingredients, and a few of finished dishes.
Difficulty Level of Recipes: medium
You can tell by looking at the recipes I made that I went the easy route. But it looks like there is a wide array of recipes – some simple and some more complex.
Availability of Ingredients: medium
Most of the smaller ingredients seem pretty common, but there a lot of fish recipes that I wouldn't be able to make because I've never seen some of the fish that are called for. But I'm guessing they would all be pretty easy to come by in bigger cities or somewhere on the coast.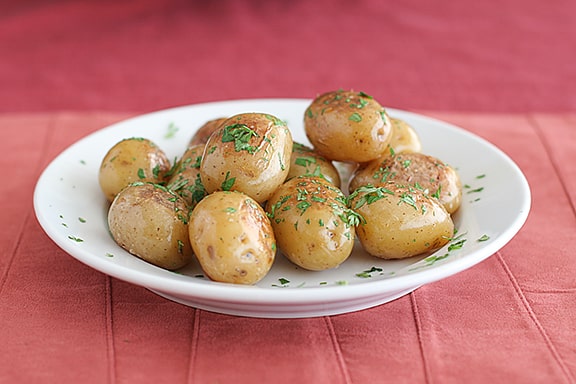 Caramelized Potatoes – 2.5 out of 5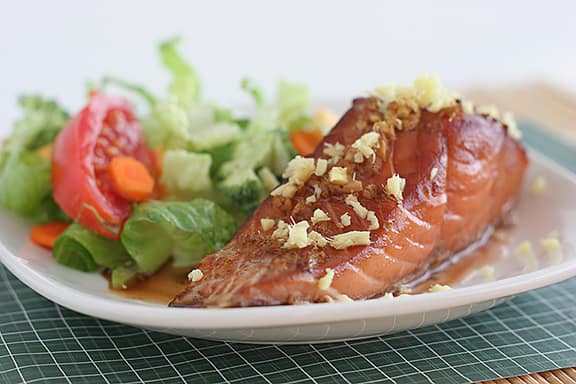 Slow Baked Salmon with Soy Sauce and Ginger – 2 out of 5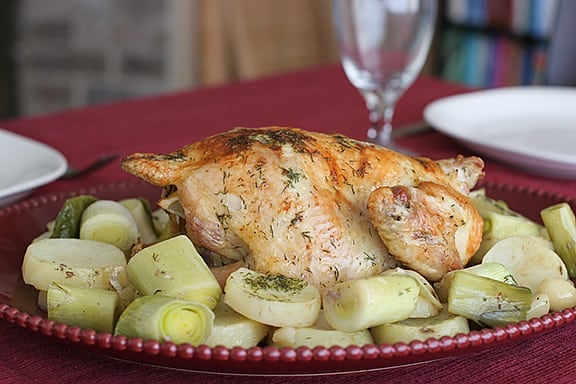 Roast Dill-Scented Chicken with Leeks and Potatoes – 3.8 out of 5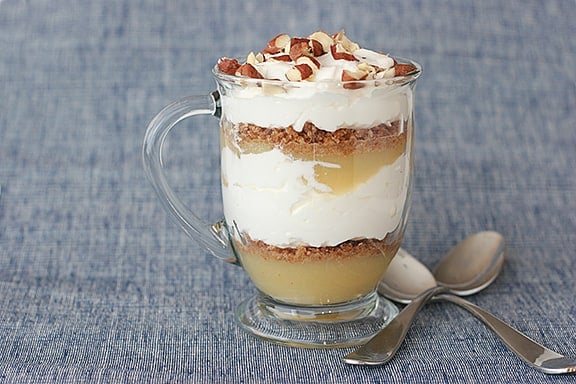 Veiled Farm Girls – 4 out of 5
Overall Rating – 3.075 out of 5
So, not the best rating, but not horrible, either. But like I said before, I'm sure I would look at this cookbook differently under different circumstances!
Ay, ay, ay…the selection of different cookbooks from different cuisines is getting smaller and smaller, each month that I do this. I really struggled to find a book at the library that I really wanted to use. And even though I've already done 2 Asian countries, (China and India), I'm doing another – Thailand. I had originally chosen out a Vietnamese cookbook, but then I saw this book – Thai Food by David Thompson – sitting on the shelf and for some reason, it called out to me. I've already been reading through it, and I'm afraid some of the ingredients are going to be hard to find, but it should be a tasty adventure!!