A simple pizza sauce packed with tomatoes and carrot puree for extra nutrition.
This post has been sponsored by General Mills.



Surprisingly, my kids are pretty good at eating their vegetables. As long as they are kept pretty simple, they will usually eat them. Well, at least 2 of the 3 will.
But like I mentioned the other day, sometimes we get bored with our vegetable routine. I'll usually have a couple of side dishes with dinner, but sometimes, I'm just not feeling inspired enough, or I can't figure out a side dish that would go well with the main dish.

Those are the times I decide to skip over the side dish and just try to add more veggies into the main dish.
Sometimes this is easy. Like if we are having salad. Or stir fry. But sometimes, it's not easy to just throw a few green beans on top and call it good.
Enter Veggie Blend-Ins™.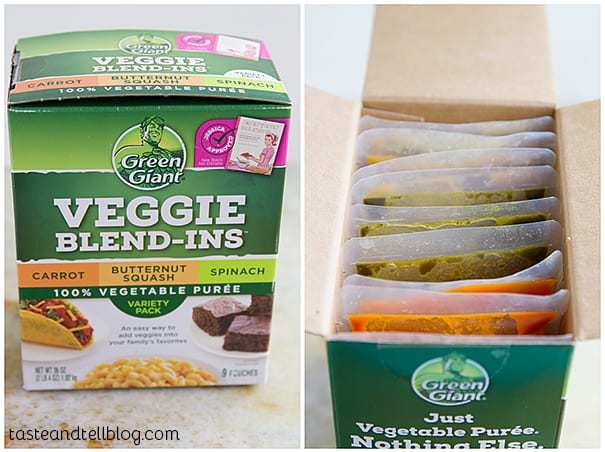 When Camden first started solids, I would make all of his food. Cook the veggies, puree them, then freeze them. It wasn't a huge deal because I was going through so much. During this time, I also discovered how easy it was to throw one of those frozen blocks of veggies into different things – smoothies or thaw one and put it into pancakes. But after he graduated onto eating normal foods, and I stopped making those purees, I stopped adding those extra veggies to dishes.
Well, now it's so much easier. Veggie Blend-Ins™ are simply pureed, packaged vegetables. They don't even take up valuable real estate in your freezer!!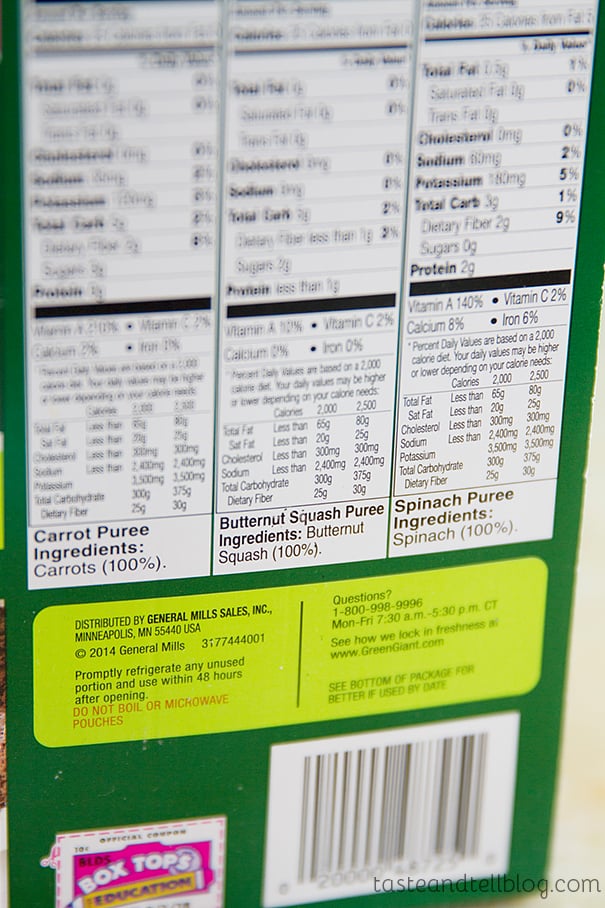 And I have to admit that I was surprised to read the label to see that these are just 100% pureed vegetables. Nothing else added. They are super smooth and are perfect for adding into different dishes to add in extra nutrients.
One time when I usually skip the side dish is when we have pizza night. And with how much my kids love pizza, we actually have pizza night quite often. So this time, I asked myself – why not try to add veggies to the pizza? My kids are purists – only cheese pizza for them, so I had to figure out a way to get the vegetables in, but keep the pizza simple. Of course the sauce was the answer!! I made a simple sauce and added a package of carrot puree to it. I knew the carrot would add a lovely hint of sweetness, and that it would blend in well with the tomatoes.
This is a super simple pizza sauce recipe, but don't let that fool you. As I was making it, my husband came by and sampled it, not knowing that there was carrot puree added. He loved it, and wondered what I did different!! If I could get the husband's seal of approval, I knew I had a winner.
The kids gobbled down their pizza. It was great knowing that there was some extra nutrition added in with very little effort. I can't wait to keep adding vegetables to our meals now!!
Like what you see here? Make sure you are following Taste and Tell for more great recipes and ideas!!

Facebook ** Pinterest ** Twitter ** Instagram ** Google+
or you can subscribe to my newsletter or Feedly or Bloglovin


Vegetable Pizza Sauce
---
Prep Time: 5 minutes
Cook Time: 21 minutes
Total Time: 30 minutes
Yield: about 2 cups sauce 1x
Description
A simple pizza sauce packed with tomatoes and carrot puree for extra nutrition.
---
Scale
Ingredients
1 tablespoon olive oil
1/2 cup diced onion
1–2 cloves garlic, minced
1 tablespoon tomato paste
1 can (14.5) diced tomatoes
1 package Veggie Blend Ins(TM) carrot puree
1 tablespoon Italian seasoning
1 teaspoon salt
1/4 teaspoon pepper
1–3 teaspoons sugar
---
Instructions
Heat the olive oil over medium heat in a large skillet. Add the onion and cook until softened, about 5 minutes. Add the garlic and cook until fragrant, 30-60 seconds. Stir in the tomato paste and allow to cook for another minute. Pour in the diced tomatoes, carrot puree, Italian seasoning, salt and pepper. Add desired amount of sugar. Stir together and bring to a bubble, then reduce heat and simmer for about 15 minutes. For a smooth sauce, allow to cool slightly then puree in a food processor or blender.
Recipe Notes:
I start by adding only 1 teaspoon of sugar, and add more sugar as needed depending on the tomatoes.
I am in a working relationship with General Mills, and this post has been sponsored. I'm so glad to be able to work with companies and organizations that I truly believe in. Thank you for supporting them, too.