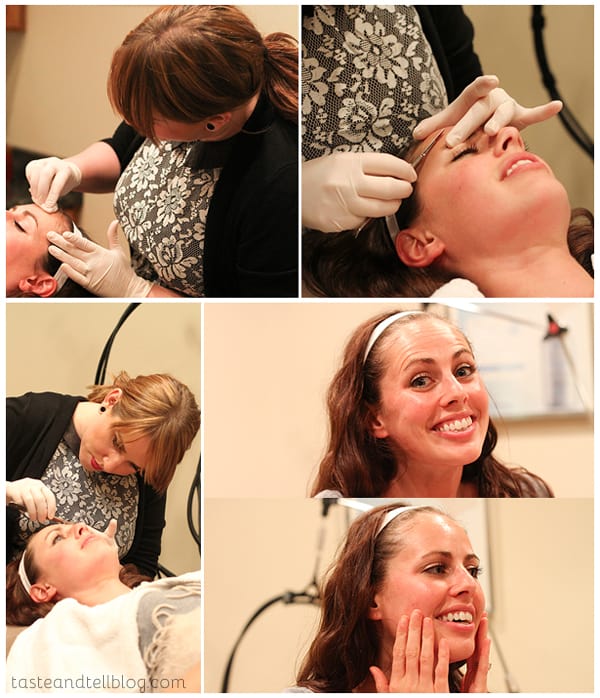 I confess – I am really bad about taking care of myself. I am thirty-something, and my skincare routine consists of washing and moisturizing twice a day. I know that I am not 21 anymore, and that I'm not getting any younger, but really – I'm so lost when it comes to skin care.
Which is why I jumped on the chance to visit a little blogger get-together with a local plastic surgeon, Dr. Scott Haupt. We were shown some amazing before and after photos from different facial procedures offered by Dr. Haupt's office – everything from photofacials to chemical peels to age reverse creams to botox. It was seriously amazing to see how much younger and vibrant the skin is after these procedures! The doctor and his assistants also mentioned a lot that prevention is the key. Sure, you can go in for a facelift, but if you take care of yourself, you can many times avoid having these bigger procedures down the line. It all really made me realize how I really need to take better care of myself!
Dr. Haupt has been practicing for 17 years, and provides both surgical and non-surgical procedures. He was such a sweet man, and really is more concerned about you and what you really need, than just about doing any kind of surgery someone wants.
We were also able to watch a chemical peel procedure. We all voted Carrian from Sweet Basil as the guinea pig. The peel didn't take very long at all, and I could already tell a difference on her face immediately after!
Today, Utah Cosmetic Surgery is giving away 2 $500 gift certificates off of any laser service. I know I'd like to win this one! Utah Cosmetic Surgery is located in Murray, UT, so this is a great one for all of you in Utah, or that visit Utah. It's easy to enter – check it out through the Rafflecopter below!!
And if you'd like more information about Dr. Haupt or Utah Cosmetic Surgery, you can find them online at www.utahcosmeticsurgery.com.