This is a sponsored post written by me on behalf of Hunt's® tomatoes and Alexia® Foods. All opinions are 100% mine.
These Tomato Basil Waffle Fry Crostini are a fun way to serve an addictive dip. My husband said they are good enough to be served at a restaurant!
Let's talk Valentine's Day, because it's sneaking up on us!!
Do you go out, or do you stay in?
As much as my husband and I enjoy going out to dinner, Valentine's Day is not a day that we usually go out. In fact, in the 11 years that we have been together, I don't think we have ever been out on Valentine's Day.
Why? Well, first of all, neither of us are big on crowds, or on waiting 2 hours to get into a restaurant. Which is why when we do go out, we usually go to eat around 5pm (sometimes a little earlier!!) so that there will be no waits, and the restaurants are practically empty. Yes, it's like we are 80 years old. 🙂
And now that we have kids, finding a babysitter on Valentine's Day is practically impossible.
So what do we do? We ditch the restaurants and create our own fancy restaurant-inspired meal at home!!
I try to make it a goal for us to sit down as a family every night for dinner. Things are usually pretty casual, though – the food is served from the pots and pans that it was cooked in, on the counter, not at the table. But our dinners always seem rushed, and it's always a struggle to keep the kids at the table.
So I decided that we needed to make dinner feel like a special occasion instead of just another dinner. Valentine's Day is a perfect way to do that!!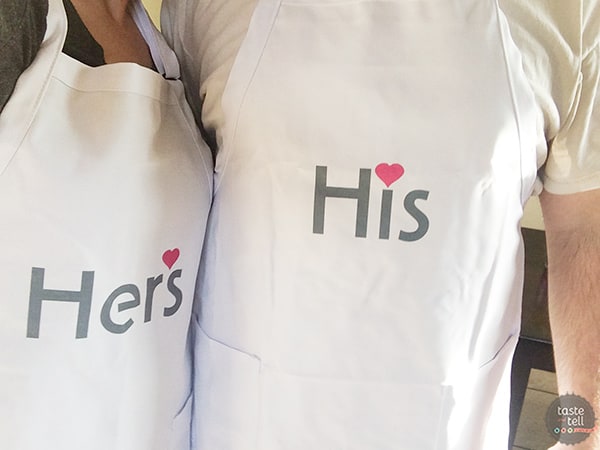 My first word of advice is to get everyone involved. This needs to be a special meal for everyone, which means one person (aka mom) shouldn't be in the kitchen, stressing to get everything done. My husband and I are good at teaming up with the cooking part of the meal. And a little His and Hers apron action always makes it more fun!! Then I try to find little jobs that the kids can do, like setting the table or carrying food to the table.
It was also a perfect time to actually set the table to make everything feel special. We actually served the food at the table, and used candles and even wrote on some fun chalkboards to make it feel like more than our normal, every day dinner.
 
 


 
 
I decided that we needed a little bit of steakhouse action at home. I was able to buy 2 huge steaks for less than the price we would have paid for one of them if we had gone out. And even though there are 5 of us, 2 steaks are perfect for us. One for my husband, and the rest of us share one. I served sautéed green beans and rolls alongside the steaks as well.
But the star of the show??? The Tomato Basil Waffle Fry Crostini.
Technically, these are an appetizer, but a dangerous one. 🙂 My husband and I were practically full on these before even starting our dinner!!
I am a fan of the tomato basil flavor in anything, and this crostini was the perfect way to bring some of those spring/summer flavors to the dinner table.
If there is one ingredient that you can always find in my food storage, it's canned tomatoes. I use them like crazy. I love that you can get the fresh tomato flavor year round, and you don't have to worry about the tasteless winter tomatoes at the store. I used Hunts® Petite Diced Tomatoes in the dip. I love that Hunts® tomatoes are canned within hours of being picked, so they pack a great tomato punch that this recipe needs.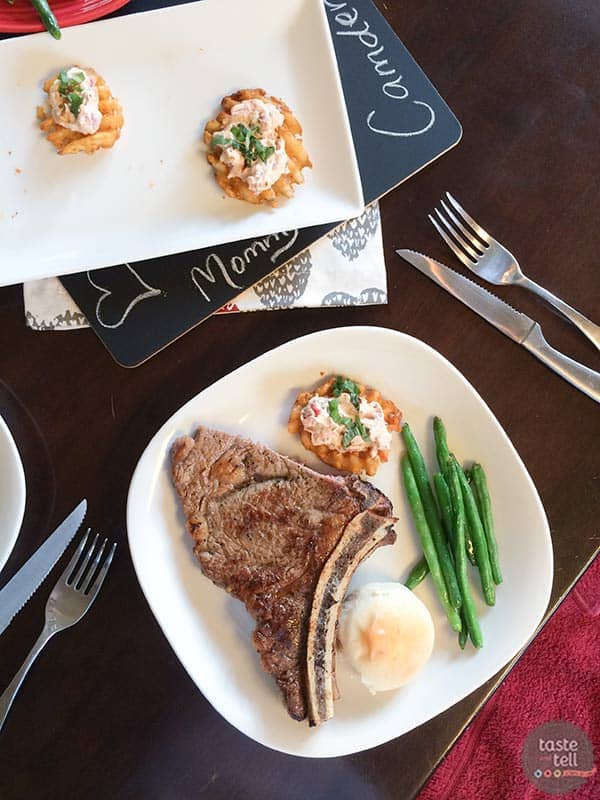 (You've gotta love the top part of my steak cut off for the kids! #lifewithkids)
 
 
And I needed a vessel for the tomato basil topping, and while bread would have been delicious, I wanted something more fun and playful since the kids were going to be eating with us. Alexia® Foods Seasoned Waffle Cut Fries were the perfect answer. They are an easy and delicious addition to this recipe.
These Tomato Basil Waffle Fry Crostini were out of this world delicious. In fact, after stealing a couple from the kitchen while I wasn't looking, my husband told me that he would pay for these in a restaurant. Score!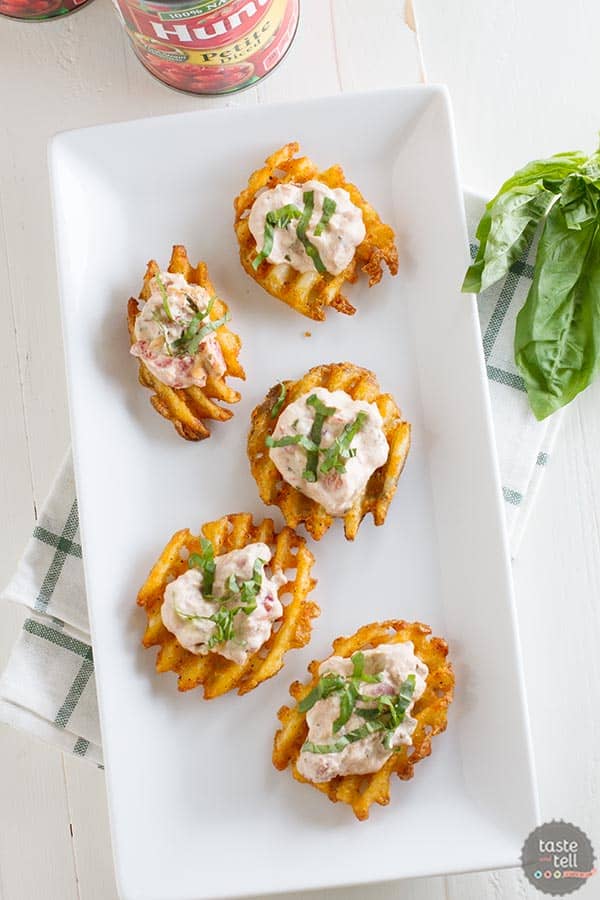 Make sure you are following Hunt's® Facebook and Alexia® Foods Facebook!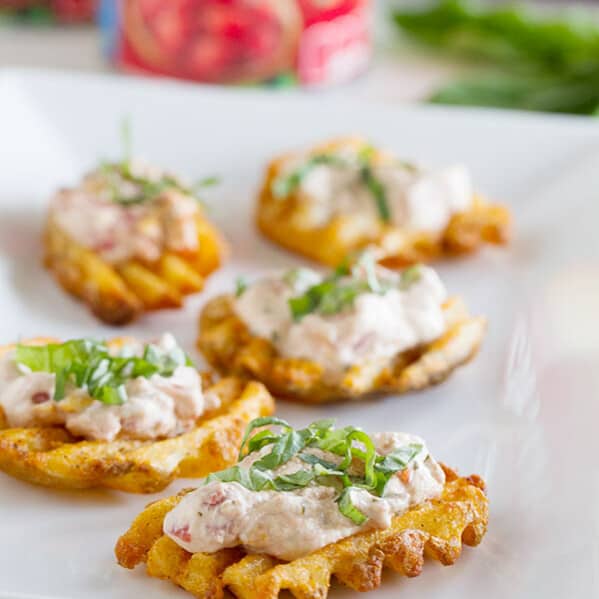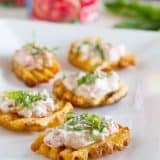 Tomato Basil Waffle Fry Crostini
---
Prep Time: 40 mins
Cook Time: 20 mins
Total Time: 1 hour
Yield: 8-10 servings 1x
Description
These Tomato Basil Waffle Fry Crostini are a fun way to serve an addictive dip. My husband said they are good enough to be served at a restaurant!
---
Scale
Ingredients
1 can (14.5-oz) Hunt's Diced Tomatoes, drained well
1 8–oz package cream cheese, softened
1/2 cup sour cream
1/4 cup grated Parmesan cheese
2 tablespoons minced basil, plus more for topping
1 tablespoon balsamic vinegar
1 package (20-oz) Alexia Seasoned Waffle Cut Fries
---
Instructions
Open the can of tomatoes and drain in a fine mesh sieve until most of the liquid has drained, 30-60 minutes.
Preheat the oven to 425ºF.
In a medium bowl, combine the cream cheese, sour cream, drained tomatoes, parmesan cheese, 2 tablespoons of basil and balsamic vinegar. Mix until thoroughly combined. Place in a baking dish.
Arrange the waffle fries in a single layer on a baking sheet. Bake for 28 minutes.
When 18 minutes remain, place the dip in the oven with the fries and bake until warm through and bubbly.
To serve, top each waffle fry with some of the dip and a sprinkling of fresh basil.