One of the things I'm most excited about with this new Home and Family section is that I get to talk about random, non-food related things. Not that I don't like to talk about food, (if you know me, you know that it's pretty much all I talk about), but it's fun to get outside of the kitchen every once in awhile. So welcome to the first edition of "Things I'm Loving" here on Taste and Tell Home and Family!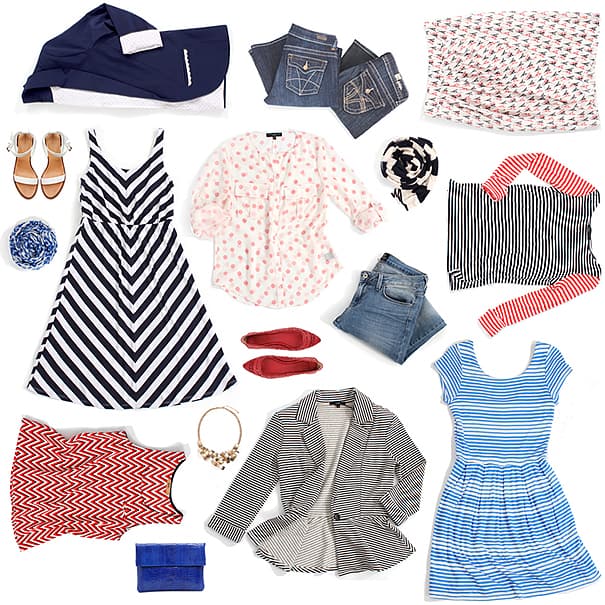 image via the Stitch Fix blog
I will totally admit it. I'm one of those moms whose fashion sense went right out the window once I started having kids. I work from home. I'm a full-time mom. And really, we are just home most of the time. I wear pajamas or sweat pants more often than I care to admit.
I've gotten caught up in the cycle that I think a lot of moms get caught up in. So many things become all about the kids, and rarely about mom.
I know, I know. It's not the way things are supposed to be. But I have an easier time taking care of other people than I do taking care of myself.
So really, any clothes that I have bought in the last 4 years typically come from Target. There have been times that I know that I need something new to wear, but the thought of taking 3 kids shopping with me gives me anxiety. I actually did attempt shopping a few weeks ago, and lasted one store before I cried uncle.
Enter Stitch Fix. I'm sure many of you have heard about this company by now, but I had to give them a try. Basically, this is how it works. You fill out a pretty extensive questionnaire. Once a month, or however often you schedule your "fix", a personal stylist chooses out 5 items for you based on those questions. You can also give them the link to a Pinterest board if you have one that shows your style. Those 5 items get sent to you, and then you get to try them on and decide what you want in the comfort of your own home. There are many reasons why I love this – mostly because it means that I don't have to take the kids shopping with me. But I love that you can try them on with other items in your closet to make sure that they work for you. Plus, you don't feel the pressure of having to buy it then and there, and then having buyer's remorse, or regretting not buying that piece several hours later. And possible my favorite reason? I have no idea these days what is in style or what I should even be wearing. If it's not a t-shirt, I'm clueless. These clothes make me actually feel like I know what I'm doing!!

Once you have your box, you have 3 days to decide what you want to keep and what you want to return. When you schedule your first fix, you have to pay a $20 styling fee, but if you choose to keep anything from your box, the $20 goes towards that purchase. You keep what you want and put what you don't want into a bag that is provided with a prepaid mailing label. Drop it off at the post office, and you are done! Until your next fix, that is. 🙂
I'm not going to lie – I was a little hesitant to try this. But I bit the bullet and decided to give it a try. And I have to say, I was actually quite impressed with my first box!
Now – if I was on top of things, or if I would have thought ahead, I would have taken pictures of what I got, but I didn't. I got a top that was really, really cute, but it was sleeveless and I don't do sleeveless. If it would have had sleeves, I would have loved it. There was also a cardigan that was very cute, but felt very winter-ish to me. I didn't want to pay for something that I probably wouldn't wear for months, especially since storage space is at a minimum right now. The third item was a pair of earrings. Again, cute, but I'm super cheap when it comes to jewelry, and they were just too far out of my price range. Fourth was a chambray shirt that I really considered keeping. Really. But in the end, I sent it back since it was long sleeved and the weather is getting hot and a long sleeved shirt just isn't realistic in the summer heat for me.
Last was this Chevron dress (pictured in the collage above). Again, sleeveless, but this one is easy to fix with a cardigan. I tried it on and was in love. The fabric was perfect for summer and I'm always looking for dresses to add to my wardrobe. This one is casual enough to wear any day of the week, but I'd also feel good about wearing it out. This one I definitely kept.
So, I did only keep one of the 5 items, but the others were so close to being winners. I can't wait to get my next box!
If you are interested in trying Stitch Fix out, I believe there is a wait list, but it didn't take long for my first fix to get scheduled. You can sign up for Stitch Fix here.
What are some things that you are loving right now?
**This is not a sponsored post, but affiliate links are included.**